Art and Entrepreneurship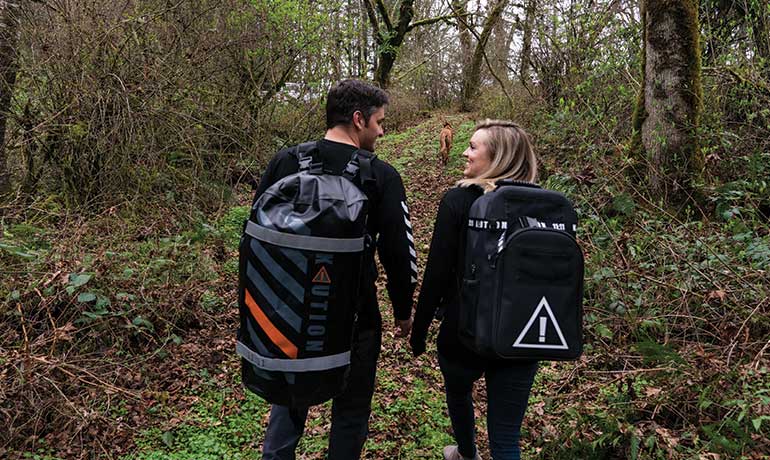 For George Fox graduates Greg and Kirsten Johnson, creativity and commerce go hand-in-hand
By Andrew Shaughnessy
When George Fox art alumni Greg (G05, MAT10) and Kirsten (G08) Johnson approached their alma mater with a proposal to create custom-made backpacks for Bruin student-athletes, it represented a big win for both parties. Kaution, the couple's startup outdoor gear and apparel company, would add a big client and an order for hundreds of bags, while student-athletes would benefit from a superior product that was tailor-made to meet their needs.
"We hosted a focus group with one athlete per sport," Kirsten says. "They brought all of their backpacks in, and we gave them a survey where they had the opportunity to tell us what they hated about their current backpack."
The athletes loved it, giving extensive feedback that helped Greg and Kirsten design a tough pack with just the right features: straps for baseball bats, pockets for wet swim gear, and clips to hang cleats or goggles. A few prototypes later, Bruin athletes had a backpack that met all their needs – one they had helped design.
While the deal was a home run for the couple's budding business, neither Greg nor Kirsten fits the typical entrepreneur mold. They're lifelong artists who rely on a mixture of creativity and innovation as the formula for their success.
Solving Problems
Like so many great ideas, Kaution was born out of a healthy sense of creative dissatisfaction.
Greg always had a love for the outdoors – surfing and wakeboarding were his particular passions – but he was frustrated with how hard it was to find a bag tough enough for his adventures.
"What do I want in a bag?" Greg asked himself. "What would I make for myself?"
Among the items on his wish list: a bag that was waterproof but wouldn't mold, hardy enough that it could stand being tossed around and wouldn't blow out, thick enough that his gear wouldn't punch holes in the fabric. No one seemed to have quite what he was looking for.
Despite having zero experience in the apparel or outdoor gear industries, Greg set out to design his own bag. In 2015, he and Kirsten cofounded Kaution.
The process of designing a viable product took years – a slow burn of incremental progress and figuring things out as they went. Greg read books and watched YouTube videos to learn to sew. Kirsten taped photocopies of bag blueprints onto their sliding glass door, tracing the design and redrawing changes. Prototypes failed. Pitches went unanswered. They struggled, but they kept on creating.
"People see these final products tied up in a pretty little bow," Kirsten says. "They don't see all the failures along the way."
The first iteration of what has become Kaution's signature Lazarus dry bag was only slightly superior to other products offered by competitors. But each new design took the product a step further, and slowly, the company grew.
From Starving Artists to Creative Entrepreneurs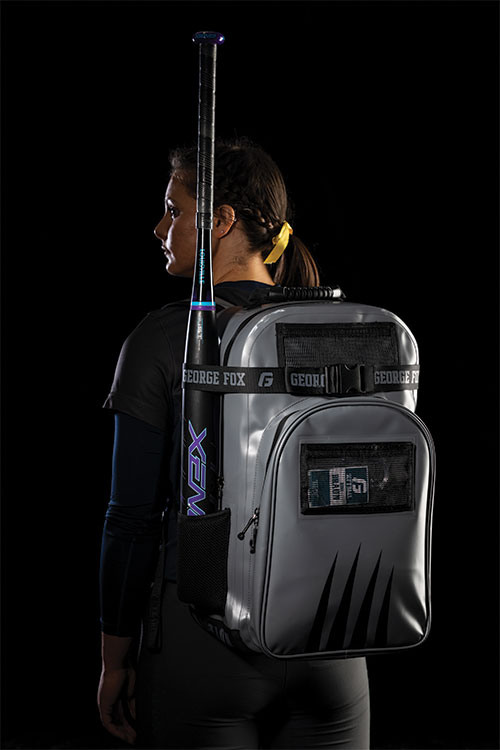 Student-athletes helped design bags to meet all their needs: straps for baseball bats, pockets for wet swim gear, and clips to hang cleats or goggles.
These days, Greg and Kirsten are living their dream. In addition to growing Kaution, Greg teaches ceramics in Tigard, Oregon, while Kirsten runs her own creative agency, Reverie. But their road to success wasn't a quick or smooth one. They've done their time as struggling artists.
"We're 37 and 33," Kirsten says. "We graduated so long ago and we're just now in this place. I just started Reverie two years ago. I would never have been able to do that right out of college. I spent three and a half years teaching preschool for $15 an hour. You have to figure out what you're willing to sacrifice and if you really want it … and at the beginning of all this, what we wanted wasn't starting Kaution, it wasn't starting Reverie. It was to be debt free."
They spent their first three years out of school paying off their debts. Greg went to grad school to earn a master of arts in teaching degree while continuing to work, and Kirsten worked two jobs. They moved into a trailer for three years, sold everything they had, and "Craigslisted" their Christmas gifts to make ends meet. Eventually, they were able to pay off their debts, build their own house, and develop the space, experience and client base to start their own creative companies.
"It took about 10 years of very, very hard work," Greg says. "That's the artist's path. But it's all possible. It's all worth doing."
Looking to the Future
Kaution's partnership with George Fox marked a turning point for the company, helping establish credibility and opening up opportunities for similar custom projects with other organizations.
"The fact that they could be part of designing something, be face-to-face with the people making their bag, that's something that really excites people," Kirsten explained. "Especially when you come in with a competitive price."
Now, Greg and Kirsten are working on updating Kaution's products – always honing, improving and perfecting. Seeing their businesses succeed is satisfying, to be sure. But for the Johnsons, it's the process – the act of creation and the building of relationships along the way – that they love the most.
"For me, art is worship," Greg says. "It just flows out of me. … It feels like that's why I've been put on this earth – to make. This business is just a way to perpetuate that."