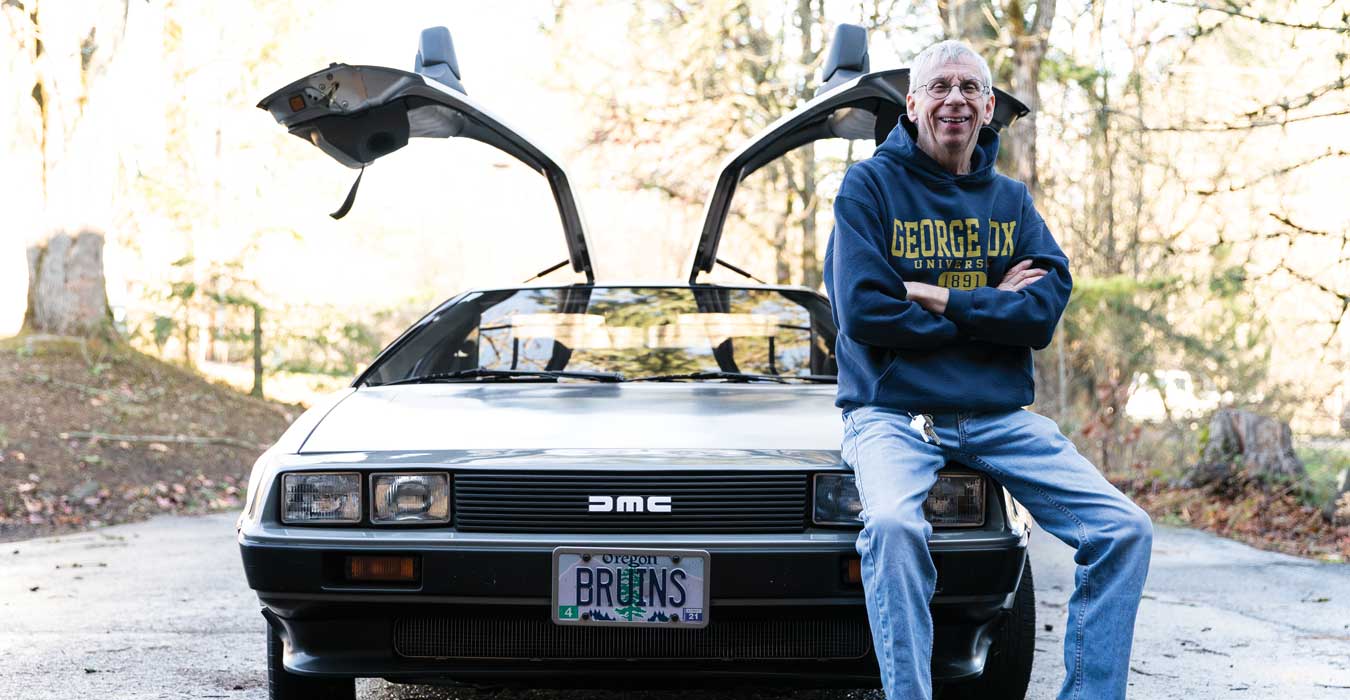 52 Years and Counting
Longtime employee Mike "Biggs" Wirta's love for George Fox has kept him on campus for more than five decades
By Sean Patterson
He arrived on campus as the Vietnam War raged, the Beatles released The White Album, and the nation reeled from the assassinations of Martin Luther King Jr. and Robert F. Kennedy.
It was the fall of 1968 when Mike Wirta, an unassuming kid from Newberg, enrolled at George Fox College. Just months before, he didn't intend to go to college – "I didn't think I was smart enough … never was the brightest light bulb in the room," he laughs – but here he was, setting foot on campus with a plan to, perhaps, one day be a history teacher.
He didn't know it then, but he would never leave.
The Memories
Fast forward to 2020: Wirta, more than five decades into his George Fox tenure as a student (1968-74) and custodian (1974 to present), is reclining on a couch in the Wheeler Sports Center lobby, his eyes lighting up as he reflects on the memories.
Laughter breaks out as he recalls the pranks: The time students TP'd the library … released parachuted mice in chapel … hid the dining hall's silverware in an attic … flashed Bruin Junior during chapel, prompting "half the guys to up and leave on the spot," he recalls. And, of course, the "greatest prank of them all," when "some goofballs" snuck into Hoover one night, removed 40-plus doors off their hinges, and stashed them on the roof. "Ya gotta hand it to those guys," he chortles. "That's a great prank."
His mind and wit sharp, the 70-year-old Wirta relates the stories with such detail it's as if they happened yesterday. This is his life. Fox is his family. And each memory is a vivid reminder of why he loves this place and remains committed to it.
'The Lord Was Working on Me'
Wirta wasn't a Christian when he arrived on campus. In fact, when his Newberg High School counselor suggested he check out George Fox, he was incredulous. "Fox? I don't want to be a minister or missionary!" Still, he was intrigued upon learning he could get a liberal arts education. He enrolled without a real plan, struggling as a student and nearly flunking out his freshman year. If not for the encouragement of his peers – and two men in particular – he might have done just that.
Ron Crecelius, the college's chaplain in 1968, took the young Wirta under his wing, as did the dean of students, Harold Ankeny. "Those two men shared their testimony with me and prayed for me," he says. "The Lord was working on me long before I accepted him, putting these great Christian people in my life. I finally accepted Christ in 1970."
Even as he found hope in salvation, Wirta was adrift. He enlisted in the U.S. National Guard, prolonging his college stay, and found work on campus as a custodian. But as graduation day approached, he had no clue what he wanted to do. "I enjoyed being here so much I didn't want to leave," he says. As fate would have it, a chance offer meant he wouldn't have to.
Wirta has been a courtside fixture at home basketball games since the Nixon Administration. Among his most indelible memories: a postgame brawl in 1970, when he broke his glasses trying to intervene in the melee.
'A Clean and Tidy Guy'
Wirta is a self-confessed neat freak. It's no surprise, then, that he gravitated toward custodial work as a student – and why Everett Cook, head of custodial services in the early 1970s – offered him a full-time job as he was about to graduate. "I'm a clean and tidy guy, so it was a perfect fit," Wirta says. His primary responsibility over the years: cleaning and maintaining Wheeler, including an annual resurfacing of the facility's gym floor.
He does own a house in Newberg, but campus has always been home. "The Lord told me long ago I was gonna stay here and I was gonna like it. If it weren't for George Fox, I wouldn't be where I am today. I probably wouldn't be a Christian. I just fell in love with the place and never left."
He credits people – Ankeny, Crecelius, and best friends Dave Adrian and Bob Dexter, among countless others – for making his life rich. Friendships are the primary reason Wirta negotiated to stay on part time after the university elected to outsource its custodial department in 2019 – and why he has no plans to retire anytime soon. "I may cut down to a couple hours a day," he says. "But what am I going to do if I retire? Sit around the house? My friends are here."
The Streak
Wirta has always been good with numbers, so when the oppor- tunity to do stat keeping at men's basketball games came up, he jumped at the chance. He missed two games in 1972 for boot camp. He hasn't missed a home game since. In fact, he didn't miss a game, home or away, for 30 years – 818 straight contests – before deciding he would no longer travel with the team in 2015. In all, he's witnessed more than 1,300 games, well over half of those played in program history.
For Wirta, one game stands out: an NAIA District 2 championship tilt against Willamette in 1990, when a Rich Schlachter three-point shot at the buzzer sent the game to overtime in an eventual 98-95 victory. "Anyone who was there will never forget it. Best game I ever saw," he says. "I've watched it a few times on tape over the years."
He has also volunteered on scoreboard and scorebook for the baseball team since 1996. In fact, his other most indelible sports moment came in 2004, when, in a dugout in Appleton, Wisconsin, Wirta watched as the Bruins won a NCAA Division III World Series title. "I was practically in tears because I was thinking about 1968, when The Oregonian wrote that we just might be the worst college baseball team in the country. We lost 30-0 to Pacific that year and went 0-19. That was on my mind as I watched us win a national championship."
For his devotion and commitment to athletics, Wirta was inducted into the university's Sports Hall of Fame in 1998.
'Biggs'
Spend time with Wirta and you will inevitably hear it: "Biggs!" It's a nickname he inherited from a buddy in the early 1970s after Wirta shaved his head. "I was working custodial at A-dec in 1972 and heard that some of their conservative employees didn't like my long hair, so I took it all off."
The result: A bald head that, according to his friend, made him look like the "Biggie Rat" character from The King and Odie 1960s cartoon series. The name eventually morphed into "Biggs." To this day, some people mistakenly believe it's his last name.
'A Nice, Warm Sunset'
Wirta gets a bit emotional as he watches the sun lower over the trees outside Wheeler – a sight he's taken in for more than half a century. All this reminiscing has evoked some sentiment, and the moment inspires a poignant observation.
"This is my home," he says, his voice cracking. "I'm entering the sunset of my life, and it's going to be a nice long, warm sunset."