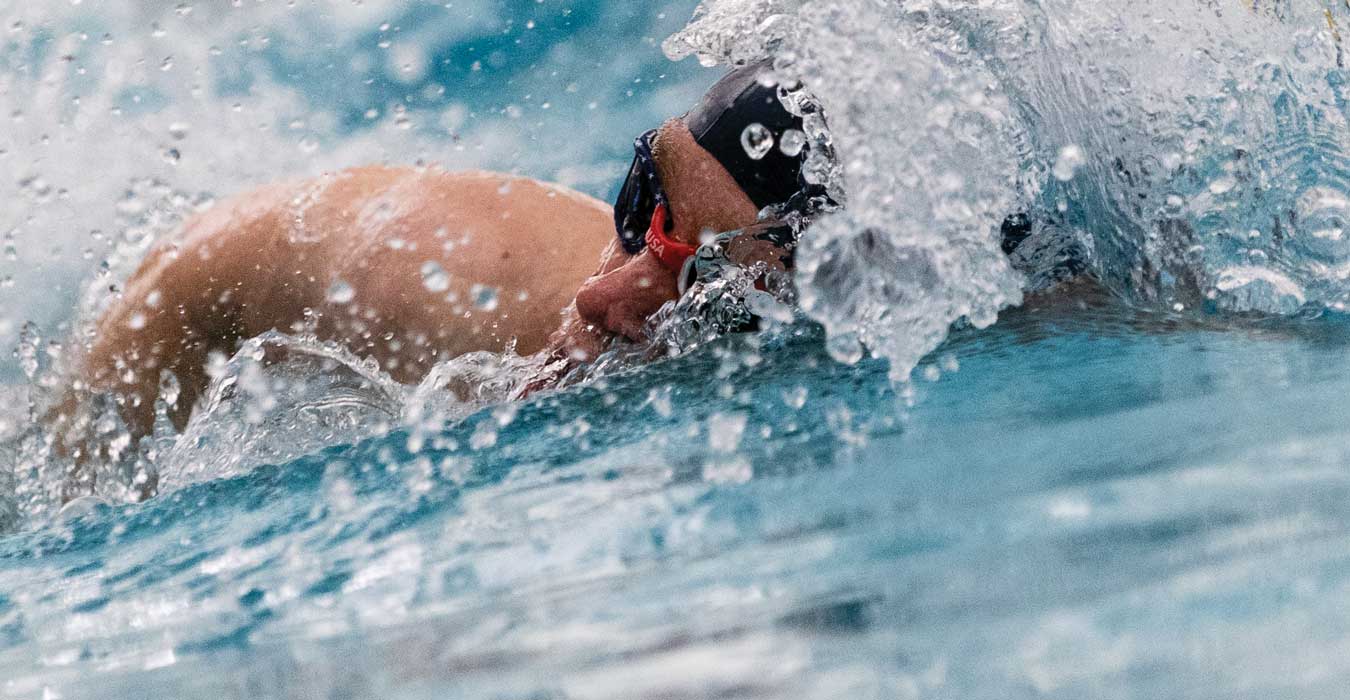 Going for Gold
Adin Williams' persistence in the pool has resulted in five American para-swim records and put him in position to achieve his ultimate dream – the 2021 Paralympic Games in Tokyo
By Sean Patterson
Adin Williams can't pinpoint the day he knew swimming would transform his life. He simply recalls moments of watching the Olympics with his family and thinking, like so many young dreamers, how cool it would be to be on that television screen representing your country.
There was only one problem: Williams couldn't swim more than 25 yards before tiring out. Born with a type of dwarfism known as hypochondroplasia – a condition that affects the conversion of cartilage to bone – he had both mental and physical challenges to overcome. It appeared his dream of being an Olympic athlete had little chance of becoming a reality.
But Williams wasn't your typical kid. Giving in or making excuses weren't in his nature. Even as he struggled to make it from one end of the pool to the other, an inner voice encouraged him to press on and chase the impossible.
Today, the 19-year-old George Fox freshman is reaping the benefits of all that persistence and hard work. He is the recipient of 11 national gold medals and owns five American records for his classification. And, after a five-gold-medal performance at the U.S. Paralympic Swimming Championships in Dallas in December, he was named to the 2020 U.S. Paralympics National Team.
Next summer, Williams hopes to compete at the Paralympic Games in Tokyo in August, an event originally scheduled for this year but postponed due to the coronavirus outbreak. The U.S. Paralympic team will be named after the U.S. Paralympic Swimming Trials next year.
"I'm just excited about how far I've gotten and the things I've been able to accomplish," says Williams, an accounting major from Happy Valley, Oregon. "No matter what happens – whether I make the U.S. team or not – I'm happy for the opportunities I've had and the chance to train at the U.S. Olympic Team headquarters."
Williams has reason to be grateful. Though he began swim lessons at age 3, he didn't pick up competitive swimming until age 12 – and even then it was a struggle, as he tired quickly and could only master freestyle and backstroke events. Williams found his stride in high school, winning eight state titles in his classification over the course of his Gladstone High School career. He followed that up by winning three golds each at the U.S. Paralympic Swimming Championship meets in 2017 and 2018.
An intensified training regimen – he went from swimming four hours a week in high school to training 20 or more hours a week in college – has built his stamina, strength and confidence since entering college. He has added the butterfly to his arsenal of strokes, and though his primary strengths are the 50 and 100 races, he excels at longer distances as well.
"To walk away with five golds was satisfying enough, but to set two American records on top of that was totally unbelievable."
"It's just like anything else – you have to be willing to put in the time and effort to be successful," Williams says. "I didn't suddenly become a successful swimmer. I gradually got better and better as I spent more and more time in the pool on a weekly basis. I have to admit, though, I was surprised at how well I did at nationals in Dallas. I didn't see that coming."
It was there Williams won five events and set American para-swim records in the 100- and 400-meter freestyle. More recently, he set three more national records – in the 50-yard freestyle, the 100-yard freestyle, and his own mark in the 100-yard butterfly – at the Northwest Conference Championships in February. As it stands, he currently holds the American Paralympic records for his classification in the 50- and 100-yard freestyle, the 100-yard butterfly, and the 100- and 400-meter freestyle.
"To walk away with five golds was satisfying enough, but to set two American records on top of that was totally unbelievable," he says of his nationals performance.
Williams competes at the S6 level. Para-swimmers are divided into 14 classes, from Class S1 to Class S14, based on their degree of functional disability, with the most severely affected being Class S1. And while he admits hypochondroplasia has brought challenges into his life, he also recognizes the opportunities it has afforded him.
"I've made friends who have the same condition as me and gotten to travel all over the country and even the world," says Williams, who traveled to Ireland in 2018 for a competition. "So, yes, it's a challenge to live with. But I choose to focus on the positives it has brought into my life."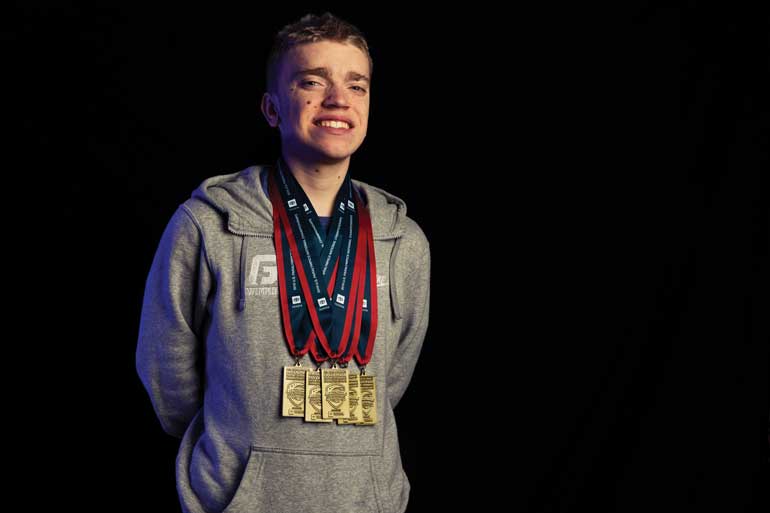 Williams is quick to credit his George Fox swim coach, Natalie Turner, for inspiring and motivating him. "She has definitely been a big part of my success," he says. "Before the season even started, she made a commitment to be my coach for the national meet, which meant taking time away from the team while the season was going on. That was a huge thing to do and showed me that she genuinely cares about me and wants me to become a better swimmer."
Turner's interest in his career – and the university's friendly and accommodating environment – convinced Williams that George Fox was the best fit for him. "As I started to break down colleges, I decided a Division III school in Oregon would be best for me," he says. "That way, not only could I compete for the collegiate team but also be someplace where I could make friends and navigate my way around campus easily. Of all the options we looked at, we found George Fox to be the best."
Turner has been impressed with his continued improvement. "A lot of athletes will have ups and downs," she says. "Adin just kept going up and up and up. Every meet we see improvement in his times and technique. I am incredibly proud of the work he's done this year. He is such a great addition to our team, and I know he will go on to do great things."
Williams hopes one of those "great things" will be traveling to Tokyo next summer. Unlike the Olympics, for which athletes qualify based on times and placements at the national meet, the Paralympic swim team is selected by committee based on overall historical performance, taking into account swimmers' efforts at nationals, the U.S. trials and other competitions.
"This is my dream, and if it doesn't happen next year, that's fine," Williams says matter-of-factly. "Either way, I'll definitely try making the Paralympic team as long as my career lasts."