Not a Spectator
Nike Greene's lifelong quest for community transformation leads to new role with Portland's Office of Youth Violence Prevention
By Andrew Shaughnessy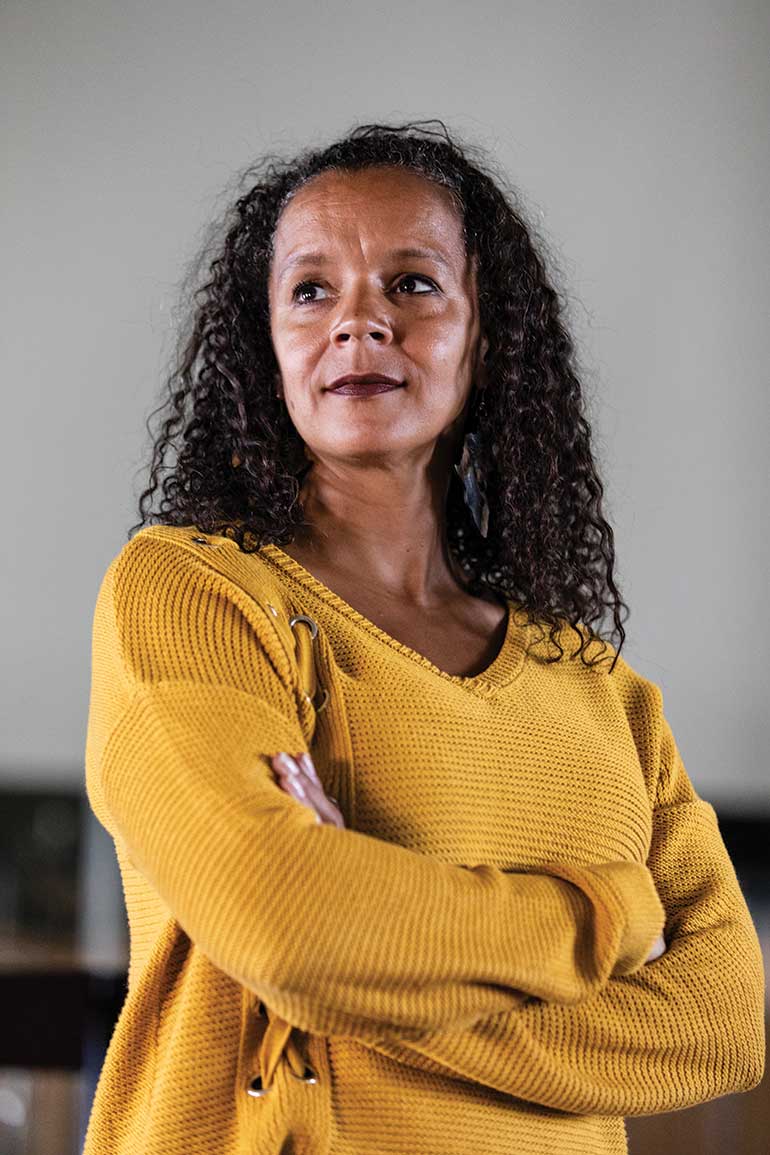 Nike Greene (MA10) has worn many hats over the years: basketball coach, pastor, graduate student, therapist. As a family engagement coordinator with Portland Public Schools, she worked to bring free mental health services to students and families at Roosevelt High School. Working with Portland's Center for the Arts, she fought to increase access to arts programming for students in Title 1 schools nationwide. Now, she has accepted a new role as director of Portland's Office of Youth Violence Prevention.
At first glance, it sounds like a wildly diverse resume, but what these roles all have in common is Greene's big heart, uncommon drive, and unwavering commitment to making a positive impact on her community – a commitment rooted in experience.
Greene still remembers the day that two of her neighbors were shot and killed. She was just a kid then, growing up in a north Portland neighborhood that was fast becoming the city's gang violence epicenter. She faced other challenges, too: racism, sexism on the basketball court, a high school suicide attempt. Her mother, a Danish immigrant, struggled to help her daughter navigate her new country's complicated education system.
Well-intentioned ministries and organizations would parachute in on occasion, looking to connect with kids like Greene, taking them away to Trail Blazer games or the movies.
"It was like there was this weird, euphoric world that I was missing out on," Greene recalls. "The messaging, purposeful or not, was always 'get better and get out.'"
Not Greene. She stayed, cultivating change where her roots were planted.
Greene and her husband, Herman, still live in that same neighborhood. As co-pastors of a local church, they have actively ministered to the community for years, organizing summer programming and support groups for mothers, helping residents in need with food and rental assistance, and doing prison ministry. They did great work, but over the years Greene realized that, all too often, her community's mental health needs were being overlooked.
"Many in my community have an old-school belief that therapy is for white people who have money, not for us people of color," she says. "I wanted to be more equipped to help."
When Greene decided to pursue her master's degree in marriage and family therapy at George Fox in 2007, it was just one more step on her quest for change.
In October, she was selected by Portland Mayor Ted Wheeler to oversee a citywide effort to make a tangible, transformative dent in the violence that has plagued her community for generations. Partnering with local NGOs, Greene's office seeks to prevent, intervene in and interrupt youth violence in Portland. Street-level gang outreach workers show up in violence hotspots, building relationships and working to prevent retaliation. Others sniff out systemic inequities that stoke desperation-fueled violence, reach out to shooting victims to talk them out of gang life, and set up high-risk individuals with life coaches and mentors.
"We have this opportunity to actually do something, to leave a legacy," Greene says. "I want people to remember: There was a pivot. There was this group that said, 'Enough. We're going to be part of the solution, not spectators.'"
From the basketball court to Portland's public schools to the hardest challenges of her neighborhood, Greene has never been a spectator.
"I don't have to be seen," she says, "but I definitely have to be in the game."