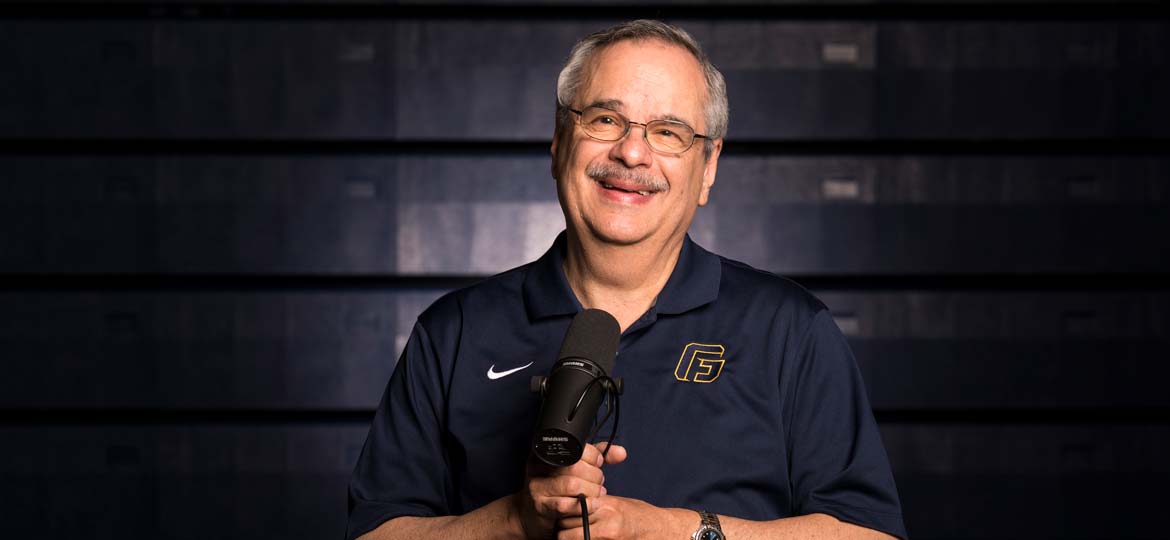 Jackson Calls His Final Game
Longtime public address announcer Jim Jackson retires after four decades By Barry Hubbell
The George Fox women's basketball team ended its season Feb. 18 in exciting fashion – a game-winning free throw in the final moments to give the Bruins a 50-49 win. But the crowd had more to cheer about than just a last-second victory. It was also the final game for veteran public address announcer Jim Jackson (B74).
After the contest, Jackson's nearly four decades of volunteer service were acknowledged – in all an estimated total of more than 450 games. The Bruin faithful on hand responded with a standing ovation.
"I still have the 'pipes,'" Jackson says, "but for years it was Larry Herrick (B72) on the clock and [athletic department administrative assistant] Patty Findley on the scorebook, and they left after last year. I figured it was my time."
Jackson believes he's logged more than 450 games, "give or take a few." The total is uncertain, as he isn't sure whether he began his PA duties – which included both men's and women's basketball games over the years – in 1983, or perhaps a bit earlier.
The last six years, he was behind the mic for women's games only, replacing veteran
Don Staples (B86), who passed away after serving 18 years in the position. Jackson says he preferred announcing women's games because "I could get home earlier."
Jackson started calling games in 1976 while in the George Fox admissions office. Over the years he has served as associate director of admissions, director of financial aid, and as a gift officer with the university advancement office.
He is one of only a few former employees to be honored with the title "administrator emeritus," and was inducted into the university's Sports Hall of Fame in 2011 for meritorious service.
Jackson began his George Fox journey as a student in 1970, majoring in psychology and playing on the soccer team. While a student-athlete, he began volunteering as an on-field course clerk for track and field, and then as the head finish time judge for home meets. That volunteer experience eventually led to a longtime announcing career that included not just basketball games, but also university theatre productions and voiceover work.
Looking back, Jackson says it's the relationships he'll remember the most. "That really was the joy in it, just being around students, the players and fans, enjoying a basketball game together."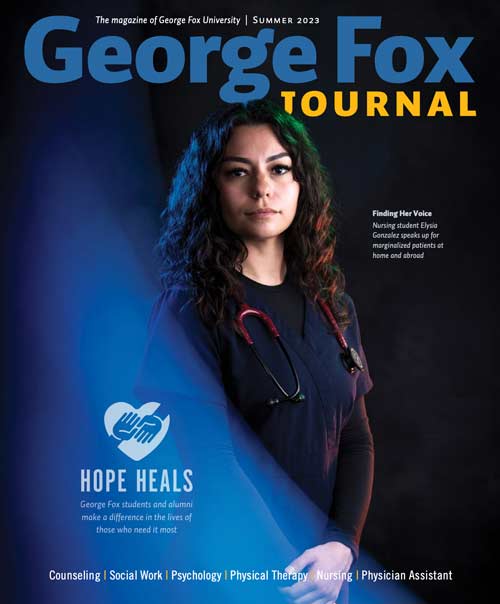 Looking for more?
Browse this issue of the George Fox Journal to read more of the stories of George Fox University, Oregon's nationally recognized Christian university.