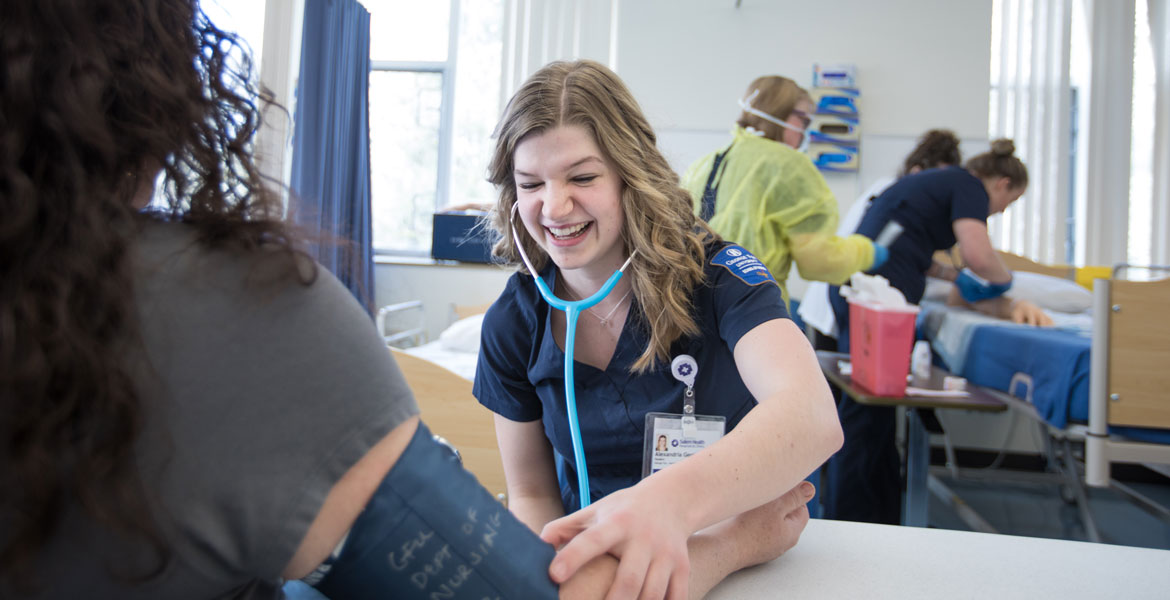 Nursing Admissions
The Fall 2023 application cycle in NursingCAS will open December 15th, 2022 and close April 16, 2023- for transfer students.
George Fox students should see below for additional information about the direct and general admit process.
You may use the Should I Apply for Direct, General, or Transfer Admit? questionnaire to help you determine what type of application you should fill out.
Admission Cycles
The George Fox nursing program has two admission cycles each year – one in the fall and one in the spring.
George Fox Students
Direct Admit
George Fox students are admitted to the nursing program one of two ways: direct admit and general admit. Those who have a cumulative 3.0 in their nursing prerequisite courses and completed the four most recent semesters at George Fox with at least 12 credits per semester qualify for guaranteed admission based on availability each fall and spring term. 
General Admit
Students who have a cumulative 2.9 GPA in their nursing prerequisite science courses, a cumulative 2.9 GPA in their nursing prerequisite courses are eligible for the general admit to the nursing program. General admission is not guaranteed and will be offered as space is available.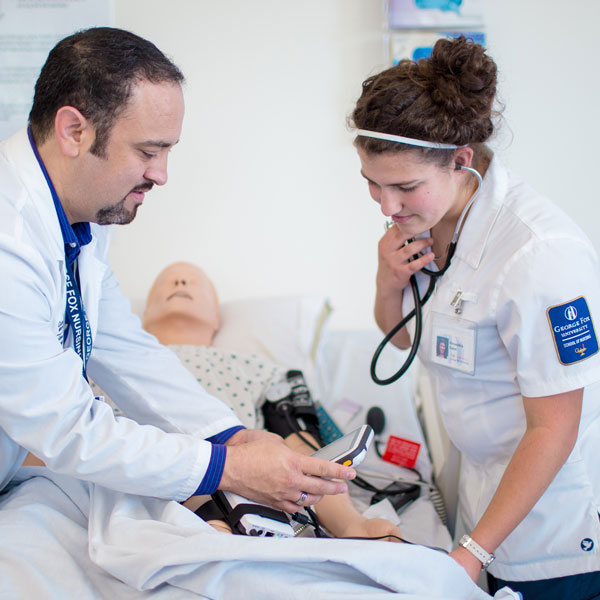 Running Start Students
Running Start students must complete at least two semesters (minimum of 12 credits per semester) at George Fox before being considered for direct admission. Running Start students with one semester (minimum of 12 credits per semester) at George Fox and no additional college credits will be considered for general admission. If a Running Start student has additional college credit (earned after graduation from high school), they will be considered a transfer student and must apply via NursingCAS.
Transfer Students
Students who have a total of 3.0 in their nursing prerequisite science courses and a total 3.0 GPA in their nursing prerequisite courses are eligible to apply to the College of Nursing. See the Nursing Transfer Admission page for specific completion dates for all prerequisite courses. Prior to acceptance into the College of Nursing, all applicants must apply to George Fox University.
Waitlist
A waitlist may be implemented when there are more qualified applicants than placement capacity. Applicants placed on the waitlist will be notified via email and mail of their status. If seats become available to accommodate additional eligible students, the waitlist will be activated. Applicants are on the waitlist for only one admission cycle.
OSBN licensure
Per OAR 851-031, the Oregon State Board of Nursing (OSBN) has limits on eligibility for licensure. Licensure may be denied to graduates with a criminal offense and those with a major physical or mental condition that could affect the individual's ability to practice nursing safely. OSBN will only evaluate each situation upon receiving an evaluation for licensure (not prior). 
COVID-19 & Nursing
Beginning in January 2022 and for the foreseeable future, all students in the George Fox nursing program who have a clinical placement will be required to be fully vaccinated against COVID-19. At this time, all of our clinical partners are requiring proof of vaccination with no allowance for exemption. Failure to comply with this requirement will result in the student's inability to continue in the nursing program at George Fox University.
Quick Links
Note: The prerequisite requirements have changed starting for Fall 2022 admission cycle and beyond. Please review the overview pages to ensure you have completed all the required courses.
Final acceptance to the program is contingent upon passing a background check and drug screen. Learn more about program and clinical requirements
General Resources