Employee Benefits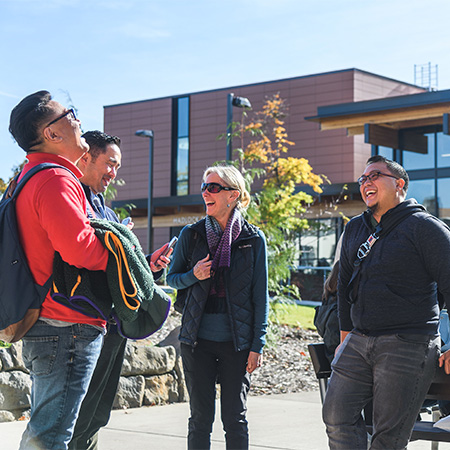 George Fox University is proud to sponsor employee benefits and wellness programs designed to make your employment experience with us as professionally satisfying and fulfilling as it can be.
Beyond traditional benefits such as health and retirement plans, we also offer extensive perks, including employee assistance programs, employee discounts, access to campus resources and facilities, and wellness programs to improve your overall quality of life.
Use this page as a launchpad to explore all our benefits and wellness programs.
Health Benefits
We offer a choice between three different medical plans through the Providence Health Plan. Coverage under these plans includes comprehensive medical care, prescription drug and vision coverage, and alternative care. In addition, we offer all eligible employees and their dependents the option to elect for medical/prescription insurance, activate a Health Savings Account (HSA) and a Flexible Spending Account (FSA), and opt for dental insurance.
Each annual open enrollment gives you an opportunity to review your options and choose the plans that best fit your personal needs. Please see our most recent Employee Benefits Guide for a comprehensive summary of our health plan options.
Employee Navigator
To manage your benefits, please log into the Employee Navigator. (Contact Assured Partners at 866-610-3880 or GFUSupport@AssuredPartners.com if you need assistance with accessing your Employee Navigator account).
Retirement Plan
We offer a 403(b) plan to eligible employees, a retirement plan that is offered by public schools and certain tax-exempt organizations. Like a 401(k) plan, a 403(b) plan allows employees to contribute a portion of their salary to the plan on a tax-deferred basis.
Tuition Remission & Tuition Exchange
We offer undergraduate and graduate tuition benefits to eligible employees and their spouse, as well as an undergraduate tuition exchange program for dependent children.
Tuition remission is a benefit pertaining to enrollment at George Fox University. Tuition exchange provides employees the opportunity to apply, on behalf of their undergraduate dependent child, for tuition benefits at other higher education institutions.
Disability Insurance
To ensure your income will continue if you are unable to work due to a disability that extends for more than 14 consecutive days or accrued paid time off, whichever is later, we provide free short-term disability coverage.
We also offer long-term disability insurance, which helps replace a portion of your income if you are disabled for an extended period of time.
Life Insurance
The university offers two life insurance policies through Unum:
Group life and accidental death and dismemberment insurance available at no cost to employees with the benefit of two-times salary up to $250,000 maximum
Voluntary term life and AD&D insurance available to you and your qualified dependents at affordable group rates
Leave & Time Off
The university offers many types of leave and paid time off to meet your medical, personal and family needs, including vacation and sick time, medical leave, family leave, maternity leave, parental leave, military leave, and more.
New Parent Resources
University employees are covered under the federal Family and Medical Leave Act (FMLA) and the Oregon Family Leave Act (OFLA) if they meet certain employment conditions. Learn about these benefits, as well as resources available to you.
Additional Benefits
Beyond your most basic benefits – health insurance and retirement plans among them – we offer several additional benefits, ranging from employee assistance programs, travel assistance, and employee discounts to long-term care insurance and access to campus resources and facilities.