Outgoing Employee/Dept. Mail Preparation
Letter
Preparation
Protect all mail items from any moisture, such as from rain or sprinklers.
Chart of Accounts Number

Write or stamp your chart of account number in the upper-left corner of each envelope in the return address area. This is for your privacy; we do not like to open your mail to identify the sender.

Example: 990500-MG900-ALL
                     Dept.        Prog.       Op.

Mail with different cost center numbers must be rubber-banded separately.

Envelope Preparation

Flaps must be individually folded down.
Separate unsealed from sealed and bundle separately.
Rubber-band by chart of accounts number.
Hand bundles to staff member at the customer window when they do not fit through the slots. Do not break bundles to fit.
We have postal trays available for larger amounts of 100-, 500- or 1,000-count pieces. Letters in trays do not need to be rubber-banded.
#10 envelopes containing more than three sheets of paper must be pre-sealed.
Use a 6x9 or larger envelope to mail more than four sheets of paper.

Appropriate Mail Slots

Place mail into appropriate labeled slots at Mail Services:

Outgoing Mail: Domestic and international mail
On-Campus Mail
After-Hours Mail Drop-Off

Do not mix outgoing mail with on-campus mail.

International Mail

Separate international from domestic.
International mail cannot have BUSINESS REPLY envelopes inside.
Letters do not require a customs form.
If the envelope contains documents, write "Documents" on left side of outgoing address.

Address international mail correctly to ensure delivery:

John Doe
Station 321
Ottowa Ontario K1A OB1
CANADA

Country name must be on a separate line at the bottom of the address in capital letters.

For more information about international mail, see the United States Postal Service website.
Bulk Mail
Please call Richard Silver, Mail Services' director (ext. 2551), for regulations and qualifications before planning a discounted mailing.
Cut-Off Times for Outgoing Letters
Courier to Portland Campus & Medical Science Building: 10:30 a.m.
U.S. Mail: 2:15 p.m.
UPS: 2 p.m.
Package Shipping Instruction Form

A package shipping instruction form must accompany each outgoing package that comes to Mail Services. Call extension 2555 for additional forms.

Package Preparation

Package should be packaged and taped shut when brought to Mail Services. Packing supplies and tape are available if needed for last-minute packaging, but there may be a cost for some supplies.

Customs Forms

Customs forms are required on the following packages:

All international packages (including Canada & Mexico); ask clerk for the correct customs form.
All APO, AE, FPO (military) addresses require the large customs form.

We provide customs forms at Mail Services.

For more information about customs forms, see the United States Postal Service website.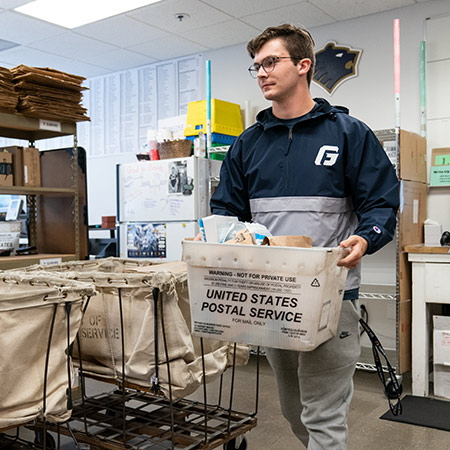 Oddly Shaped Packages
Please use padded envelopes for mailing pens, keys, or any other items that would create an uneven surface. If placed in a normal envelope, additional fees apply, the item can damage mailing equipment, and the item may be damaged during the process as well.
Cut-Off Times for Outgoing Packages
Courier to Portland: 10:30 a.m.
FedEx: Noon
U.S. Mail: 2:30 p.m.
UPS: 2 p.m.
Department Supply Order
Departments can order supplies such as postage stamps or envelopes on their account by emailing Jered McConaughey at jmcconaughey@georgefox.edu. We will notify you when your supplies are ready for pick-up.