Physical Therapy Job Outlook & Salary
Thrive in a Growing Field
The future of physical therapy is brighter than ever. A Bureau of Labor Statistics (BLS) report states that employment of physical therapists is predicted to grow 21% between 2020 and 2030, much faster than the average growth rate for all occupations.
According to the BLS, the increased demand can be attributed partly to the large number of aging baby boomers, who are staying more active later in life than their counterparts in previous generations. Older people are more likely to experience heart attacks, strokes and mobility-related injuries that require physical therapy for rehabilitation.
Job Opportunities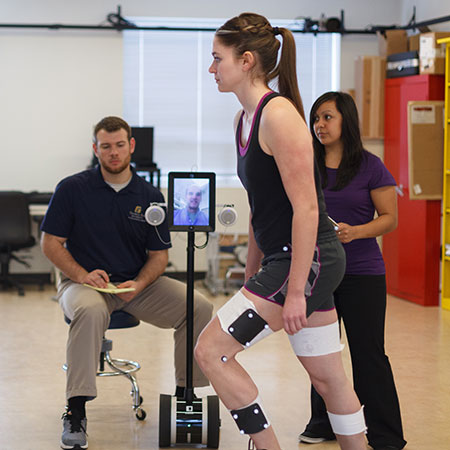 Graduates of our doctor of physical therapy program will be trained to find employment as physical therapists in:
Acute care centers
Independent outpatient orthopedic clinics
Rehabilitation centers/clinics
Skilled care facilities
Sports medicine clinics
Home health settings
Physical Therapy Salaries
How much do physical therapists make? Salaries for the profession vary widely based on a variety of factors, including years of experience, industry and location.
According to the Bureau of Labor Statistics, the best-paid 10% of physical therapists in the U.S. earn more than $108,580. The average salary for physical therapists in Oregon is $90,470, slightly lower than the average salary of $91,680 for physical therapists across the entire U.S. (2020).
The table below compares mean salaries in Oregon and in the U.S. overall for various physical therapy positions:
| Occupation | Oregon Annual Mean Salary | U.S. Annual Mean Salary | Difference |
| --- | --- | --- | --- |
| Physical Therapists | $90,470 | $91,680 | -$1,210 |
| Physical Therapist Assistants | $61,370 | $59,440 | +1,930 |
| Physical Therapist Aides | $29,920 | $30,110 | -$190 |
Are you a high school student?
Learn more about George Fox's pre-physical therapy undergraduate major in kinesiology, which prepares students to go on to grad school to study physical therapy.