Our world is in need of mature, professional scientists with a strong Christian commitment to provide leadership in an age when technology has generated a multitude of moral and ethical concerns.
How will YOU respond to the challenge?
As a student in George Fox's Department of Biological and Molecular Sciences, you will be equipped not only for a career in the sciences, but emboldened to bridge the gap between faith and science and to make a positive impact in whatever field you choose – whether that be in the medical, research, education or industrial sectors.
Our Commitment and Mission
As a department, which incorporates biology and biochemistry majors, we're committed to offering you a quality education characterized by personal attention, small classes and academic rigor.
Our Mission: To prepare scientifically competent, broadly educated and spiritually mature students within a Christian perspective for vocations in industrial, academic and professional areas and service in their communities.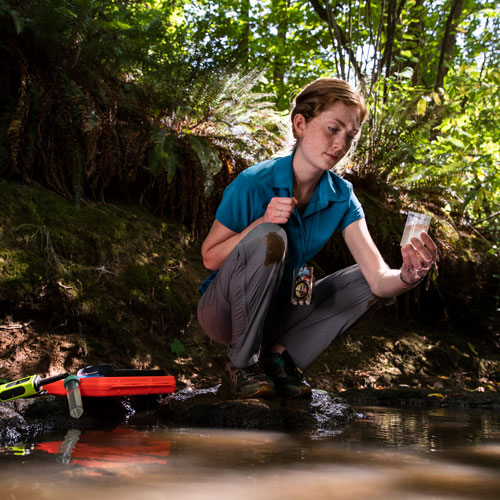 Biology Major
We offer two variations of the biology degree – a bachelor of science and a bachelor of arts in the discipline. Both provide training in the theoretical fundamentals and the practical skills of the biological and chemical sciences, enabling you to pursue a variety of careers that include research, the health professions, teaching, and non-science fields that require critical-thinking skills.
How do we prepare you? By emphasizing hands-on training that includes field research trips (e.g. Malheur Field Station), project-based laboratories (e.g. ecology, animal and human physiology and a virtual reality lab for human anatomy) and research internships.
Biochemistry Major
Our biochemistry major incorporates a wide range of courses in both chemistry and biology, so it's an ideal choice if you're interested in graduate education in biochemistry, chemistry or biology, a career in medicine or medical research, or employment in the areas of food science, agricultural research or the biotechnology industry.
Graduates of the program have gone on to land jobs as college professors, pharmacists, research scientists, physicians and chemical engineers all over the country.
Ways We Prepare Students
The best preparation for pursuing graduate medical training is a rigorous science curriculum, a broad liberal arts exposure, and experience in a clinical setting.

Medical schools require that a student complete a bachelor's degree as well a school-specific suite of prerequisite courses. Most pre-medical students at George Fox major in either biology or biochemistry. The vast majority of students who excel in our academic program perform well on the MCAT and in the admissions process, and ultimately matriculate.

Our department hosts several informational sessions geared toward preparing students for the admissions process, including hosting seminars with admissions staff from Oregon Health & Science University, hosting mock interviews, and assisting students in securing clinical and research experiences.

Undergraduate Research

We encourage participation in original biological and biochemical research that is both laboratory and field based. Interested students consult with faculty advisors to design and conduct a research project that in many cases leads to publication in professional literature. You may also be selected to engage in biomedical research at OHSU through the Murdock College Science Research Program, which provides a summer stipend and placement in an OHSU research laboratory.

Interested in teaching science? You'll have the opportunity to experience the world of teaching by joining our Science Outreach Program staff. Outstanding undergraduate biology and biochemistry students can apply to teach classes to elementary and high school students from the broader community.

If you're considering a career in education, this is a rare opportunity to explore your passion for relating to people and discovering the joy of teaching. Many of our science outreach student-teachers graduate and enroll in master of arts in teaching programs, ultimately impacting the lives of students in both public and private schools.
The end result? Our students enjoy successful track records in pursuit of graduate education – both in research and medical-related programs – and a variety of professional careers.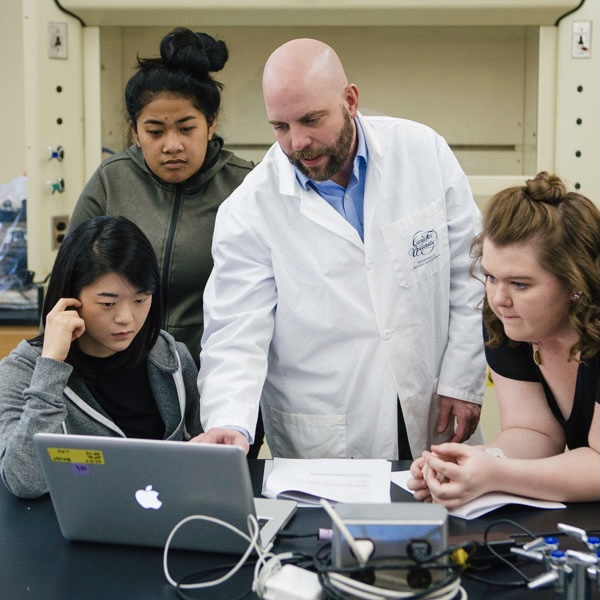 Vision and Values
Our vision is to be known as a community of scientists and Christians where students:
Receive excellent teaching in the natural sciences
Are well-prepared for a wide variety of vocations
Work closely with faculty on cutting-edge natural science research
Explore the meaning and relevance of scientific information
Share their knowledge of the natural world with the broader community
Develop a deeper understanding of the integration of Christian faith and science
As a department, we value:
The opportunity to explore God's creation
The freedom to hold a variety of opinions regarding the origins of the creation and the integration of Christian faith and science
Excellent teaching by all faculty members in the classroom and laboratory that reflects current trends in the natural sciences
Active learning in laboratory settings that emphasizes hands-on access to scientific instrumentation for all students
Research as an important component in the development of young scientists, regardless of their career goals
Interpersonal relationships between faculty and students in all aspects of the academic experience
Connections with broader communities that allow faculty and students to share with others their love of science, their technical expertise, and their understanding of scientific issues from a Christian worldview