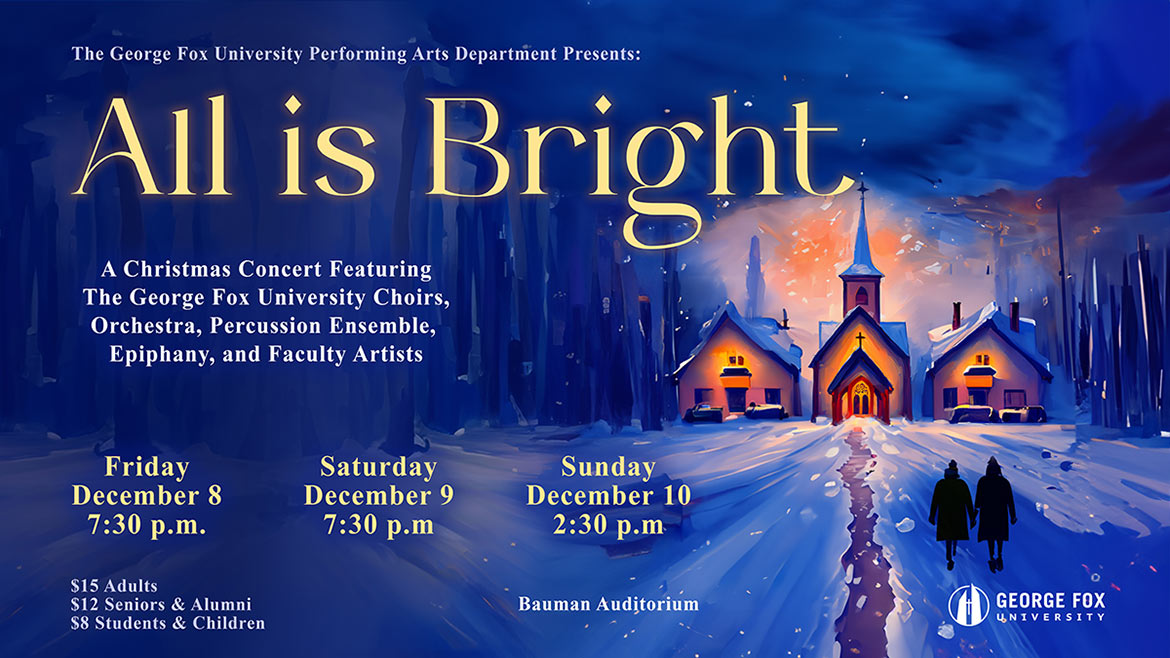 Christmas Concert
Each year, the university hosts its biggest music event on campus in the form of a Christmas concert. It features many of the school's music ensembles and offers three performances – on Friday and Saturday night and Sunday afternoon. This year's concert is scheduled for Friday, Saturday and Sunday, Dec. 8-10, in Bauman Auditorium.
You can purchase tickets for this year's concert starting in early November online or by calling Kathy Harris at 503-554-2670. Have questions? Email our box office at boxoffice@georgefox.edu.
Please note: Balcony seating is accessible only by stairs. There is no elevator.
2023 Concert
The Christmas Concert is our largest event of the year, and will feature our choirs, orchestra, percussion ensemble, faculty artists, and told through Scripture and story by our theatre touring ensemble, Epiphany. Come listen to our amazing artists and fill your heart with the spirit of Christmas!

All is Bright
A Christmas Concert

Friday and Saturday, Dec. 8-9, 7:30 p.m.
Sunday, Dec. 10, 2:30 p.m.
Bauman Auditorium
Tickets: $15 (adults); $12 (seniors/alumni); $8 (students/children)
 
Please note: Balcony seating is accessible only by stairs. There is no elevator.
Each program features more than 150 student musicians performing traditional Christmas carols, and productions feature narration, congregational singing and Scripture reading. Preconcert music begins approximately 40 minutes prior to each performance.
Participants include students from the university choirs, band, orchestra, and Theatre Ensemble. They combine to fit the unique vocal, instrumental, and storytelling needs of the repertoire selected for each year.