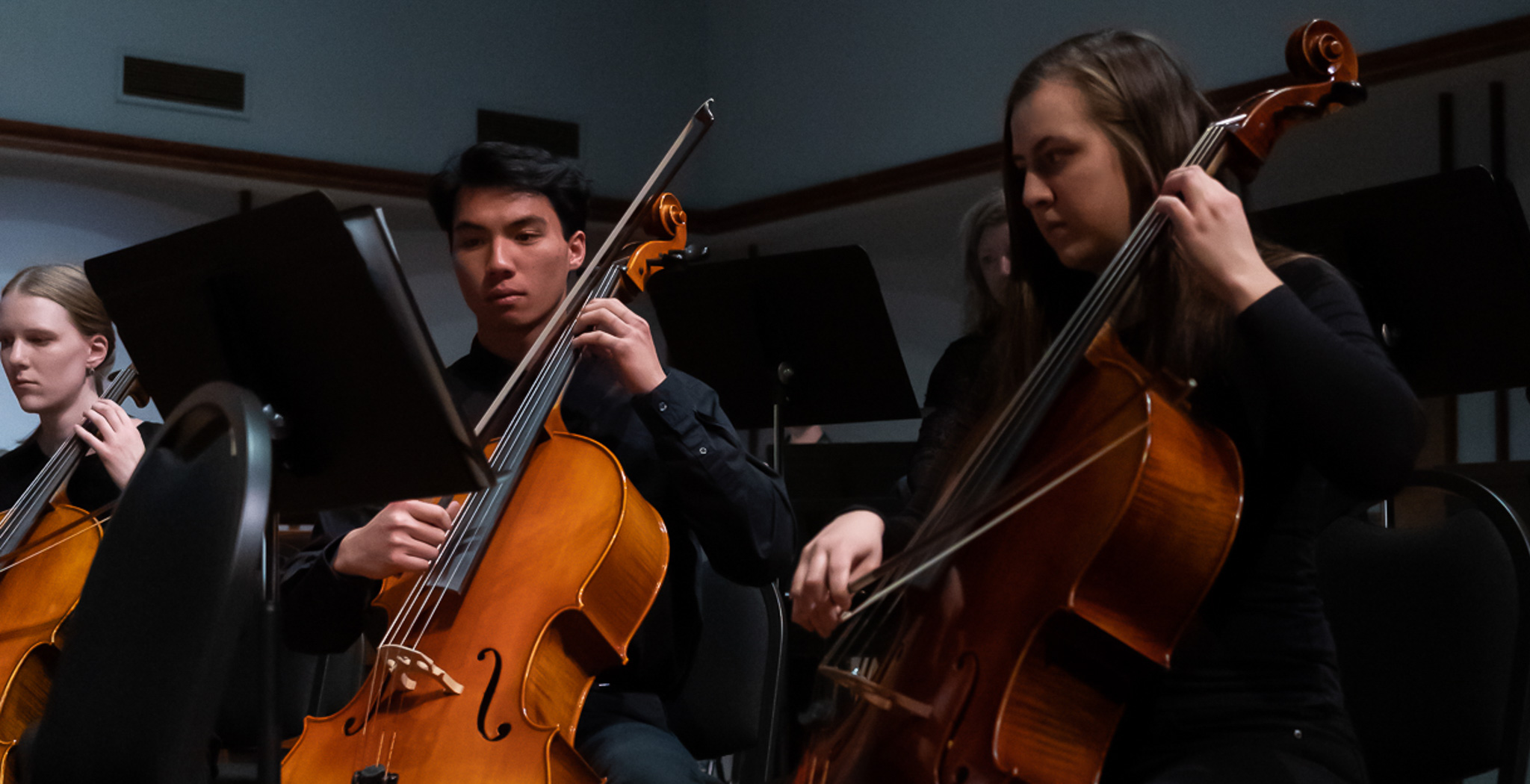 Music Ensembles
Do you have a passion for performance? Love to sing? Enjoy the challenge, commitment and camaraderie that comes with playing in a band? Whatever your musical outlet, we have the group for you.
Vocal Ensembles
Concert Choir
(audition required)
Concert Choir is our most advanced choral mixed ensemble on campus. Membership is open to all students, pending an audition, and rehearsals take place three times a week (Mondays, Wednesdays and Fridays from 3 to 4:15 p.m.) each semester.
The Concert Choir has been selected to perform at the All-State Conference, the All-Northwest Conference, and the American Choral Directors Association's Northwest Regional Conference.
Worship Team
(audition required)
Enjoy leading worship? We offer a worship team opportunity that allows you to lead during our chapel services in Bauman Auditorium, in addition to other services on and off campus. Vocalist and rhythm section players are welcome! Contact Aaron Barnhart (abarnhart@georgefox.edu) to learn more.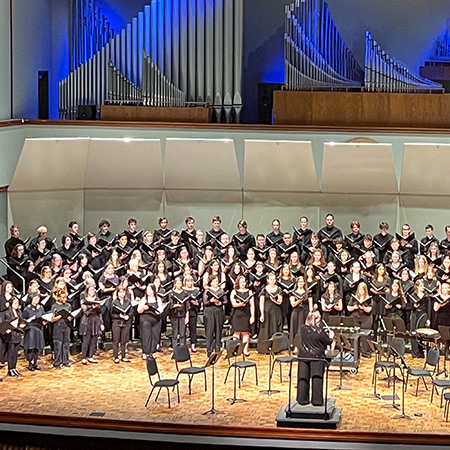 Chamber Singers
(audition required)
Chamber Singers are an ensemble of selected singers (eight to 16) who are comfortable singing on their own, are strong sight readers, and possess mature voices. This ensemble meets on Tuesdays and Thursdays from 2:50 to 4:05 p.m.
Master Chorus
(no audition required)
Membership in the Master Chorus is open to all singers, including employees of the university, the student body, alumni and the surrounding community. The chorus, generally accompanied by an orchestra, performs as part of the Spring Concert in April. It rehearses during the second semester on Tuesdays from 7 to 8:30 p.m.
For information on vocal ensembles, contact Danielle Warner (dwarner@georgefox.edu).
Instrumental Ensembles
Symphonic Band
(no audition required)
The Symphonic Band is a touring ensemble that plays concerts throughout the Northwest. The spring tour repertoire is played in schools, churches and for chapel. This ensemble serves to train students in order to conduct and perform.
The Symphonic Band meets on Mondays and Wednesdays from 4:30 to 5:20 p.m., and Tuesdays and Thursdays from 4:15 to 5:45 p.m. Contact Dwayne Corbin (dcorbin@georgefox.edu) for more information.
Jazz Band Ensemble
(no audition required)
Jazz Band is a group organized to train instrumentalists in the jazz repertoire. Performances are usually for school events and some off-campus concerts. It meets on Mondays and Wednesdays from 5:30 to 6:45 p.m. Contact Nathanael Ankeny (nankeny@georgefox.edu) to learn more.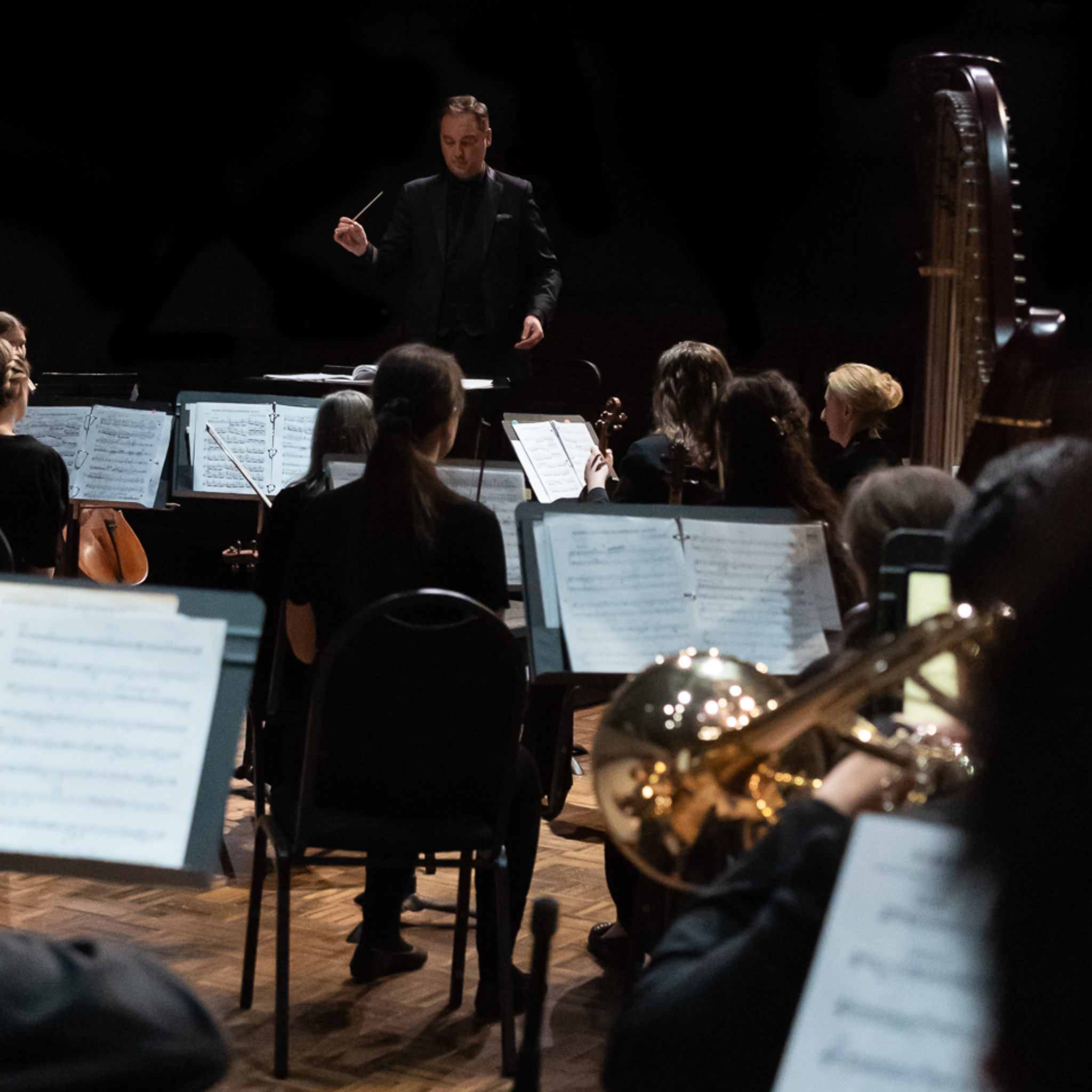 Symphony Orchestra
(no audition for strings; audition for winds and percussion)
The Symphony Orchestra performs music by the master composers of the Baroque, Classical, Romantic, and Modern eras, in addition to pops concerts. Concertos featuring student soloists are often part of the annual repertoire, and the orchestra participates in the annual Christmas Concert, for an audience of nearly 4,000 guests, annually.
In this ensemble, community and faculty musicians team up with students to perform in fall and spring concerts. The choir also serves as accompaniment of the Master Chorus. The Symphony Orchestra meets on Tuesdays from 7 to 9 p.m., with an additional string sectional on Thursdays from 5:15 to 6:30 p.m. Contact Dwayne Corbin (dcorbin@georgefox.edu) for more information.
Chamber Music
We offer a flexible instrumentation ensemble to give students extra performance opportunities, including Keyboard Ensemble, String Quartet, Flute Choir, Percussion Ensemble, Brass Quintet, and others.