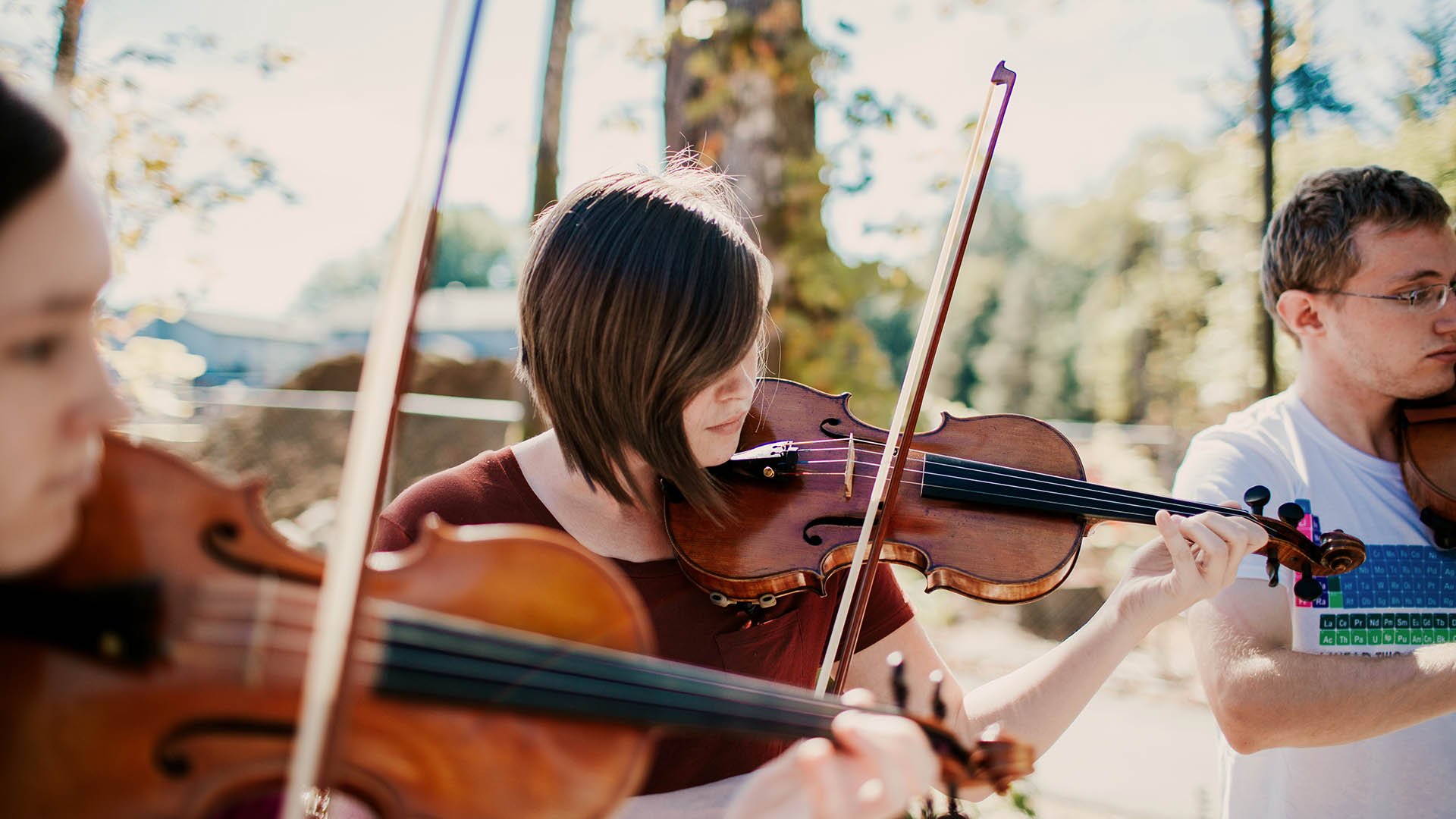 Music Major (BA)
Music has the power to move people's mind and hearts – in worship, classrooms, parties, and a variety of community settings. The art form is built upon a deep collection of shared songs and melodies, and musicians have an insatiable hunger for engaging in creative, new forms of expression.
At George Fox, we invite you to engage in the beauty that is music. Under the guidance of our talented faculty, we offer private instruction in voice, string, brass, woodwind, percussion, guitar, and keyboard instruments, as well as ensemble-style opportunities for practice and improvement.
We are also committed to helping you find your place. Our newly reimagined major, with emphases on music industry and worship arts, is focused on connecting you with compelling vocational opportunities.
Love to perform or lead worship? Join our choir, band, worship team, orchestra, jazz ensemble, drumline, or any of the many small groups we offer.
As part of our music program, you will integrate music history, theory, technique, technology, and philosophy to become the musician you want to be. All genres of music use the same building blocks of chords, musical structures, rhythm, and expressive musical lines, so no matter what your performance or professional goals are, you'll find a place in our program!
Great musicians both build on the well-known traditions, while also learning to truly become musically fluent so that new songs, pieces and genres can just flow from them uninhibited. We invite you to explore your love of the craft with us!
Three Concentrations
Our music degree has a shared general core of classes, ensembles and lessons, and we offer three concentrations – in music industry, worship, and liberal studies – that allow you to customize your degree based on your area of interest.
Industry 
Interested in pursuing work in the music industry? In the industry concentration, you will take courses in lighting and sound, recording, music theory, lessons, and overviews of global, pop, jazz, and classical music literature. You'll also have opportunities to network, perform, record, produce, compose, and teach while in school, as well as have the option to spend a semester in Nashville, Tennessee, at the Contemporary Music Center.
Worship Arts
The worship arts concentration is intended for students who feel the call of God to go into full- or part-time music ministry. You will take a broad mix of courses, including classical and popular musical styles, and become exposed to current trends in music and theatre technology. An internship as part of your course of study will provide you with valuable experience in preparation for employment in ministry.
Liberal Arts
This concentration is the most flexible of all. Here, you will be prepared for any number of professional careers, such as teaching, composing, performing, or working as a freelance musician. Other students select this concentration when they're passionate about music but are leaning toward other careers, since this option has the room to accommodate a minor in any field George Fox offers. It will also prepare you for graduate school in music, or to enroll in George Fox's highly successful Master of Arts in Teaching (MAT) program, where you can earn your Oregon K-12 music teaching credential. 
Any of these concentrations can lead into an MAT program for those who want to become certified music teachers for K-12 band, strings, choir, or general music.
You can pair a minor in music with numerous majors to customize your career pathway.
Why

Study Music at George Fox?
Our music program is fully accredited by the National Association of Schools of Music (NASM) and has been recognized by the National Association for Music Educators (NAfME).

We approach music with an eye toward professional application and community service, whether that be to the church, schools, the broader community, or to our own campus. Our students have internships at churches, schools and other musical venues, and we work carefully with our Department of Education to bridge interested students from a BA in music into our Master of Arts in Teaching program.

The Quaker heritage of George Fox provides a uniquely broad approach to religious study, and all musicians are exposed to many streams of Christianity and Christian worship. Here, you won't have just one way to worship; we embrace the diverse worship styles of many denominations, cultures, and even historical periods within the American church. We have an amazing pipe organ, but also a fabulous pop worship team, while also maintaining the Quaker ideas of silent or unled worship.

You will gain practical experience in a variety of ensembles as well as by performing in recitals in our highly respected venue, Bauman Auditorium, renowed by the Oregon Symphony for its acoustics. Music, perhaps more than any other major, requires hands-on practice to achieve proficiency.

We believe in creating a cooperative atmosphere among students and faculty. It's a powerful thing to work alongside, rather than competing against, others to produce music.

We are transfer friendly! We can customize your music degree with careful attention to your needs, professional goals, and whatever courses you're brining in from other institutions.

As a music major, you have the option to join George Fox University's honors program. This great books program will allow you to engage in active discussions with your peers and provide you with a challenging academic journey that informs your mind and deepens your spiritual walk.
What

Will I Study?
Music theory and ear training

Music history, including Western, global music, and popular music

Sight singing and ear training

Music technology, including recording and electronic music, as specific courses, but also integrated into the very fabric of what we do from day to day

Courses in recording, lighting, and music software, with many elective options in related fields, including cinema and theatre

The integration of faith and the performing arts

Private lessons: Every student enrolls in a once-per-week individual music lesson and a group Studio Class; this also include recitals, which are an integral part of the curriculum for all four years.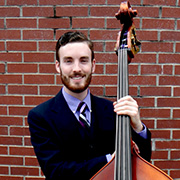 My experience at George Fox was one that was rooted in community. When I graduated high school I was unsure whether I would attend Fox or a music school in Boston. I felt God leading me to go to Fox for at least a year, but I didn't know if I would stay longer than that. By December of my freshman year I knew that I would stay at Fox, mostly because of the people.
What's

after George Fox

Graduates of our music program are professional performers, teachers and leaders in a wide range of disciplines. We recently reimagined the major with emphases in music industry and worship arts, transforming our already-vibrant music department into a program that focuses on outcomes and employability by connecting students who love music with compelling vocational opportunities.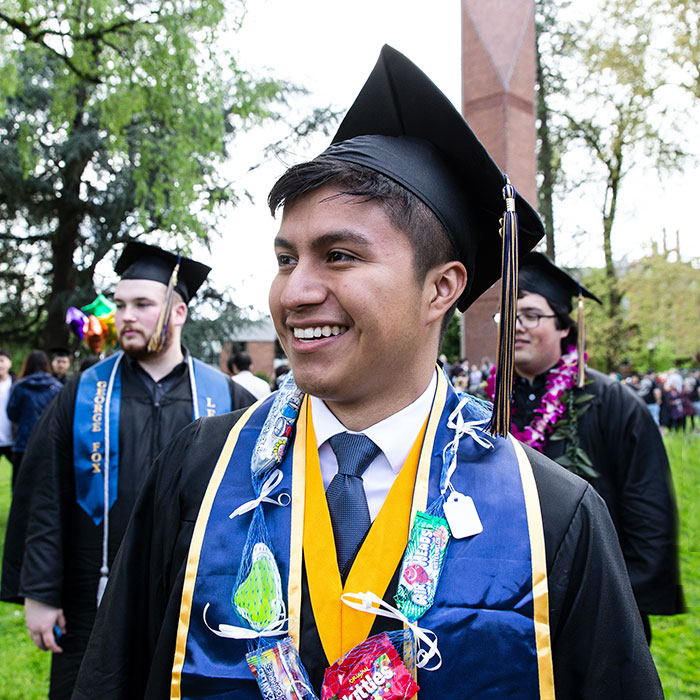 Jobs
Metropolitan Opera Company, New York, N.Y.
Recanati Piano Academy, Recanati, Italy
Bosendorfer Hall, Vienna, Austria
Children's Music Theater Company, Vancouver, Wash.
Private teaching studios, various locations
George Fox University, Newberg, Ore.
Biola University, La Mirada, Calif.
Newberg Friends Church
Internships
Portland Opera
USD Media
Portland International Piano Series
Graduate Schools
Longy School of Music
University of Oregon School of Music
University of Northern Colorado College of Performing Arts
University of Portland
Pacific Northwest Film Scoring Program at Seattle Film Institute
Cincinnati Conservatory of Music
Portland State University
Louisiana State University
Indiana University
University of Oklahoma
Willamette University
For this grad, music and engineering go hand-in-hand
When Simeon Brown plays the violin his eyes are almost closed. His face relaxes and he's neither smiling nor frowning. It's easy to imagine he sees sheet music, or the audience, or his fingers waltzing across the fingerboard, but what he really sees when he plays the violin is the air in front of his nose.
"I get into this zone," Brown says. "I'm not thinking. I'm not doing anything. I'm just playing. It's how I worship."