Have you ever wondered what makes a Christian education unique? Consider attending a university rooted in Quaker faith and tradition. George Fox University fosters the ability to cultivate a strong Christian faith, no matter your denominational background.
So, who is George Fox, you ask? He was a prominent leader in the history of the Quaker faith, now known as the Friends Church, who focused on being a strong public witness to Christian holiness, peace, religious freedom, participatory worship, business integrity, and social justice in England during the 17th century. The tenants of his convictions are evident at  George Fox University, where faculty, staff and peers actively seek to show one another Christlike love.
As part of the university's commitment to a faith-based Christian education, undergraduate students are required to participate in weekly chapel services, with the goal of cultivating spiritual growth and fellowship between peers. Chapel can include anything from times of prayer, worship, guest speakers, or messages from campus pastors. 
Below are three students' perspectives on how George Fox has helped cultivate their faith and provide a better understanding of other denominations, and what a Christ-centered education at George Fox University means to them.
Jacob Hayes | Presbyterian | Athletic Training Major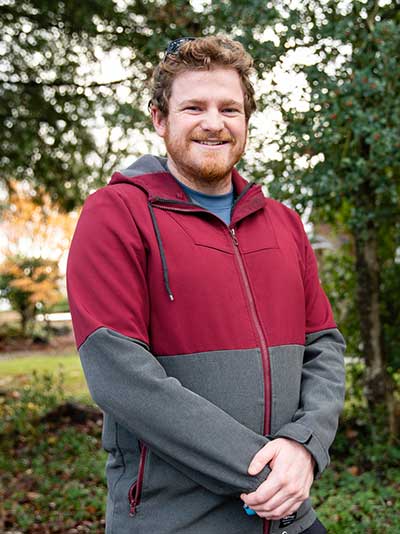 What about Fox's faith promise stood out to you when applying to college? 
"The Be Known promise for sure. The promise was made very clear to me when I visited as a prospective student in high school and was only confirmed by my freshman year of college. This was fulfilled not only by faculty in general but especially within the athletic training department.
The athletic department, specifically the Bridge Network and Craig Inglesby, have done a great job at making sure our stories are known, and I think that's why you're seeing success as a whole for Bruin Athletics. There is a reason for our success beyond innate athletic ability, and this starts with Be Known. 
I desired a Christian community for friends and faculty with a focus on Chrisitian education and was fortunate to have the opportunity to run for George Fox. Having all my teammates become my friends through shared faith has built great relationships. Being able to run at Fox was the cherry on top for me."
Hailie Bishop | Conservative Baptist | Biology Major and Chemistry Minor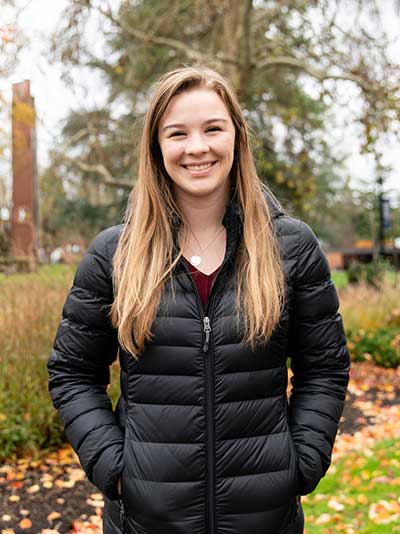 Do you have a faith community here at Fox?
"I have been attending Associate Professor of Physics Todd Curtis's Life Group since last year. Todd and his wife Amy are incredible Christians and wonderful people, and I love being able to learn from them. Also, since freshman year, my entire friend group has also participated in Friday night Bible studies together. We worship, have fellowship, and learn from each other and our different faith backgrounds, reconciling our different understandings and beliefs. This has brought us really close.
A few of us have also started attending Grace Baptist Church, here in Newberg, where I became a member and now teach Sunday school. Overall, it's been great to have a community to wrestle through the hard questions of faith with."
Do you think that attending Fox has helped you foster spiritual growth?
"The environment of love and learning of faith here at Fox definitely has. I think because the Quaker faith has a foundational focus on loving everyone, this has helped a lot of different people come together. At the end of the day, we all love Jesus."
Cana Buckley | Anglican | International Studies Major with a Minor in Spanish and Christian Ministries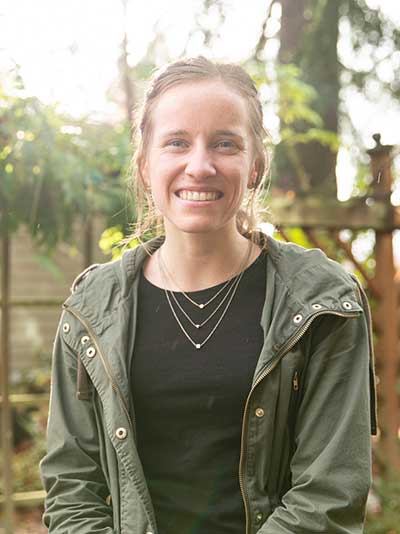 Have you learned more about different denominations since attending Fox?
"Living on campus in the dorms my first two years allowed me to interact with students who are affiliated with all different types of churches and denominations. I have really appreciated the discussions and relationships that were cultivated due to that.
Also, being a member of the George Fox Honors Program, which focuses on the history of the church, has also taught me a lot about where denominations came from, along with church tradition. This has taught me that there is more than one way to practice the Christian faith."
The George Fox community is unique in how it exemplifies the love of Christ and the love of neighbor in and out of the classroom.
Whether you participate in faculty-led Life Groups, a local church, or Bruin Athletics, the possibilities for spiritual growth and understanding are endless. Christ is present in the hearts and spaces here on our campus, and we encourage you to come experience it for yourself!