Illustration Major (BA)
You've played the video games and been blown away by the graphics. You've admired the creativity of illustration in books. Perhaps as a kid you once thought how much fun it would be to be an illustrator but also wondered how realistic it was to make this dream a reality.
Well, take heart: As an illustration major at George Fox, you could very well pave a career path toward illustrating books, creating surface designs for products, delivering imagery for web or game development, or producing character and concept art.
And that's just the beginning.
Illustrators find work as designers, creative directors, art directors and in a myriad of other roles related to image making. Many illustrators pursue freelance positions, which provide them with autonomy and flexibility in their work and life.
Entrepreneurial Artists
Contemporary illustrators are often known as artistic entrepreneurs, since their practices range from editorial work, self-directed projects and exhibition to merchandise design and much more.
Our faculty of working professionals will guide you through a curriculum in traditional media, digital tools and portfolio building that prepares you to pursue work and contracts as a practicing freelance professional.
Whether sitting at an easel or working with a Wacom tablet, you will develop creative problem-solving abilities and an authorial voice, and learn to translate ideas into visual forms.
100%
of art and design students complete an internship in their field before they graduate
Why

Study Illustration at George Fox?
We offer robust course offerings that feature traditional and digital media.

Our faculty have active practices, working as comic book artists, editorial illustrators, and client-based creators. One of our faculty members, Brandon Waybright, recently created custom illustrations for Princeton University as well as label illustrations for a local winery.

Portland is well-known for its active illustration community, which opens up numerous opportunities for our illustrators to share and sell their work.

Beyond the "practical" reasons, illustration gives you an outlet to apply your creative mind to create images that communicate thoughts and ideas that encourage, challenge or even change people's views of the world. You will craft images that tell stories and communicate ideas.

You will be taught by professors who embrace a Christian worldview.

You will be part of a family-oriented atmosphere that incorporates multiple community-based events, including an art retreat where majors travel to the Oregon Coast to spend a weekend of artmaking, worship and getting to know one another.

You will have the opportunity to engage in multiple community-based events throughout the year, with both on-campus activities and off-campus events in Portland.

As an Illustration major, you have the option to join George Fox University's honors program. This great books program will allow you to engage in active discussions with your peers and provide you with a challenging academic journey that informs your mind and deepens your spiritual walk.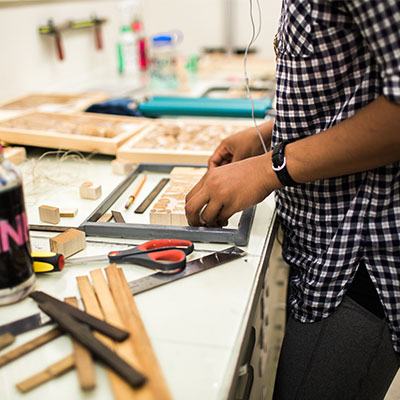 What

will I Study?

As an illustration major, you will study:
Character design
Visual storytelling
Digital and traditional media
Typography and lettering
Printmaking and Painting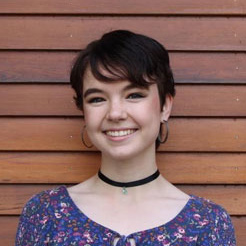 Corrie Patton
Illustration (2022)
My artistic confidence and skill has grown exponentially through the art department. With the care and welcoming nature of my professors, I can comfortably come to them with works in progress and receive generous feedback and encouragement. This department is my home as well as my take off point towards an incredible future in design and storytelling.
What's

after George Fox

The Portland metro region is well-known for its thriving arts community, bringing in millions of dollars annually and supporting a significant population of artists. Our students have had work featured in national magazines, have written original children's books, and completed client work for regional businesses.
Common career paths
Freelance illustrator
Children's book designer
Lettering artist
Comic book or graphic novel illustrator
Concept artist
Editorial illustrator
Technical illustrator
Medical illustrator
Storyboard artist
Cartoonist
Color specialist
Production artist
Brand illustrator
Fall 2021 / Spring 2022 art and design internships
100% of art and design students at George Fox complete an internship in their field before they graduate. Here's where some of our student interned during the 2021-22 school year:
SERA Architects
Maison Inc.
Garrison Hullinger Interior Design
WCP Solutions
Hyphn
Chehalem Valley Chamber of Commerce
Sproutbox Media
Willis Team Homes at REMAX
Stadia Church Planting
Talk Out Loud
Yonder Agency
Kravet Inc.
Square Deal Construction
Reverie Design Studio
LM Modine
Real-world learning opportunities our art and design students have participated in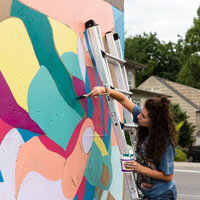 Mural Project: A community mural project that included community engagement, city council presentation and production
Glass Project: A public works project producing glass installation for new buildings on campus
Tiny Home Village: Working in coordination with North Valley Friends Church to create plans and a vision for a tiny home village that offers low-income housing
Community Art & Design Workshop: Teaching high school students art and design
George App: Conceive, develop and present an app to serve students at George Fox by replacing clunky existing web systems on campus.