Interior Design Major (BFA)
The interior design major at George Fox is the only four-year interior design program in the Portland area, offering you the chance to dive deep into creating innovative and functional interior spaces.
Starting your freshman year, you'll learn how to plan space, design to client specifications and then professionally document that space to be built. Our program includes courses in both residential and commercial interior design, allowing you to determine which path best suits your skillset as you plan your professional journey.
From learning global architectural history to designing a real-world project in Paris, our students learn how to be innovative and thoughtful designers as they navigate the world of interior design.
You Will Be Professionally Prepared
Our program is deeply connected to the local Portland design industry, and you will work with industry mentors in several classes to create professional relationships. We also work closely with local professional organizations like IIDA and ASID.
Our curriculum is based on the fundamentals of the NCIDQ (National Council for Interior Design Qualification) exam, which you can take after entering the industry. From building codes to ADA regulations, you will be equipped with the knowledge to design for the health, safety and welfare of building occupants.
You'll also be preared to take the LEED (Leadership in Energy and Environmental Design) Green Associate exam, allowing you to be a step ahead when you enter the field and be an expert on sustainability before you even graduate.
With a curriculum that covers the facets of both residential and commercial design – by tackling real-world design problems, developing innovative solutions to challenging topics, and learning professional practices for the industry – you'll be equipped to be successful and creative member of the design community.
100%
of art and design students complete an internship in their field before they graduate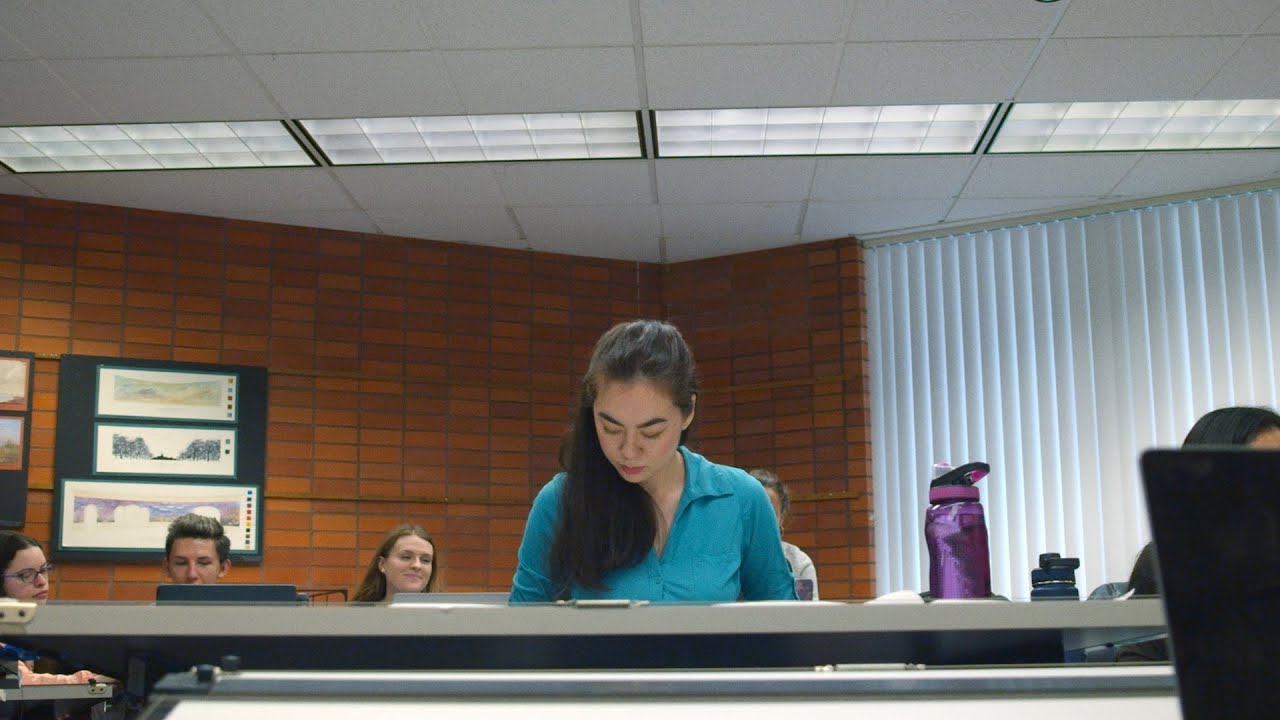 Why

Study Interior Design at George Fox?
Learn from accomplished faculty, all of whom continue to work professionally in the field and who are professing Christians.

The major shares a foundational curriculum with the studio and applied design areas of our program. As a result, students are exposed to an interdisciplinary, integrated curriculum that stresses the broad intellectual development needed for a robust design practice, whether as a team member of a larger design firm or a freelance practitioner.

Gain a global and diverse viewpoint through design by designing projects all over the world in diverse geographical locations

The welfare of our planet plays a large role in our program, educating you on global issues around building design and sustainability

Learn how to be a practicing and professional member of the design community, interacting with industry professionals whenever possible through reviews and industry events

Gain knowledge of universal design when considering your projects, including how building code and ADA requirements fit into space planning and design

From designing residential homes to commercial spaces, our students design a broad range of project types, completing their interior design studies with a robust portfolio, ready to innovate and lead in the industry.

Connections to regional businesses and institutions allow our students to work in placed internships and work with clients/commissions while still in school.

You will have the opportunity to participate in multiple community-based events, including an art retreat where majors travel to the Oregon Coast to spend a weekend of artmaking, worship and getting to know one another.

You will be part of a family-oriented community where you will be known by name and surrounded by peers who will challenge, encourage and listen to you.

You have the option to participate in George Fox University's

honors program

. As an interior design major, you can expand your academics outside your department classes and engage in Socratic seminars focused on great books, community and discussion.
What

will I Study?
Designing homes
Designing kitchens and baths
Crafting custom furnishings and finishes
Drafting and creating renders of buildings
Creating environmentally friendly workplaces
As courses progress, you will be challenged by design problems that increase in size and complexity. The curriculum will help you develop an understanding of the influence of sustainable building and reuse on human health, well-being and performance.
Our courses have been designed to help us succeed in the world outside of our campus by emphasizing industry standards and practices that might not be in textbooks. Along with connections made with working professionals in my field, the friendships I have made in the classroom are exceptional. In a small major, and at a small school, I have had the opportunity to grow close with my peers. We help each other with projects, offer feedback and collaboration, and create a fun atmosphere to learn and work.
What's

after George Fox

With many interior designers moving toward freelance practices, the shape of the interior designer field is shifting, creating opportunities for young designers with a vision and technical ability to break into the field and achieve success.

The field is also shifting in response to the pandemic. As our homes become work spaces, it becomes all the more critical to create multi-functional environments. While architects are running into a slowdown on new buildings, interior designers are taking in a steady stream of remodels.