Are you drawn to beauty and are eager to understand your creative side through the context of God as our Creator? Maybe you've wondered if a career in the art world was possible. We're here to tell you that it is!
There are careers to be had in art! The industry is growing across the nation and our alumni are thriving as professional painters, running educational programs, curating galleries, installing exhibitions, and, best of all, getting paid to do what they love!
In short, if you love looking at and creating objects and images, want to live and work in creative spaces, and find yourself constantly exploring materials, you should consider studying studio art.
Where Can a Career in Art Take You?
Our major prepares you for a wide range of possible career paths in the industry. As a studio arts major, you will …
Be equipped to develop, manage and direct creative organizations
Learn the historic, curatorial, and business administration skills needed to pursue a career in the leadership and management of arts-related organizations as part of the major's arts administration emphasis
Get a behind-the-scenes look at what it takes to run an arts organization, facilitate community events, and curate an exhibition through working with George Fox's galleries and existing art collection, regional nonprofits, and arts institutions
100%
of art and design students complete an internship in their field before they graduate
Collaborate with Fellow Creators
Our studio arts major fosters the development of collaborative, resourceful, and creative makers who work in a research-based practice informed by contemporary and historical art and culture.
We work in a variety of two- and three-dimensional media including, but not limited to, sculpture, painting, drawing, photography and lens-based media, print media, and utilitarian ceramics.
Creative Thinking and Technical Precision
We place an emphasis on critical thinking, problem-solving, and risk-taking throughout the program, encouraging you to develop the confidence to experiment and the self-reliance to become a courageous life-long learner.
Instruction in technical competencies and skills of the studio practice is partnered with conceptual strengthening projects and polished off with professional and business practice capstone work to send our emergent practitioners out equipped for a life of successful creating and earning.
Why

Study Studio Arts at George Fox?
You will learn from professors who are dedicated Christians and be part of a family-oriented community where you will be known, encouraged and heard.

Our studio arts program will prepare you to enter the world as a professional practitioner.

You will receive training on securing grants and cultivating business practices in the art arena.

Our robust mural program and deep ties to the creative industry in our region provides you with multiple touch points to practice your work professionally in the community before you graduate.

You will have multiple opportunities to create work on commission and sell your art at local First Fridays and other events.

You will learn from faculty who are practicing artists with a wide range of current studio and curatorial practices.

As a senior, you will have the opportunity to showcase your work in a solo or group exhibition.

You will benefit from a ceramics and sculpture facility that will allow you to explore pottery and various sculpture mediums.

As a senior, you will have the opportunity to set up your own studio space in our art annex, with its own workspaces, kitchen and ceramic kiln.

You will get the opportunity to participate in multiple community-based events, including an art retreat where majors travel to the Oregon Coast to spend a weekend of artmaking, worship and getting to know one another.

As a studio arts major, you have the option to join George Fox University's honors program. This great books program will allow you to engage in active discussions with your peers and provide you with a challenging academic journey that informs your mind and deepens your spiritual walk.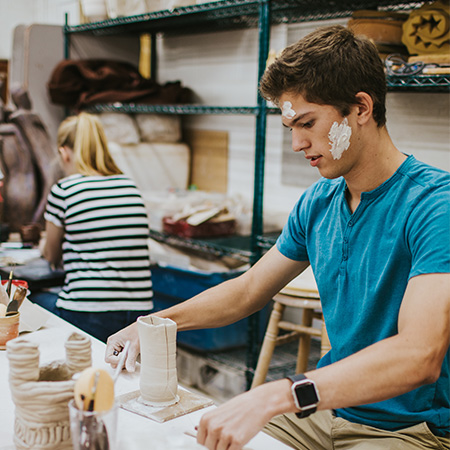 What

will I Study?
Printmaking
Painting
Drawing
Sculpture
Photography
Ceramics
Glass work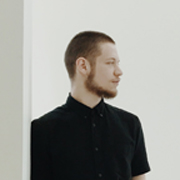 Lehman Pekkola
Class of 2017, Visual Artist, Pic-Time LTD
My time at George Fox allowed for transcendence to take place – a transcendence that I hadn't anticipated would take form, a transcendence that changed my entire perspective toward relationship, toward art, toward faith, toward the world. George Fox's professors and peers allowed space and opportunities for me to become a better human being, which is something I'll forever be grateful for.
What's

after George Fox

According to the Bureau of Labor Statistics, employment as a craft or fine artist is expected to grow 6 percent between 2016 and 2026, and roles for multimedia artists are growing at 8 percent.

The Portland metro area is well-known for its thriving arts community, bringing in millions of dollars annually and supporting a significant population of artists. As the world moves more visual, the role of the "traditional artist" has shifted and organizations of all types have been creating opportunities for artists.

Our students have received full-ride scholarships to grad school, and we boast a large number of alumni who are supporting themselves with their practice.