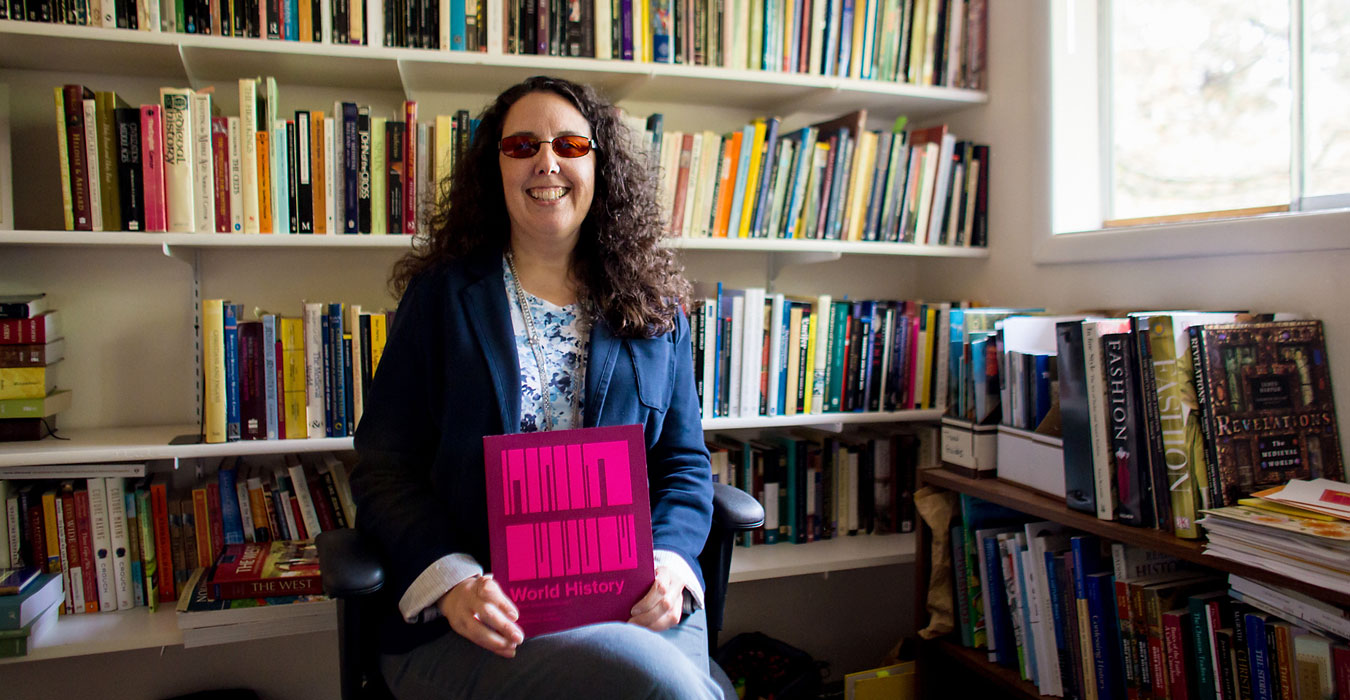 Bringing History to Life
Professor Caitlin Corning's new book provides context for key historical events in vivid detail
By Sara Kelm
When history professor Caitlin Corning was approached by Fortress Press to write World History: A Short, Visual Introduction as part of its Christianity in the Liberal Arts series, she did what some scholars find difficult: she asked for help.
Corning is certainly qualified. A medievalist who specializes in church history, she has taught at George Fox since 1996 and is currently a faculty fellow in the William Penn Honors Program. In 2006, Corning penned The Celtic and Roman Traditions: Conflict and Consensus in the Early Medieval Church. This new book, though, wouldn't be about church history – it would be about everything else.
Proposed as a companion to a church history textbook, Corning's latest endeavor covers the history that seminary instructors find they must explain in order for church history to make sense.
"With the Reformation, for example, I focused more on politics rather than religion, because religion is the type of material you would find in church history books," Corning says. "Instead, I addressed how the wider political and economic situation influenced religious events."
As a starting point, Corning considered two courses she has taught for many years: Western Civilization and Christian Foundations – familiar classes for many George Fox graduates. These classes helped her conceptualize the story of a world affected by Christianity. Another main goal was brevity, as World History is meant to be a supplementary textbook. Corning wanted to "honor students' time" by making it as short and clear as possible. "I needed to give people a historical context and do it in not many pages," she says.
To narrow the events included in this brief and specialized history book, Corning started asking around. She went to instructors at George Fox Evangelical Seminary and other seminaries and asked them what events they would prioritize – those that were not church history but students needed to understand. The list compiled by Corning's colleagues had some surprises. For instance, some instructors mentioned the French Revolution as a significant gap in student knowledge.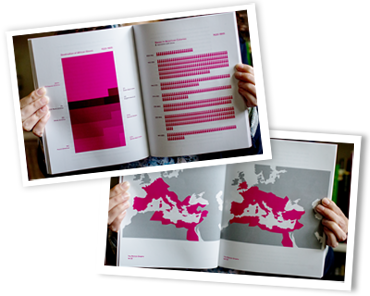 Shades of pink are used to illustrate key elements of Corning's text – from maps and timelines to the visual representation of ideas – in a simple yet memorable way.
Corning also collaborated with illustrator Joseph Novak to represent key elements of the text in graphic form, from maps and timelines to the visual representation of ideas. The first chapter includes a multi-page visual that shows the spread of the Roman Empire in pink and gray, illustrating and emphasizing Corning's prose. The finished product is a readable and visually compelling textbook that comes in at only 136 pages in length.
She says the book can provide important context both for key moments in church history and current church issues. Ultimately, Corning's goal is that it helps students and readers develop empathy. "We need to have the empathy to understand the decisions people made and how those decisions made sense in their context," she explains. "People always want a better world for their kids. We don't always agree on how we get there, but that's what we want."
Ultimately, Corning's values of context and empathy are embedded in World History: A Short, Visual Introduction. It demonstrates that history – of the church and the larger political, economic and social world – is a complex story about making life better through community, collaboration and remembering what came before.