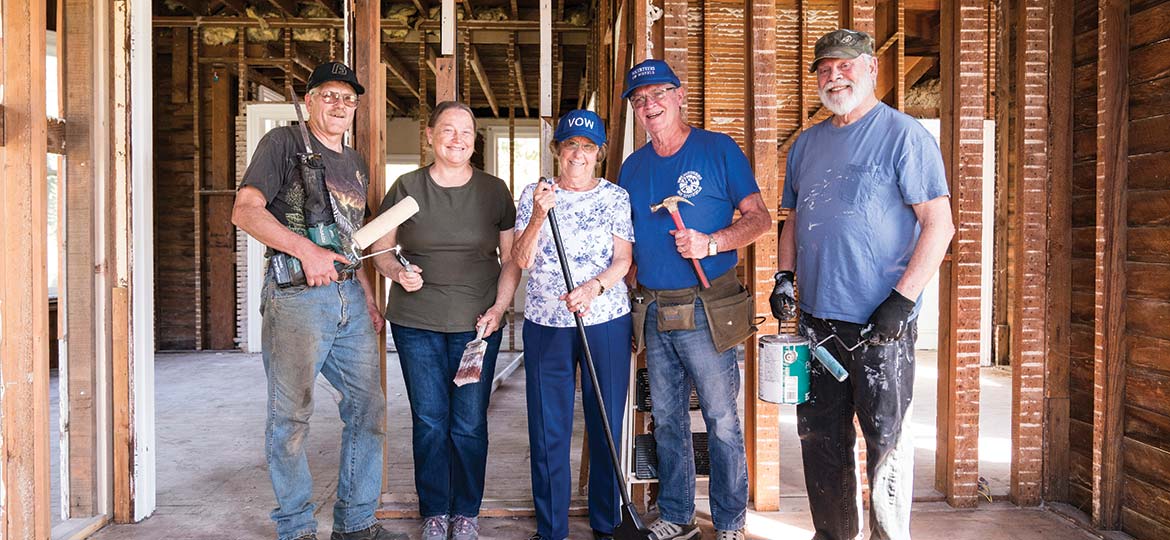 Volunteers on Wheels
A group of retired George Fox alumni travel the Northwest to help with church construction projects By Barry Hubbell
It's not uncommon for George Fox alumni to cross paths at church, sporting events or the local grocery store. But there is a group of alumni who meet regularly under far different circumstances – sometimes on their hands and knees – getting dirty in ditches, in basements, on rooftops and under kitchen cabinets.
They are members of Volunteers on Wheels (VOW), and they travel the Northwest offering skilled labor and physical assistance to churches and church-related organizations needing help with repairs, remodeling and reconstruction. It's a labor of love.
With little fanfare, the volunteers have quietly assembled a record of more than 200 completed projects since 1984, with an estimated contribution of more than $1 million in labor – all done for free. But the benefits go both ways.
"Getting to work with a team and local volunteers to achieve a needed goal is very rewarding. It helps fill my days with productive work," says Bill Rourke (B67), a project supervisor with the group.
"We especially enjoy getting to know people from the churches and camps – during lunch times and working together," says Bruce Longstroth (B65), who serves as chair of the organization.
Joining them in VOW volunteer projects in recent years are Kay (Sheirbon) (Newell) Rourke (n60), Sharon (Wright) Longstroth (B65), Clyde Thomas (B78) and Carol (Roth) Thomas (B77), Keith Baker (B65) and Anna (Simonson) Baker (B91), Sandra (Smith) Dealy (n60) and Ed Dealy (n62), Margaret (Fitzsimmons) Drahn (B65) and Curtis Drahn (B66), Lon Fendall (B64) and Ralene (Barnes) Fendall (B64), Roger Knox (n71) and Cathy (Kruger) Knox (n74), and Linnea (Chapman) Stahlnecker (B64) and Dan Stahlnecker (B65).
The need for assistance is never-ending, members say. They have to carefully select what they can accomplish each year, primarily in the summer months when the weather allows for outdoor work. They average five, but sometimes complete as many as 10, projects per year.
In past years VOW has built a new dock at Quaker Hill Friends Camp; painted at Camp Tilikum; constructed and installed a bell tower at Greenleaf Friends Church; installed playground equipment for Crossroads Friends Church; added a French drain outside Entiat Friends Church; and built sidewalks and replaced siding at Twin Rocks Friends Camp, among many other projects.
Their largest project? A 2020 summer gathering in Idaho, where they built and installed 100 lockers for the locker rooms at Greenleaf Friends Academy. They also installed a sprinkler system for sports fields and reorganized books in the library. One of the strangest projects? Handling mattresses at Quaker Hill Camp after a bed bug scare. The farthest away? Alaska, in 2015, to reroof and reside Kotzebue Friends Church.
Beginning this fall and winter they'll take on their largest project ever, helping to remove a house owned by Twin Rocks Friends Camp and replacing it with a two-story, six-bedroom house for staff. They will help pour the foundation, pre-build house walls, assist in setting second-floor joists and the deck, and begin inside framing, among other work.
Volunteers pay their own way, including gas, food and lodging, with most traveling in their own RVs. They are always looking for new volunteers.
"I have no special trade skills, but I can help," says Rourke, who started at age 67 after he retired in 2010. "Even at 80, I like to think that I still have something to give."
VOW is looking for volunteers!
Learn more at nwfriends.org/volunteers-on-wheels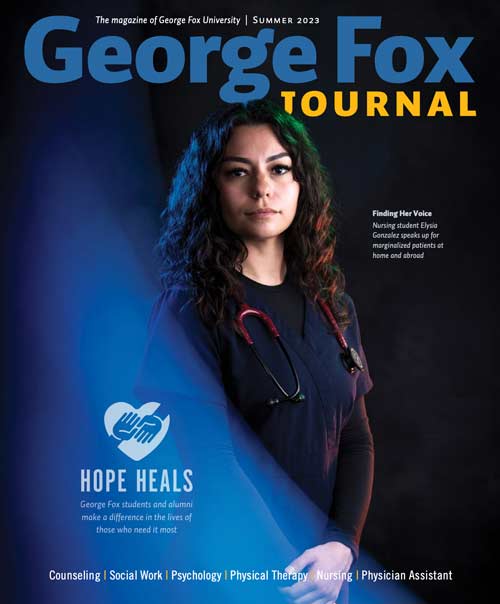 Looking for more?
Browse this issue of the George Fox Journal to read more of the stories of George Fox University, Oregon's nationally recognized Christian university.