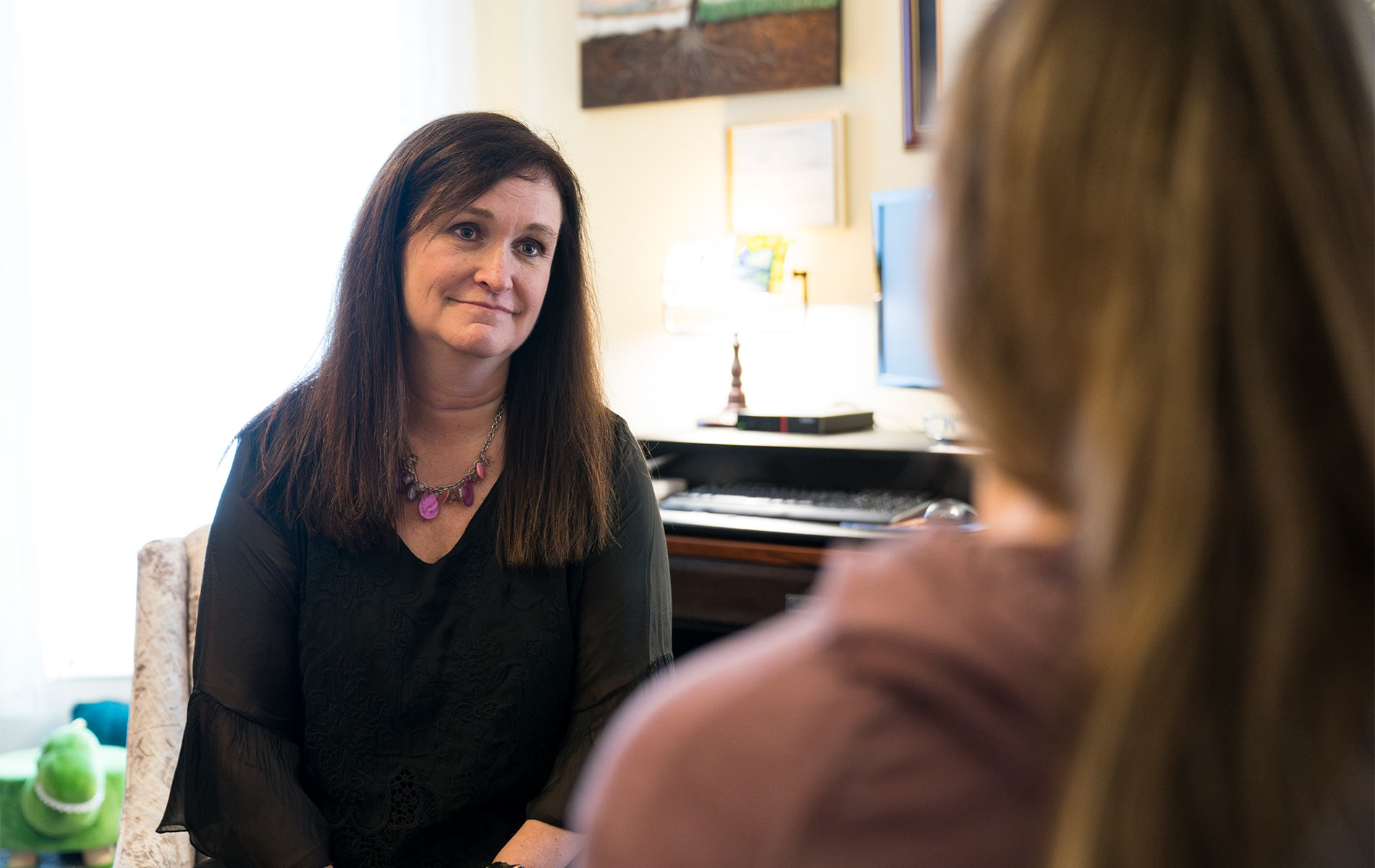 Refined Through Fire
The support of others during devastating life events fuels alumna Shaun Davis' desire to bring hope and healing to her psychology practice By Sean Patterson
For as long as she can remember, Shaun Davis has been there for people.
She was the little girl who served as the mediator when her friends weren't getting along. The high schooler people naturally gravitated toward when they needed a listening ear and a word of encouragement. The empathetic adult with a heart for the hurting and marginalized.
"You are invited into people's lives. You are given this immense privilege of walking in those hard times into some of the scariest, darkest, saddest moments of people's lives. And you get to be there with them. I don't have to do something magical; I just get to show up with people."
Those who know her weren't surprised, then, when she decided to go back to school as an adult to pursue a career in psychology. Now a licensed psychologist with a private practice in Newberg, Davis is doing the very work she has longed to do since childhood: help restore lives.
In a cruel twist of irony, she would need to rely on the support of others to get there.
The Fire
It was during her final months as a social and behavioral studies student in George Fox's Adult Degree Program that Davis' home burned to the ground. Everything was destroyed, but thankfully, no lives were lost. It took 18 months to rebuild the house, leaving her family – including husband, Arlin, and one of her daughters – displaced and having to start anew.
With no home computer, she managed to complete assignments on an iPhone until her laptop could be replaced by insurance, while her church and ADP peers and professors "pulled together mountains of clothes, food, supplies and everything" to see her family through.
She also found solace from a psychologist she connected with through George Fox. "She, in so many ways, changed my life through her support," says Davis, a 2017 alumna of George Fox's Doctor of Psychology (PsyD) program and a 2011 graduate of the university's Adult Degree Program. "She taught me what it was all about, how to sit in grief and not be swallowed up, to not be afraid of being sad. And she just metaphorically held me in that really difficult time when some days I didn't know what we would do."
As time went by, the family rebuilt their lives. Life returned to normal. Inspired by the incident and the counsel she received, Davis was ready to tackle a new challenge and pursue a doctorate in psychology, with the goal of coming alongside others just as others had done for her.
Then tragedy struck again.
The Accident
It was during her third year in the PsyD program when, driving home from class one day, Davis was involved in a car accident that resulted in a severe concussion and left her bedridden for three months.
Once again, her community came to her aid. Classmates visited to review the things she was missing, and a clinical supervisor stepped in to help manage her caseload. "The PsyD community made it very plain that my health was most important," she says. "They really taught me a lot about how we can respond when life happens in the middle of this really important work that we're doing. I literally was dependent on others to be sure I didn't fall behind or fall out of the trajectory I was on."
The camaraderie with her peers and the personal touch of her professors caught Davis off guard. "I had really not expected to form the kinds of relationships that I did when I came into the program," she says. "I was a middle-aged woman. I had a family. I felt like I was just going to go to school, do my homework and graduate. But the cohort model really fosters you stepping into a group of people and becoming family. It was something so surprising to me, and I don't know that I could have done the program without it."
Career Confirmation
The traumatic experiences – and the care she received in their aftermath – confirmed Davis' long-held belief that she was put on this planet to be a source of encouragement, hope and inspiration to others. They also reinforced her resolve to be a more nonjudgmental, validating and positive person.
"You go into this field thinking, 'I'm going to help others,'" she says of psychology. "But what you really find is that you are invited into people's lives. You are given this immense privilege of walking in those hard times into some of the scariest, darkest, saddest moments of people's lives. And you get to be there with them. I don't have to do something magical; I just get to show up with people. It is something more than I ever imagined it would be."
She has also discovered that helping others goes beyond being a shoulder to cry on. "You can actually help people in a journey of healing. I felt a very spiritual connection to that. And to me, that's the calling that I think God has put on my life – to combine the natural inclinations with the education and really impact people's lives."
Giving Back
Davis' gratitude for the training and support she received at George Fox is reflected in her desire to meet with PsyD students on a regular basis. She supervises many of them in her own clinic, giving them valuable clinical practice experience while providing the community with a low-cost therapy option, and she teaches a family systems class. "That was one of the most formative classes I took when I was a first-year student," she says, "so it feels like a nice way to give back to the program."
Her encouragement to students: Don't just "do the homework." Be present.
"Like I did, many students come into psychology thinking there's a handbook that will tell them, 'Do this certain thing and people's lives will magically be changed.' That's not how it works. What I've learned is that this process of providing unconditional acceptance, safety and relationship enables people to navigate those really hard and scary places.
"The greatest part of my job is that I have seen that being there in that way – nonjudgmental, accepting, validating, unconditional, positive – changes people's lives. Because as they experience that, they begin to have hope that other parts of their life can be different as well."
Her encouragement to others: "The more we understand ourselves, the more compassionate we can be toward ourselves, and therefore, the more compassionate we can be with the people around us."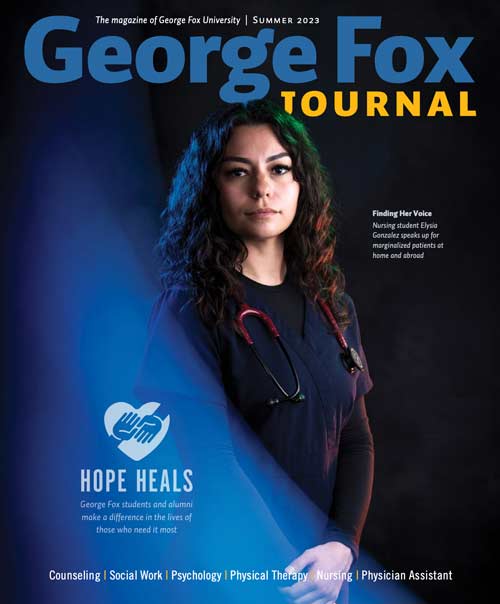 Looking for more?
Browse this issue of the George Fox Journal to read more of the stories of George Fox University, Oregon's nationally recognized Christian university.