Find a Study Space
Book a Study Room
Study Room Policies
Usage
Students may book rooms for group activities directly related to academics or the George Fox community. Faculty and staff may book rooms for occasional ad hoc meetings directly related to academics or the George Fox community. Community borrowers and alumni may use study rooms that are not booked, but may not reserve rooms. Priority is given to student needs.
Duration
Bookings may be made for up to four hours in length per day. If you wish to reserve a study room for a longer period, please contact the access services supervisor.
Drop-In
For rooms that are not booked, usage is on a first-come, first-served basis. All study rooms may be booked according to the signage at the door. Drop-in users will need to vacate in favor of those with a reservation, regardless of when that reservation is made.
Study Spaces in the Murdock Library
Upstairs
The second floor of the Murdock Library houses most of our print collections, but you will find tables with group seating around the inner balconies, and study carrels (individual desks with powerstrips, a light and a shelf) around the outer perimeter of the floor. The carrels are separated from the main space by the stacks and are typically a quieter area to work.
The Special Collections Room, which houses the Quaker collection, has floor-to-ceiling windows that look out over the lawn and the canyon, and offers several large tables and rolling whiteboards for group work.
There are five individual study rooms and one group study room on this floor.
Main Floor & 24-hour Space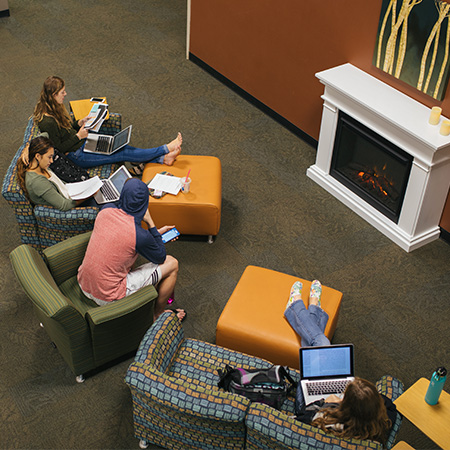 The main floor of the Murdock Library houses the 24-hour space, a collaborative study area that is available to the George Fox community via ID card access around the clock. This space offers group and individual tables, couches with side tables, standing tables, and armchairs with easy access to printers, restrooms, and the water fountain.
The center of the main floor offers a fireside area with couches and armchairs for comfortable reading or discussion. The Murdock Library Commons Lab wraps around this space. The main floor is often full of conversation, especially between class periods.
There are five group study rooms on this floor, three of which are convertible into a single large classroom space.
Basement
The basement of the Murdock Library houses the Archives, the Murdock Computer Lab Classroom, the Juvenile Collections Room, and the Bound Periodicals collection, in addition to three group study rooms.
There are large tables and individual carrels in the Archives/Bound Periodicals space, and group tables in the Juvenile Collections Room. This is often the quietest floor in the building.
Study Spaces at the Portland Center Library
Portland Center Library Commons
The Portland Center Library offers flexible space to work, including armchairs, couches and tables. There are four reservable study rooms and a small computer lab with access to a printer. Wi-Fi and wireless printing are available throughout the space.
Library Computer Labs
All library computer lab computers are networked to a local printer for black and white or color printing through the PaperCut system. Visitors can print at the Murdock Library by visiting the front desk. Each computer has the following software:
Microsoft Office Suite
Web Browsers
Adobe PDF Reader
Library computers also allow access to most library databases for onsite research.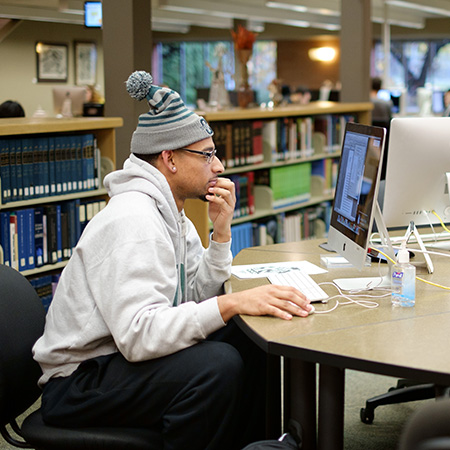 Murdock Library Commons Lab
The main floor of the Murdock Library houses over 20 computers for use by library patrons. Popular during key points in the academic calendar, priority is given to actively enrolled students. Both Mac and Windows machines are available. Users can print using PaperCut funds. Computers are maintained by IT staff, but library front desk staff can assist with basic questions and troubleshooting.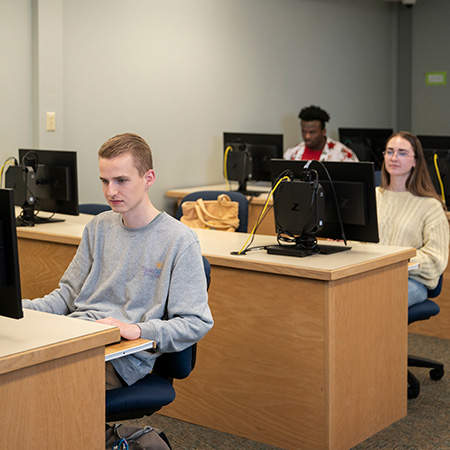 Murdock Computer Lab Classroom
The Murdock Computer Lab is located in the library basement and is sometimes reserved as a classroom. It holds 20 printer-networked computers, both Mac and Windows, whiteboards, and an overhead projector system. When not in use for a class, testing, or other organized event, computers are available on a drop-in basis.
Portland Center Computer Lab
The Information Commons at the Portland Center includes both Mac and Windows computer stations to support students and employees. It is not open to the general public (a university login is needed to get onto the computers). Part or all of the facility is occasionally reserved for use by a class or group.