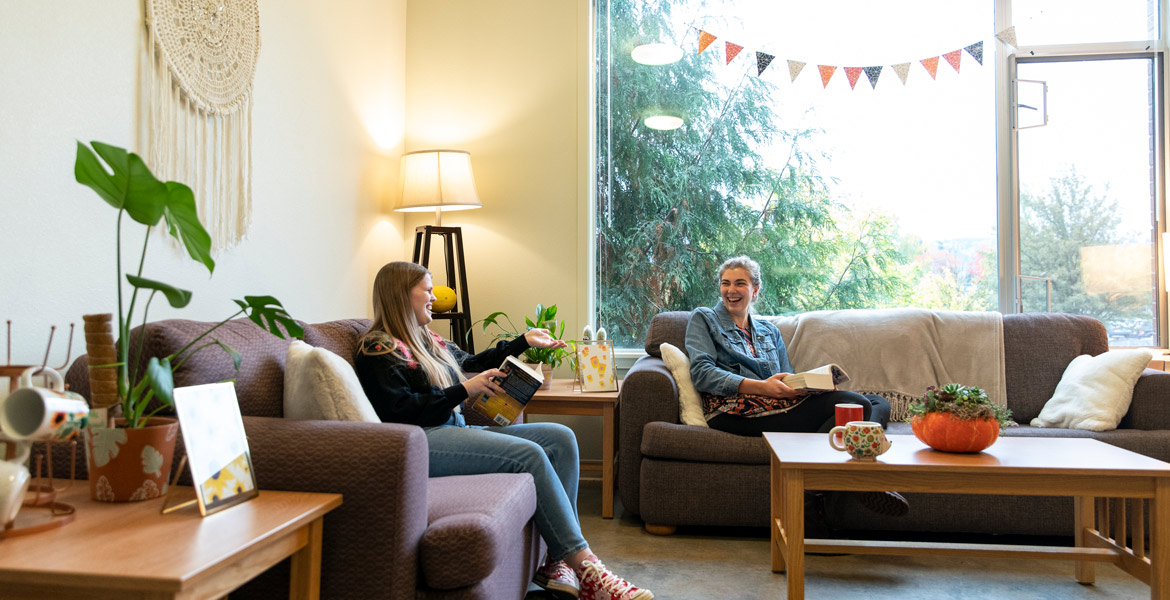 Housing Selection Process for Current Students
Housing selection occurs annually in March and April for returning students who plan to live on campus. All students need to fill out the application, even if living off campus.
Here are more details on the application process and important dates to be aware of.
2023 Timeline
Feb. 10: Housing and Meal Plan Intent application opens
March 1: Housing Accommodation, Off-Campus Petition, and Commute from Home forms due
March 9: Housing Preview Open House (stop by the Hadlock Student Center for prizes and snacks!)
March 10: Housing Intent form completion deadline for inclusion in Housing Selection
March 13: Juniors and seniors emailed timeslot
March 14-15: Junior/Senior Selection Days
March 20: Sophomores emailed timeslot
March 21-22: Sophomore Selection Days
Selection Process
Start Your Application

On- or Off-Campus Intent?

We need to know where you are planning on living next year. Fill out what you know. You can always come back and make edits to your form.

Note: If you are not eligible due to age or semesters lived on campus to live off campus, you will not have an option to choose "off campus."

If you have questions or want to submit a waiver, contact us at housing@georgefox.edu. If you change your intent to off campus after you have a confirmed housing placement, you will be charged a $75 fine. After June 1 this fine goes up to $150.

Choose to Assign Yourself or Have Housing Assign You

After selecting "on campus," choose from one of our four "Selection Tracks." You can:

Choose to renew your room space and live in the exact same spot next year
Choose to select a room space and pick your own room
Opt for University Housing to assign you to a room
Select to be part of an RA group (please note this is only if an RA has requested to live with you).

Request Roommates

There are two ways to search for/request roommates:

Do you know who you want to live with? Search by their George Fox email address and invite each person you want to live with. They will each need to accept this request.

Not sure who you want to live with? Search by different profile questions to find other students who match your lifestyle. They will need to accept your request in order to be paired together.

Some important info to know about the roommate selection process:

After the housing and meal plan intent form due date passes, the housing office will assign room selection timeslots for each student. Students will be notified of their date and timeslot for room selection by our office.
Even though each student will be assigned their own timeslot, the student in a roommate group with the earliest timeslot may assign all group members into their desired location. The person in the group who has the earliest date and timeslot will log into the housing intent application to select a housing location for everyone in the group.
If a group needs to change roommates, they can go into the Housing Intent form and remove the roommates they will no longer be living with. The new group will then be able to select their own housing.
To search and find roommates, each student needs to have logged in and started a housing intent application. A student is not searchable until they have an active application.

Choose Your Housing Location During the Assigned Timeslot

Timeslots are assigned to students based on your individual accumulated credits and semesters lived on-campus. Note: This process has changed from previous years. We are no longer assigning timeslots based on a roommate group's average credits.
Timeslots will be emailed to students prior to selection week in March or April.
During your assigned timeslot, one person from your group can go into the "Rooms" page in the Housing and Meal Plan Intent form to reserve a room/beds for your group members in on-campus apartments, houses, suites, or residence halls.
Note: Your group size does not need to match the location size in order to select that living location. For example, your group of three may select a location that fits four people. However, that spot will be available for another student to select.
If you do not have a group, you may still assign yourself to any available open spot once your timeslot opens.

Choose a Meal Plan

You can change your meal plan up until one week after the semester begins. After your current semester credits have been applied to your accumulative credit total (late May or early June), you will have more options available to you.

After completing this form, you will be able to return to this page and change your meal plan up until the end of the first week of each semester.

Confirmation

If you choose the "I want University Housing to Assign me a Placement" option in your application, we will assign individuals to open spots between April and mid-July. The time frame can take a bit longer so that our office is able to find the best spot for you.
Check the "Status" page in the Housing and Meal Plan Intent form to see if your room or off-campus status has been confirmed. If you would like to live in a different on-campus location (aside from your assigned location), in late June, room re-selection will be open, and any rooms still vacant will be open for you to select to move to.

Please stop by the student life office in the Hadlock Student Center or email housing@georgefox.edu.