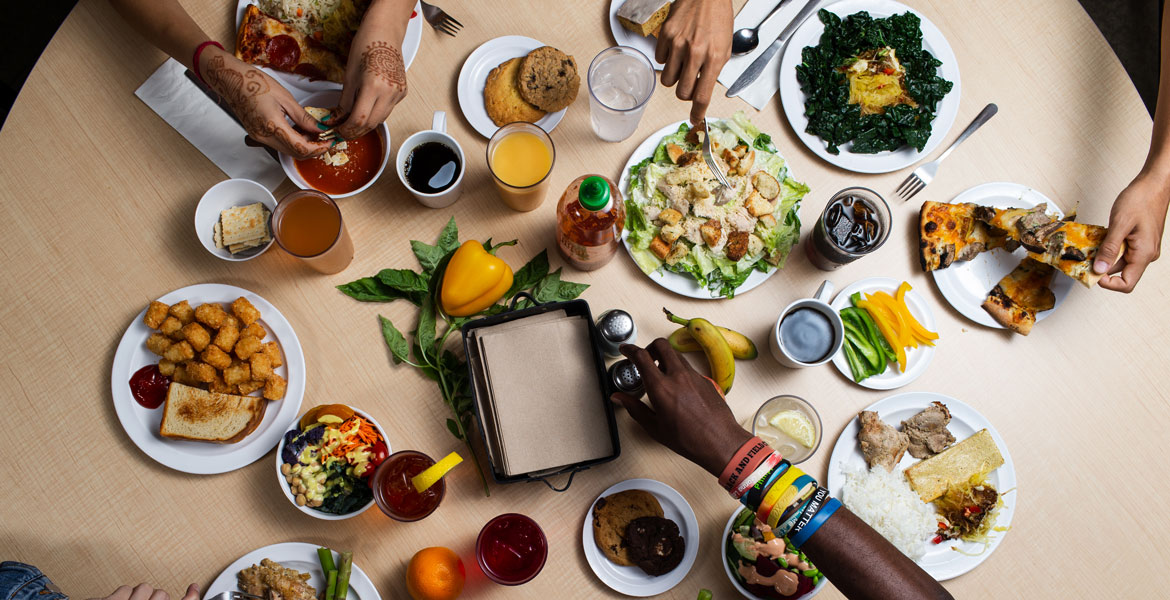 Meal Plans
Whether you plan to eat the majority of your meals in Canyon Commons or the Bridge Cafe, or only eat in those locations sporadically, we have plenty of meal-plan options to choose from. Check out the possibilities below.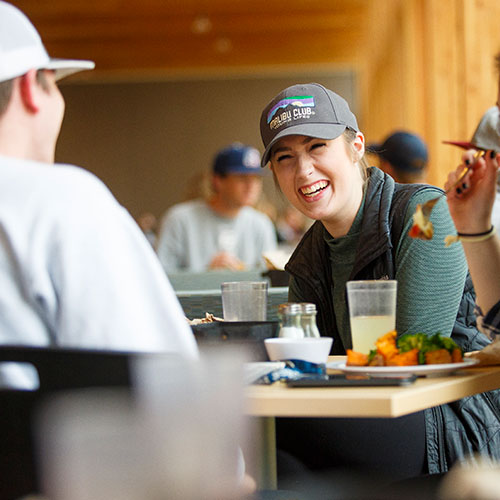 Policies
Meal Plan Information
Additional details and all meal plan policies can be found in the Student Handbook.
Flex Points:

Are a declining balance on a student's ID card that may be used at our dining facilities on the Newberg campus (Canyon Commons dining hall, the Bridge Cafe, and the Maker's Market).
Roll over from fall to spring, but are forfeited at the end of the spring semester.

Block meals:

Are a single meal, or "swipe," that can be used at any point during the semester for either a student or a guest to enter Canyon Commons.
Block meals do not roll over from fall to spring, and are forfeited at the end of each semester.

Bruin Deluxe Meal Plans:

Have up to five guest meal passes a semester that may be used when a friend or family member accompanies a student to Canyon Commons. Note: Passes not available during Family Weekend.
Weekly meal allotment begins with breakfast on Monday and ends with dinner on Sunday.

Bruin Select Meal Plans:

May use any meal for a guest, but the meal will deducted from the student's total meals.
Students may renew these meal plans multiple times each semester by emailing University Housing at housing@georgefox.edu.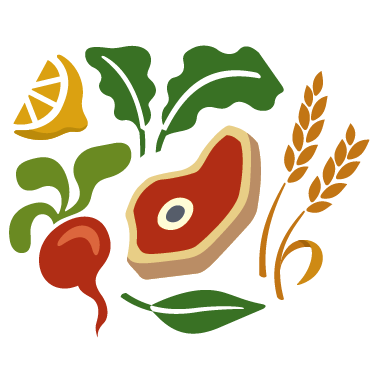 Meal Plan Selection
To select or change a meal plan, visit the Housing & Community Life Portal and select "Meal Plan" from the main menu.
Meal plan eligibility is based on completed credits, and transfer credits count toward this eligibility.
Students who fail to select a meal plan by July 1st for the following academic year will be assigned the lowest meal plan they are eligible for.
No declining meal plan changes can be made after the end of the first week of classes of each semester.
Students who fail to confirm their meal plans will be charged for the meal plan even if the plan is not utilized.
Students with any medical needs or dietary restrictions can submit a Meal Plan Accommodation with Disability & Accessibility Services to lower or remove their meal plan. There is no deadline for accommodation requests.
Students with significant financial hardship can fill out a Meal Plan Petition with University Housing to lower their meal plan. Students cannot remove their meal plan through this process. These requests must be submitted by August 1st for both the fall and spring semesters.
Meal Plan Options
Meal Plan Options for 2023-24 academic year
 
Meal Plan
Eligible Students
Meal Count
Flex Points per semester
Cost per Semester
Bruin Deluxe Plans
Weekly A
All students
19 meals per week 
$50
$2,950
Weekly B
All students
14 meals per week
$150
$2,950
Weekly C
All students
10 meals per week 
$225
$2,950
Bruin Select Plans
Block A
Students with 60 credits or more
112 Block meals (average 7 meals per week)
$200
$1,915
Block B
Students with 60 credits or more
80 Block meals (average 5 meals per week)
$275
$1,915
Bruin Savings Plan
Block C
Students with 60 credits or more
30 Block meals (average 2 meals per week)
$500
$850

Additional Meal Plan Options for Commuters and Graduates
Meal Plan
Eligible Students
Meal Count
Flex Points
Cost per Semester
Bruin Limited Plans
Flex A
Commuters and graduates
12 Block meals
$200
$350
No Meal Plan
Commuters and graduates
N/A
N/A
N/A
Commuting students and graduate students may also select any meal plan from the above table.
Guests and Visitor Meal Information
Individual Meal Prices for 2022-23 academic year
Weekdays
Weekends
Breakfast
$8.15
Brunch 

$9.45

Lunch
$9.45
Dinner
$11.75
Dinner
$11.75
Bon Appetit accepts both credit and debit payments upon entry at the South entrance to Canyon Commons.
Dining Services: Dining service, including where and how it will be offered to students, is subject to the discretion of the university and is subject to modification to address public health concerns. Bon Appétit may limit the occupancy of the dining hall, limit the amount of time students may reside within the dining hall, or make other operational adjustments needed to address health and safety concerns.