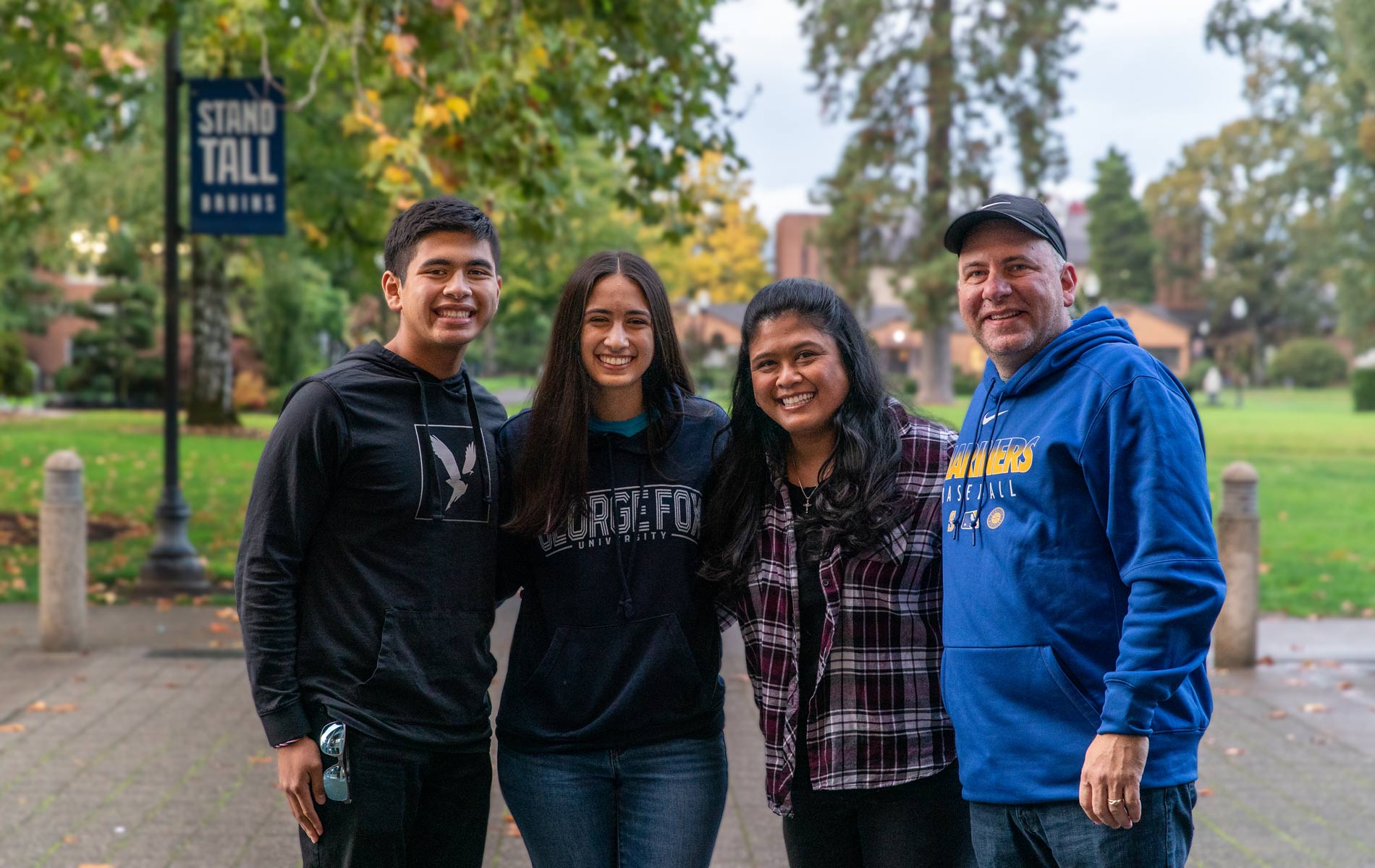 Family Weekend 2022
Registration is open! You and your family are invited to be a part of Family Weekend! 
Join us on campus Oct. 28-30 for a weekend filled with some exciting events, including Family Game Night, music performances, athletics home games, and visits to local farms. Choose your own adventure and enjoy the time reconnecting with your student and letting them show you around town! It will be a fun-filled weekend your whole family can share. 
Registration is now closed. If you are planning to attend, please find us at the check in table and we would be happy to get you a packet and lanyards!
Not sure where to find an event location? Check out the campus map!
Family Weekend 2022 Schedule
Friday, October 28
8 a.m. - 4 p.m.

This is a great opportunity for high school aged siblings of our current students to join you for the weekend and explore how to make Fox their own! Prospective students can meet professors, coaches and current students; attend classes that look interesting to them; and learn about our majors. Prospective students may spend the night with their sibling of the same gender.


Check in at Admissions on the second floor of the Stevens Center
Cost: Free (excluding additional meal ticket purchases)

11 a.m. - Noon

Parent Prayer

Take a moment to gather together for a time of parent prayer while students are finishing classes.


Green Room by Bauman Auditorium
Cost: Free

Noon - 6 p.m.

Check in

Check in, pick up a schedule of events, and get questions answered throughout the weekend.


Stevens Center lobby
Cost: Free

11 a.m. - 2 p.m.

Lunch

Enjoy a meal in our beautiful Canyon Commons dining hall overlooking the canyon. We will be feasting on family favorites! Credit cards accepted at dining hall kiosk.


Canyon Commons
Cost: $9.45 All dine in meals may be purchased at the Canyon Commons Dining Hall

1 - 4 p.m.

Academic Classes

Enjoy hearing dynamic lectures and explore what makes our school one of the best in Christian higher education.


Multiple locations; list of classes provided at check-in
Cost: Free

1 - 3 p.m.

FAFSA Open House

Stop by the financial aid office where our counselors will answer questions and walk you through any family changes that may affect how your student qualifies for aid or scholarships.


Financial Aid Office, 2nd floor Stevens
Cost: Free

1 - 3 p.m.

Par for the Course!

Swing by the Murdock Library to challenge your family to a round of miniature golf! Don't miss this opportnuity to learn what the library has to offer. Fore!


Murdock Library
Cost: Free

4 - 5 p.m.

Fall Music Showcase

Enjoy the work of our music students as they present a fall showcase. This program features vocal and jazz ensembles combined in a production of varied music literature.


Bauman Auditorium
Cost: Free

5 - 7 p.m.

Pod by the Quad

We made dinner easy for you to find tonight! Find our food truck pod on the quad for a quick bite to eat before you head to your next event or home for the evening.


On the Quad in the Klages Pavilion
Cost: Meals can be purchased from our vendors at the event (Gluten free options available)

4 - 7:30 p.m.

Dinner

Enjoy a meal in our beautiful Canyon Commons dining hall overlooking the canyon. Credit cards accepted at dining hall kiosk.


Canyon Commons
Cost: $11.75 All dine in meals may be purchased at the Canyon Commons Dining Hall

7 - 10 p.m.

Fall Musical: Oliver!

Based on one of Dickins' most beloved novels, Oliver! is an energetic, moving, and life-affirming story of one poor boy's search for the love of a family.


Wood-Mar Auditorium
Cost: Tickets available online

7 p.m.

Esports vs. Colorado Mesa University

Curious about our emerging esports team? Stop by our esports arena to watch the Bruins take on Colorado Mesa in Rocket League.

Esports stadium in Wheeler Gymnasium
Cost: Free
Saturday, October 29
8 - 11 a.m.

Registration Check in

Check in, pick up a schedule of events, and get questions answered throughout the weekend.


Stevens Center lobby

9 a.m. - 8 p.m.

University Recreation Open Gym

Get that morning workout in with your student in the Hadlock Student Center, offering 4,200 square feet of space filled with cardiovascular and strength training equipment. The gyms will be open for basketball, you can walk the indoor track, or observe campus and the canyon while working out on all of the weight and cardio equipment.


Haldock Student Center
Cost: Free

8 - 10 a.m.

Yoga

Join Emily Ong as she guides us through an easy 30-minute session. 

Hadlock Student Center
Cost: Free

9 - 11 a.m.

Spin Class

Taught by Eden Del Valle, one of our amazing group fitness instructors.


Hadlock Student Center
Cost: Free

10 a.m. - noon

Cross Country Northwest Conference Championships

Take a beautiful drive out to Hillsboro to cheer on our Bruins in this big race!


Killarny West Golf Course: Hillsboro
Cost: Free

9 - 11 a.m.

Rock Climbing Session

Drop in and try out the amazing rock wall that is featured in the lobby of the Hadlock Student Center. All experience levels are welcome!


Hadlock Student Center
Cost: Free

10 a.m. - 1:30 p.m.

Brunch

Enjoy a meal in our beautiful Canyon Commons dining hall overlooking the canyon. Credit cards accepted at dining hall kiosk.


Canyon Commons
Cost: $9.45 All dine in meals may be purchased at the Canyon Commons Dining Hall

11 a.m. - Noon

Olive Oil Tasting and Tour at Red Ridge Farms

Red Ridge Farms is a short 15-minute drive into the Dundee Hills. Enjoy the fall colors and views of the valley while visiting the gift shop and wandering through their gardens.


Red Ridge Farms, Dayton, OR
Cost: $10 per person

11:30 a.m. - 1 p.m.

Tailgate Party & Cornhole Tournament

Come get your game face on! Purchase a meal from the food truck vendors at the tailgate party before the football game or bring your own food to hang out and eat. Student Activities will be running our annual cornhole tournament and have a host of other activities. Prizes will be given to our first, second, and third place winners!  Don't miss a chance to meet Pennington Bear, and see a special pregame performance from our cheerleaders, drumline, and dance team! Legacy families, find our alumni director for a special tailgate treat.


Bauman Auditorium parking lot
Cost: Free (meals may be purchased from vendors on site)

Noon - 2 p.m.

Women's Soccer vs. Linfield

Come cheer for your Bruins in their soccer match at Linfield!


Linfield University, McMinnville, Oregon
Cost: Free

1:30 - 4:30 p.m.

Football vs. Linfield

There's a rivalry Bruin! Come cheer on our George Fox Bruins as they take on the Linfield Wildcats. GO BRUINS!


Stoffer Family Stadium
Cost: $10 Adult single ticket or $25 Family Pack(this includes up to eight guests who are in your registration packets), Free for kids 9 and under, George Fox Students with ID - Free

2:30 - 4:30 p.m.

Men's Soccer vs. Whitworth

Come cheer for your Bruins in this on-campus soccer match against Whitworth.


Austin Sports Complex
Cost: Free

3 - 4 p.m.

Olive Oil Tasting and Tour at Red Ridge Farms

Red Ridge Farms is a short 15-minute drive into the Dundee Hills. Enjoy the fall colors and views of the valley while visiting the gift shop and wandering through their gardens.


Red Ridge Farms, Dayton, OR
Cost: $10 per person

4:30 - 7:30 p.m.

Night in Newberg

Check out your students favorite local spots and enjoy dinner at one of the many wonderful restaurants in the area. Your packet will include a list of restaurants that are offering a special discount or treat for George Fox Families for the night!


Downtown Newberg and Dundee
Cost: Varies by location 

4:30 - 7:30 p.m.

Dinner

Enjoy a meal in our beautiful Canyon Commons dining hall overlooking the canyon. Credit cards can be used at the dining hall kiosk.


Canyon Commons
Cost: $11.75 All dine in meals may be purchased at the Canyon Commons Dining Hall

6 - 8 p.m.

Family Game Night

Students and families join together and bring your competitive spirit!  There will be games for everyone to enjoy from card to board games and a chance to win prizes in our Family Weekend Kahoot.


Canyon Commons
Cost: Free

7 - 10 p.m.

Fall Musical: Oliver!

Based on one of Dickins' most beloved novels, Oliver! is an energetic, moving, and life-affirming story of one poor boy's search for the love of a family.


Wood-Mar Auditorium
Cost: Tickets available online

8 - 9 p.m.

S'mores at the Pavillion

Come connect with other families! We will be hanging out in the pavilion with a warm fire burning. 


Canyon Pavillion
Cost: Free
Sunday, October 30
Various Times

Attend a church service

A list of services in the area will be provided in your registration packet. There is no chapel service offered on campus at this time.

Multiple locations
Cost: Free

10 a.m. - 1:30 p.m.

Family Weekend Travel Day Brunch

Have a relaxing brunch with your student before heading home or after church. Bon Appetit is pulling out all the stops and featuring Pacific Northwest culinary stations. You do not need to have a student on a meal plan to participate, just pay with a credit or debit card at the door!


Canyon Commons
Cost: $9.45 All dine in meals may be purchased at the Canyon Commons Dining Hall

11 a.m. - Noon

Olive Oil Tasting and Tour at Red Ridge Farms

Red Ridge Farms is a short 15-minute drive into the Dundee Hills. Enjoy the fall colors and views of the valley while visiting the gift shop and wandering through their gardens.


Red Ridge Farms, Dayton, OR
Cost: $10 per person

Noon - 2 p.m.

Women's Soccer vs. Lewis and Clark

Come cheer for your bruins in this on-campus soccer match against Lewis and Clark


Austin Sports Complex
Cost: Free

2 - 4 p.m.

University Recreation Open Gym

Get that morning workout in with your student in the Hadlock Student Center, offering 4,200 square feet of space filled with cardiovascular and strength training equipment. The gyms will be open for basketball, you can walk the indoor track, or observe campus and the canyon while working out on all of the weight and cardio equipment.


Hadlock Student Center
Cost: Free

2 - 5 p.m.

Fall Musical: Oliver!

Based on one of Dickins' most beloved novels, Oliver! is an energetic, moving, and life-affirming story of one poor boy's search for the love of a family.


Wood-Mar Auditorium
Cost: Tickets available online

3 - 4 p.m.

Olive Oil Tasting and Tour at Red Ridge Farms

Red Ridge Farms is a short 15-minute drive into the Dundee Hills. Enjoy the fall colors and views of the valley while visiting the gift shop and wandering through their gardens.


Red Ridge Farms, Dayton, OR
Cost: $10 per person

3 - 5 p.m.

Alumni Basketball Game

Bruin vs. Bruin. Watch our current Bruins take on Women's Basketball alumni in a friendly game of b-ball!

Wheeler Sports Center
Cost: Free