Moving Into Campus Housing Early
Approval to arrive early is generally tied to employment on campus, participating in athletics, or helping with Welcome Weekend. Each department will coordinate housing for their respective students. If you are connected to one of these areas, please check with your supervisor or coach for additional details.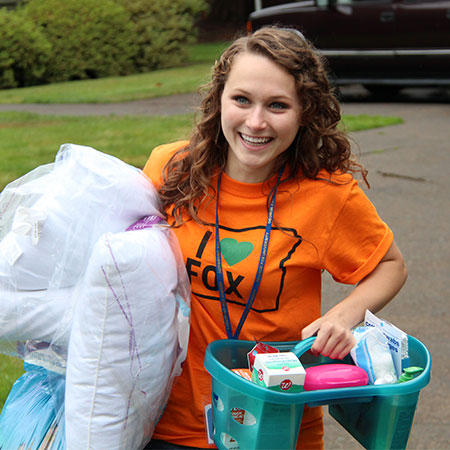 If you're seeking to return early outside of these departments, you will need to wait until your designated check-in time unless there are extenuating circumstances. In these situations, you will need to submit a written request to housing@georgefox.edu at least one week before your desired arrival. This email should explain the situation and why there is a need to move in early. The early arrival fee (see below) will apply to students in this category.
All students arriving early must be cleared through student accounts and registered for fall classes prior to moving in. In addition, students approved to arrive early may not allow their roommates to move in at the same time.
Early Arrival Fee
If you are not required by the university to be on campus early, but are approved by housing to check in, a $50-per-night room fee will be charged to your student account from the date of check-in until housing officially opens. The official check-in dates are as follows:
New students (First-Year and Transfer students): Friday, Aug. 26, 2022
Returning students: Saturday, Aug. 27-28, 2022
Check-In Process
If you are required to move in early, you'll receive approval information from your coach or supervisor, and will receive information from University Housing regarding the check-in process.
All students arriving early will be checking in through the University Housing office between 9 a.m. and 5 p.m. Monday through Friday.
Meal Plans for Early Arrivers
The first scheduled meal for students on a meal plan is lunch on Saturday, Aug. 27. If you choose to move in early, you will be responsible for your own meals until this time. If you are required to arrive early, please check with your coach or supervisor for more information, as some of your meals may be covered through that department.