Traditions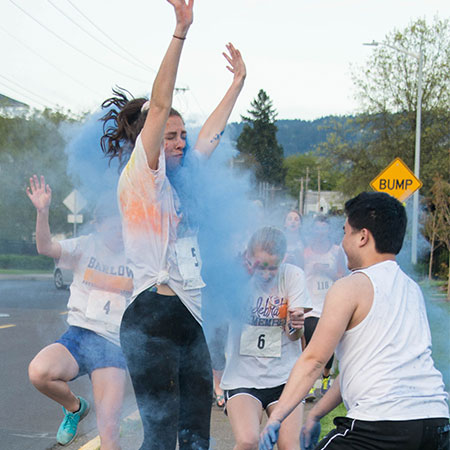 Color Run
Get a brand new Color Run T-shirt and join the race! Colors are thrown in the air as you start your journey around campus, with color hitting you as you go. Water stations are available if you get thirsty along the way. At the finish line, enjoy music blasting and popsicles to cool off. By the end of the run, you'll be covered in a multitude of colors.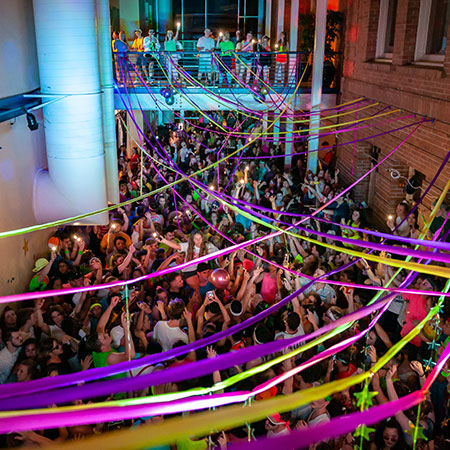 '80s Dance
The '80s Dance is the first dance of the year, when students flood the EHS Atrium wearing leg warmers, bright lipstick, scrunchies, workout clothes, denim jackets and parachute pants. Students line up outside the doors long before the event begins to show off their outfits and for a chance to get free '80s gear like buttons/pins, T-shirts, and even fanny packs.
The EHS Atrium is a perfect spot for the dance, with the historic Wood-Mar brick wall adding to the '80s feel. Students rush in with excitement, crowd the dance floor and the snack table, and get ready to sing their hearts out to artists like Michael Jackson, Prince, Journey, and Queen.
If you stick around long enough, you might even spot some celebrity look-alikes from The Breakfast Club, Back to the Future, Ferris Bueller's Day Off and more!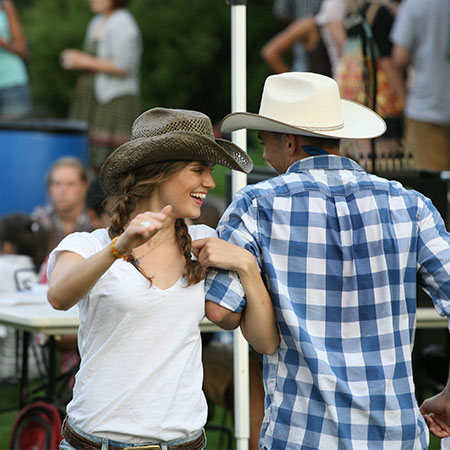 Fox Jamboree
Throw on your flannel and cowboy boots, it's time for the Fox Jamboree! The quad is filled with dancing, games and food. A live band plays music and people line dance. Activities like gunny sack races and pie eating take place throughout the night.
Make sure to look out for the mechanical bull as well! It is always hilarious seeing your friends trying to see how long they can survive. Our lounge area is a perfect place to take a break and enjoy a snack. Warm cider, caramel apples, and donuts are available to enjoy.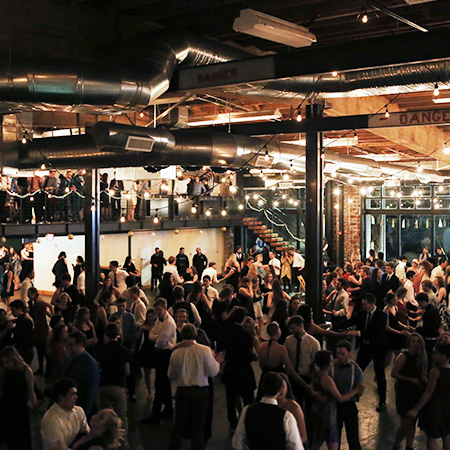 Winter Formal
This event has been a campus tradition a long time, and it's not disappearing anytime soon! Each year we celebrate the ending of the semester with an off-campus dance at a ballroom in the Portland area. The night includes desserts, a photobooth, and lots of dancing!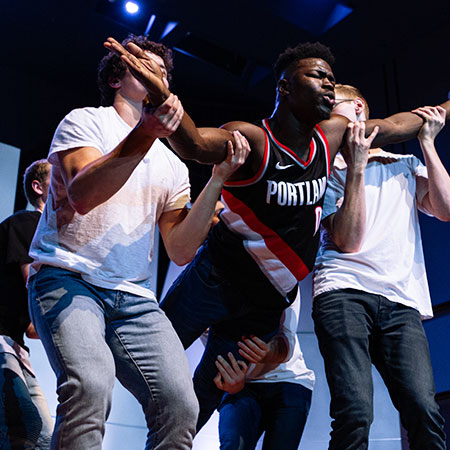 Lip Sync
Gather to watch your peers in a hilarious group dance-off ... or put on a show yourself! Past groups have done dances with funny story lines, an adventure through Spotify, Beyoncé and Taylor Swift tributes, Disney/Pixar medleys, a Mamma Mia! lip sync dedicated to Robin Baker, and even recorded and remixed their own versions of popular songs.
Each group goes through an audition process before taking the stage, ensuring exceptional entertainment for the entire evening. This is an event you don't want to miss!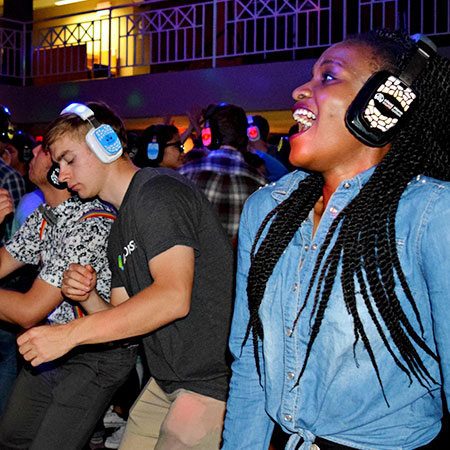 Loudest Dance You've Never Heard
The Loudest Dance You've Never Heard is a favorite that takes place in the Murdock Library. Upon entry, you're handed a set of synced headphones and glow sticks. If someone walks into the library without headphones, they'll see students screaming out their favorite lyrics as they jump to the beat of the DJ's playlist.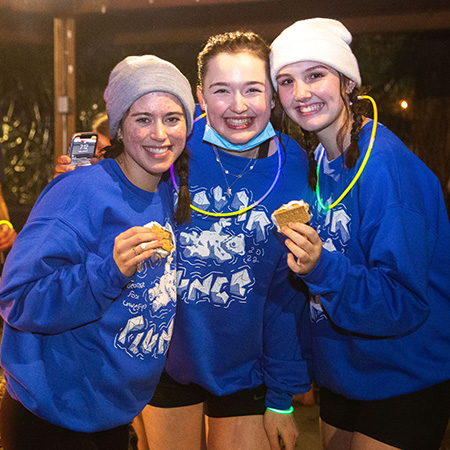 Polar Plunge
Take a plunge in Hess Creek, where freezing waters await! Afterwards, dry off, listen to music, and enjoy s'mores by a bonfire. Most importantly, if you participate you'll receive a Polar Plunge sweatshirt! These sweatshirts are popular on campus, and many students do their best to collect one each year that they attend George Fox. Space is limited, so be on the lookout for the sign-up sheet!
The Dating Game
The Dating Game is a night full of fun, laughter, and romance. People line up outside the auditorium over an hour before the event begins because no one wants to miss George Fox's take on the Bachelor/Bachelorette.
Although the game varies yearly, the night typically revolves around mystery and exciting challenges. Members from the audience are chosen to compete to win the heart of the bachelor/bachelorette and a romantic date paid for by Student Activities.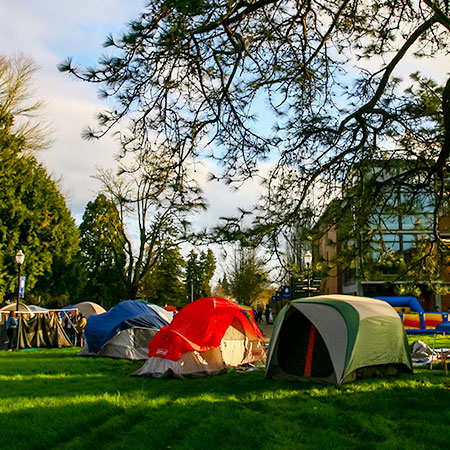 Campus Campout
Campus Campout is the first step in the Juniors Abroad process. Sophomores pitch a tent on the quad on Thursday night and pick their Juniors Abroad destinations the following morning. Trip destinations vary each year, many of which end up traveling to more than one country for the ultimate intercultural experience.
The bottom five tents have the opportunity to compete throughout the night to win the No. 1 spot. It's a night full of food, games, music and excitement.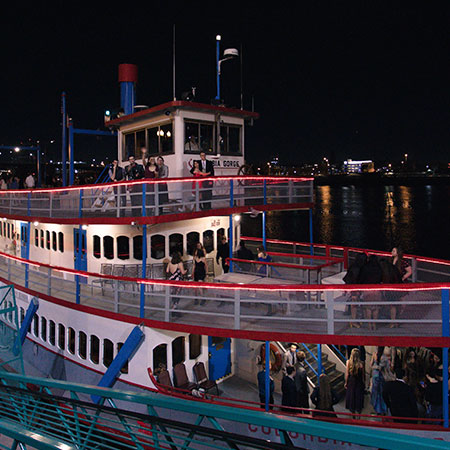 Sadies
Girls, this is your moment to ask that guy out that you've been crushing on in THEO. But make sure to watch out for these tickets, because they sell out fast!
The Portland Spirit boats host us for this fun-filled event. We take off on the Spirit and the Sternwheeler boats and enjoy time on the Willamette River. While on the cruise, enjoy desserts, get your picture taken at the photobooth, and, of course, dance. However, the most popular part of the night is the views that you can see from the very top of the boat. Many students take as many pictures as they can to show off their amazing night!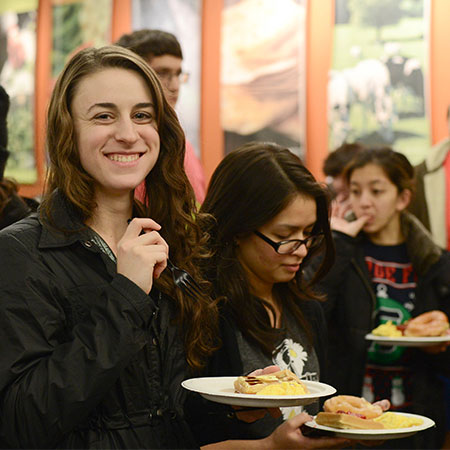 Late Night Breakfast & Finals Week Events
Finals week can be tough, which is why our Student Activities team does what we can to help relieve some of that stress. Some of our past finals week events have included free coffee and energy drinks from an on-campus Dutch Bros. truck, free pizza and ice cream, a room full of puppies, Pip's Donuts made fresh on the spot, and a Fox favorite – Late Night Breakfast.
Late Night Breakfast takes place on the night of Study Day, which marks the beginning of finals week. It's free for all students who are willing to take a study break to enjoy some of their favorite breakfast foods: eggs, pancakes, bacon, biscuits and gravy, ham, donuts, and more. A movie plays on the big screens as students enjoy taking a break and spending quality time with their friends.