Innovation
in the George Fox physical therapy program
Learn on the
Leading Edge
Welcome to the future of physical therapy. From our classrooms and research spaces to diverse clinical settings, a posture of innovation informs everything we do.
We aren't satisfied with the status quo – we're focused on asking questions, assessing processes and finding solutions to the wide range of challenges our patients face. You'll lend your insights and energy to this process, advancing our collective knowledge and helping us stay on the cutting edge of physical therapy.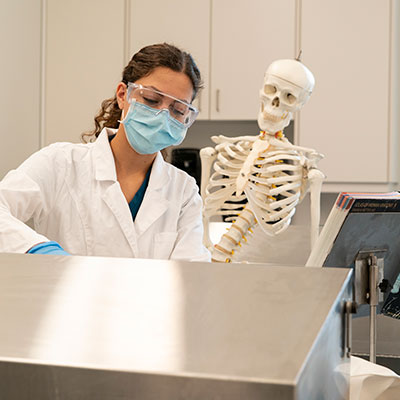 Create Knowledge That Improves Lives
The research you conduct at George Fox will inform your life's work. Whether you're working with subjects in our biomechanics lab or examining ways to screen patients for fall risk, you'll develop the mentality of thinking beyond conventional treatments and practices.
Our students and professors have generated nationally recognized studies related to Achilles tendinopathy, diagnostic ultrasound, primary care, blood flow restriction and patient-reported outcomes. Now it's your turn to push the boundaries of knowledge and be a force for health and wellness in the communities you serve.
Your Research Journey Starts Here
Year 1

As a first-year student, you'll assess data and read journals that set the framework for understanding how we approach physical therapy, the outcomes it has produced, and where improvements should be made. You'll learn to look at research with a critical eye and question longstanding practice using data. This nimble approach leads to a continuous evolution in data and research that results in better practices.

At the end of your first year, faculty share the research projects they'll be pursuing the following year, and you'll choose the project you want to be part of.

Between nine and 12 projects are in progress at a time, giving you the option of working directly with subjects, on data, or on outcomes. Some research projects utilize the biomechanics lab, some utilize the PROMIS intake evaluation system, and some are more patient oriented.

Year 2

Guided by a professor, you'll launch your practice-oriented research project during your second year, immersing yourself in the practices you've been studying. As part of a rich environment for problem-based learning, you'll be given more autonomy and agency to problem-solve issues, interact with subjects and gather data.

Year 3

As a third-year student, you'll spend significant time in clinicals outside the classroom while maintaining contact with your research group and supervising faculty. For six weeks in January, you and your group will collaborate, pull together data, and make a connection between your patient population and the outcomes and conclusions you can draw. You'll present your findings at our annual Research Symposium, and don't be surprised if you find yourself listed as a coauthor in a leading journal and sharing your research at a national conference as well.
Our Research Is Being Read Around the World
Explore Cutting-Edge Innovation Through PROMIS
George Fox has emerged as a national leader in holistic physical therapy practice. You'll learn to utilize the PROMIS® (Patient-Reported Outcomes Measurement Information System) intake assessment, a set of person-centered measures that evaluates and monitors physical, mental and social health, and particularly helps physical therapists to better treat individuals living with chronic conditions.
This new system has the potential to transform lives through better understanding holistic patient needs. All George Fox DPT students train in it, and our faculty are such experts that they train other medical professionals on a national level.