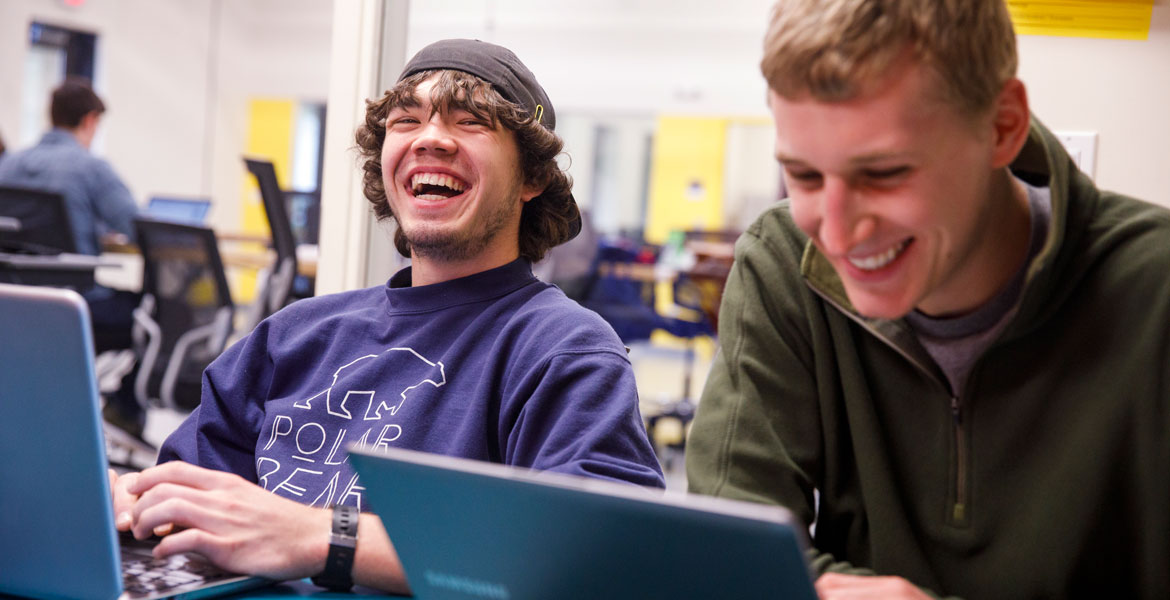 About the Engineering Program
Wondering what the engineering program is all about? In a nutshell, our primary educational objectives are threefold: technical competency, breadth of education, and responsible service emerging from a Christian worldview.
Ultimately, we exist to prepare each graduate to achieve the following within three to five years of graduation:
Success in the professional practice of engineering, in a related field, or graduate education
Leadership responsibilities, effective in teamwork and communication
A lifestyle of service, actively involved with professional, civic or religious organizations
Our Mission: To prepare technically competent and broadly educated engineers for a life of responsible service emerging from a Christian worldview
Program Distinctives
Our commitment to professional development and service is foundational to our curriculum. We also make it a priority to get to know you by name and practically help you forge a path to professional success, wherever the road beyond George Fox takes you.
Following are distinctives that set our program apart:
A

servant engineering program

that brings engineering students and professionals together as a team to research, design, and deliver engineering solutions to address humanitarian needs

A 16,000-square foot, state-of-the-art Maker Hub supporting an applications-approach to engineering, from day one of freshman year
A Senior Design capstone course that gives you the opportunity to

design a product that proves useful to a major corporation

An Engineering Your Soul reading program designed to deepen your commitment to service emerging from a Christian worldview 

Small classes (a 16-to-1 student-to-faculty ratio)

A dedication to teaching an entrepreneurial mindset (KEEN membership)

Outstanding

faculty

with a Christian worldview

Results: Our graduates land internships and jobs across the entire spectrum of the profession
Program Outcomes
George Fox engineering graduates will have an ability to:
Identify, formulate and solve complex engineering problems by applying principles of engineering, science and mathematics

Apply engineering design to produce solutions that meet specified needs with consideration of public health, safety and welfare, as well as global, cultural, social, environmental, and economic factors

Communicate effectively with a range of audiences

Recognize ethical and professional responsibilities in engineering situations and make informed judgments, which must consider the impact of engineering solutions in global, economic, environmental, and societal contexts

Function effectively on a team whose members together provide leadership, create a collaborative and inclusive environment, establish goals, plan tasks, and meet objectives

Develop and conduct appropriate experimentation, analyze and interpret data, and use engineering judgment to draw conclusions

Acquire and apply new knowledge as needed, using appropriate learning strategies
Curious as to where our students end up? Check out our Outstanding Seniors page to see where many of our top students land jobs.
History
In 1986, Edward Stevens, then-president of George Fox, began researching the feasibility of adding an engineering program. Driven by industry's increasing need for engineers, Stevens hired Bob Harder in 1987 to direct the university's new 3-2 engineering program (three years of instruction at George Fox, two at a partner institution), developed in cooperation with the University of Portland.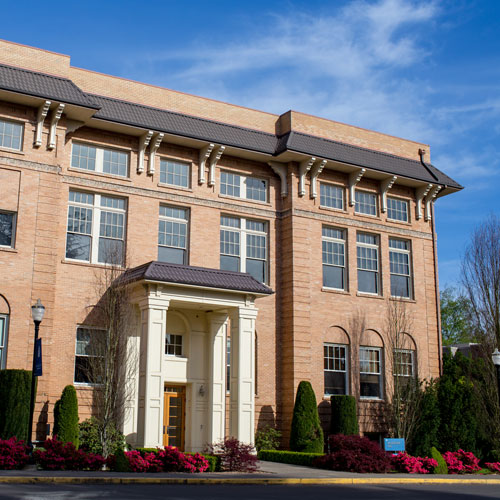 In 1994, the university completed construction of the Edwards-Holman Science Center, where our engineering offices and labs remain to this day. The construction brought together the Department of Biology and Chemistry and the Department of Math, Computer Science and Engineering, creating an important connection between the programs.
This new space and the growth of the 3-2 program made it possible to add a new faculty member, John Natzke, in 1995. A graduate of the University of Michigan, where he completed his PhD in electrical engineering, Natzke took over the teaching of electrical engineering courses and a portion of the physics courses, allowing Harder and Natzke to develop four new courses that provided more electrical and mechanical engineering options for students.
The program continued to grow in size and reputation, primarily because of its strong design focus and the fact courses were taught by degreed engineers. The new science center and more balanced teaching loads allowed Harder and Natzke to begin to dream about developing a four-year bachelor of science in engineering program.
In 1999, the board of trustees, the President's Cabinet, and the entire faculty approved the proposal for a new bachelor of science in engineering program. At that same time, the university was about to launch the public phase of a $22 million capital campaign that included $750,000 for the renovation of Wood-Mar Hall. The community agreed to use this space for the new engineering program because it would provide suitable laboratory space and would maintain the program's physical connection to the rest of the science-related programs.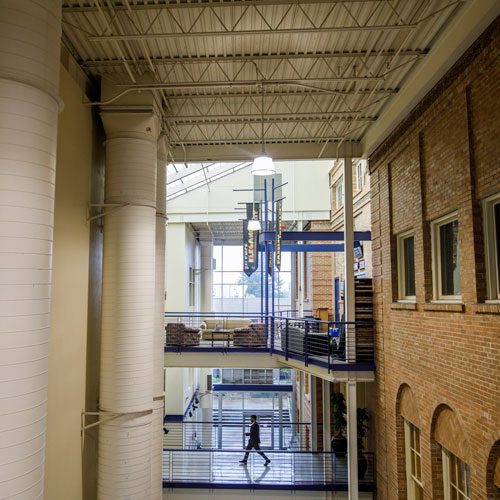 In 2000, the new bachelor of science in engineering program enrolled its first freshman class. To accommodate the growing engineering major, the expansion of facilities and equipment began in 2002 into the adjacent Wood-Mar Hall. The renovation of the first two floors of the three-story, 90-year-old landmark was completed in 2003, housing the engineering faculty office suite and new engineering labs. The 4,500 square feet of new lab space were outfitted with the latest equipment and software, with support of a $500,000 gift from the W.M. Keck Foundation.
The university graduated its first engineering class in May of 2004. That same year, the department began the process of applying for accreditation with the Engineering Accreditation Commission of ABET.

Then, in August of 2005, the department received a tremendous boost with news that it had succeeded in its first bid for accreditation after a year-long review process. George Fox became one of only five universities in Oregon with programs that were accredited and one of only 13 institutions in the Council for Christian Colleges & Universities to offer a four-year engineering program accredited by the Engineering Accreditation Commission of ABET.

A fourth concentration, civil engineering, was launched in the fall of 2009, and in spring 2010 the engineering department added Servant Engineering to its curriculum. With engineering enrollment topping 200 students in 2013, the College of Engineering was formed. A new design makerspace, the Engineering Innovation Center, was opened in 2016, later developed into the current Maker Hub, and biomedical engineering was added as a concentration option in 2018.
Liam Rudd
Mechanical Engineering Graduate, Class of 2021
The faculty genuinely care about students, not just our grades. My professors have always been happy to talk about any subject, whether it's your faith, your well-being, or the game this past weekend. They are genuinely interested. It is evident in their attitude and openness toward you that they genuinely care about you, which is special for a university.
Engineering Enrollments and Graduation Rates
Academic Year
Enrollment Year
Total UG
Degrees Awarded (BS)
1st
2nd
3rd
4th
5th
Current Year
2021-22
72
68
43
52
15
250
66
1
2020-21
65
69
58
54
14
260
61
2
2019-20
80
78
62
49
11
280
56
3
2018-19
95
83
59
40
16
293
48
4
2017-18
91
72
49
60
12
284
72