You're the type of person who loves to plan, be organized, and ask questions and listen. You recognize the importance of being intentional with your money decisions and having financial goals, and the thought of helping others do the same inspires you. Have you considered a future in financial planning? It sounds like this could be the career path for you!
The good news is, there's never been a better time to be a financial planner. With many in the profession hitting retirement age and the baby boomer generation in need of financial consultation, professional opportunities are plentiful. Factor in the aftermath of the 2008-09 financial crisis – and the cynicism toward corporate and investment banking that resulted – and you can understand why ethical financial planners are in high demand.
The course of study in our financial planning program, a concentration in our financial services major, is registered by the Certified Financial Planner Board of Standards (CFP Board), equipping you with the necessary technical and professional skills for a successful career as a Certified Financial Planner (CFP®), the top credentialing certification in the profession.
Why

Study Financial Planning at George Fox?
Upon completing the program, you will have met the educational requirement of the CFP Board and be eligible to sit for the CFP® exam.

Wealth Management, a respected digital resource for financial advisors and estate planning professionals, ranked our financial planning program No. 23 in the nation in 2019-20. The organization surveyed 109 of the 130 colleges and universities registered by the CFP Board and ranked them based on criteria that included the number of degrees granted, capstone course offerings, and number of faculty with advanced degrees.

You will be involved in a completely residential educational experience with all in-person classes with top-tier faculty.

You will engage with an industrial advisor board made up of some of the largest financial planning and wealth management firms in the Northwest – firms that are ready to hire our students as interns and full-time hires.

You will have the opportunity to conduct practical research with faculty and attend regional and national financial planning conferences.

We are one of only a handful of Christian universities in the country that offer a CFP Board-registered residential financial planning degree program. We are also one of the only CFP Board-registered residential financial planning degree programs in the Pacific Northwest region.

You have the option to participate in George Fox University's

honors program

. As a Financial Services major, you can expand your academics outside your department classes and engage in Socratic seminars focused on great books, community and discussion.
What

Will I Study?

Perhaps the biggest myth about the financial planning field is that it's all about numbers – and that you have to be really good at math. Not true!

While numbers are certainly involved, most of financial planning is about having conversations with people, asking questions and listening well, and developing a strategic financial plan that will help them accomplish their most critical life goals. All of this happens while journeying with individuals for much of their lives and sharing in their emotional ups and downs.

Our curriculum takes the "human element" of financial planning into account. In addition to learning about "numbers," you will explore how stewardship and generosity play a primary role in helping individuals and families experience their most meaningful financial lives. The topics you will study include:
Stewardship
Creating personal financial statements
Client counseling and communication
Insurance and risk
Tax planning
Retirement and investing
Estates and gifting
I love the financial planning program because it allows me to use my love of problem solving and math and learn how finances can be utilized to reach our goals. Additionally, I love its practical applications for everyday life and the integrative focus on living out our faith through our wealth. Each of my professors has been caring, encouraging and supportive in both my academic and personal life and has truly made me feel known within this community
What's

after George Fox

Employment opportunities in the financial planning sector are expected to grow faster than average during the next five to 10 years. A more complex financial environment, coupled with an increasing number of baby boomers who need to invest their retirement savings wisely, both contribute to this positive outlook. According to the Bureau of Labor Statistics, the demand for personal financial advisors is expected to increase 4 percent between the years 2019 and 2029.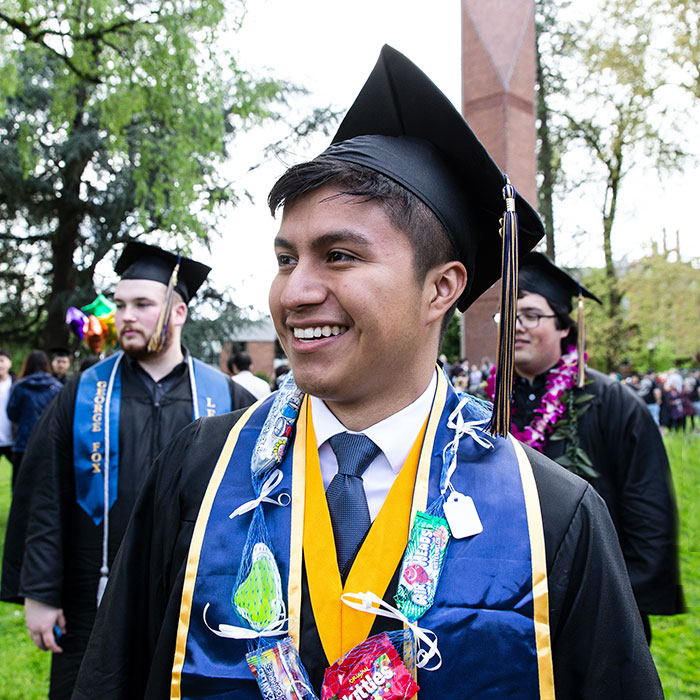 Jobs
Associate Advisor, Aldrich Wealth
Associate Advisor, Human Investing
Analyst, Goldman Sachs
Financial Associate, Finity Group
Financial Planning Assistant, Wealthbridge Advisors
Associate Advisor, Springwater Wealth Management
Financial Paraplanner, McGee Wealth
Client Associate, Rathbone Warwick
Junior Associate, AIM Wealth Advisory Group
Operations Specialist, Ameriprise Financial Services