Financial Services Major (BS)
Are you someone who loves to plan, be organized, and help others thrive? Do you like seeing the big picture in business, and how all parts work together? Are you someone who sticks to a budget and prioritizes saving the money you earn? Perhaps you want to start and run your own business? If so, the financial services major is a perfect fit for you.
Pursuing a career in financial services gives you career flexibility and the opportunity to make a lasting impact on both people and in organizations. Our programs focus on a holistic approach to financial matters, producing graduates who have a high level of technical expertise combined with a care for people and a deeply rooted Christian character.
Our program will prepare you to analyze, solve, critically assess, and strategically plan financial matters. Professors will work with you closely as you gain technical competency and, more importantly, will know you by name and seek to help you grow your faith, character, and soft skills.
Graduates of our program often seek licensure as a Certified Financial Planner or Certified Public Accountant and go on to become leaders in the financial services world. You'll find our alumni as partners in financial firms, owners of their own financial practices, and influencers in the community.
Concentrations
As part of our major, we offer two concentrations:
Our accounting concentration focuses on the technical skills, critical thinking and analytics expertise you need to succeed as an accountant. We offer a robust internship program, thanks to strong relationships with international, national and regional businesses, and offer opportunities to serve the community.
Ninety-five percent of our students receive professional accounting jobs by graduation, and 100 percent receive offers within six months of graduation.
Our financial planning course of study is registered by the Certified Financial Planner Board of Standards (CFP Board), equipping you with the necessary technical and professional skills for a successful career as a Certified Financial Planner (CFP®), the top credentialing certification in the profession.
Each of our students receive financial planning internships after their junior year and full-time financial planning job offers upon graduation.
Why

Study Financial Services at George Fox?
You will put yourself in position to pursue well-defined pathways that lead to professional certifications (CPA or CFP) or opportunities in private industry with leading organizations.

You'll engage closely with outside experts, practicing professionals, and alumni, giving you a well-rounded perspective on financial matters.

You will be taught by professors who are licensed and experienced CPAs and CFPs. Our faculty also includes a licensed attorney to provide all-important guidance around the estate planning aspect of financial planning.

Our program emphasizes business beyond the "bottom line," integrating the importance of ethics and character development into the curriculum.

We offer programs that are well-respected in the Portland metro market.

We have a track record of success, with excellent internship and job placement rates.

We focus on the human element, with an emphasis on values and character that go beyond technical subject matter (client engagement, soft skills, stewardship, and more!)

You will get immediate opportunities to serve the community and build practical experience through initiatives such as our tax assistance program, fraud program, workshops, and our majors- and alumni-only Serve Day.

As a Financial Services major, you have the option to join George Fox University's honors program. This great books program will allow you to engage in active discussions with your peers and provide you with a challenging academic journey that informs your mind and deepens your spiritual walk.
What

Will I Study?

Our financial services program covers the full spectrum of business, with courses ranging from personal finance to business ethics. In each, there is an emphasis on character, integrity, stewardship, and practical application.

Among the topics you will study are:
Managerial and financial accounting
Personal finance
Microeconomics
Global business
Strategic management
Business law
Principles of Marketing
Principles of Management
A sampling of classes in our financial planning concentration include income tax planning, estate planning, investment planning, retirement planning, insurance planning, and risk management. Our accounting core includes classes in auditing, business taxation, computer science, advanced analytics, financial accounting and reporting, and much more.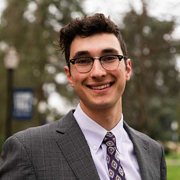 Lane Kimbro
Class of 2020, Investment Banking Management and Strategy Analyst, Goldman Sachs
Looking back on my time on campus, one of the things that I grew the most in was finding my voice, and making it heard. I was encouraged in so many different ways to lead. [I appreciate] the encouragement from my professors to excel in the career of finance and business. I felt nothing but love from the people around me to accomplish big things.
What's

after George Fox

We consistently place students into highly competitive internships and careers. With a degree in financial services, students have clear pathways to highly prized professional certifications and access to jobs that are in-demand, flexible, and filled with opportunities for growth and advancement.

Students engage in professional development activities as early as their sophomore year and partner with their professors to connect with our vast network of alumni within the financial services industry. Our graduates are consistently placed in some of the best business organizations in the world.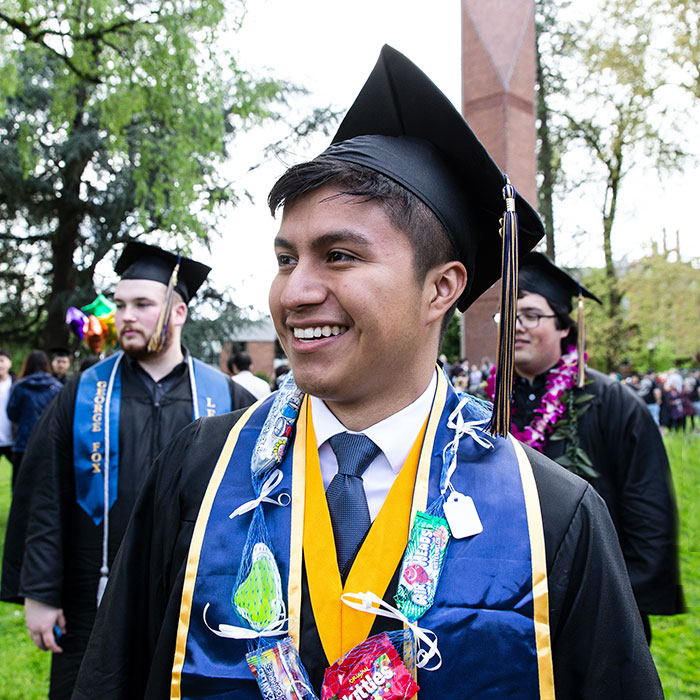 Companies that have hired our students as interns and graduates as employees
KPMG
Goldman Sachs
Deloitte
Moss Adams
Ameriprise Financial
PwC
Amazon
Nike
Columbia Sportswear
Adidas
Daimler Trucks
Siemens
Kaiser Permanente
Perkins & Co.
Aldrich
Human Investing
Delap
Jones & Roth
Hoffman, Stewart & Schmidt
Geffen Mesher & Company
Parker & Lynch
Wealthbridge Advisors
AIM Wealth Management
United Capital
Finity Group