Human Communication Concentration
No matter your future professional endeavors, you will work with people. And to be successful, you'll need strong communication skills — enabling you to problem solve in a team environment, manage and mentor effectively and pursue common goals across departments.
Whether you see yourself working in a leadership role at a company or overseeing a ministry or nonprofit organization, the human communication concentration of the communication major will equip you to step into the role effectively and with confidence. Talk about versatility!
This concentration focuses on the theories of communication and everyday communication interactions and problem solving. Course work will prepare you for leadership and management positions in settings that range from global organizations to the political arena, human resources and ministry – and any other field where communication is critical.
Now it's up to you to decide where you will apply your newfound communication skills!
Why

Study Human Communication at George Fox?
You will receive plenty of personal interaction in small classrooms where professors know you by name.

You will emerge more versed in the skills of debate and persuasion.

You will have the opportunity to showcase your communication skills as a member of our speech and debate team.

You will analyze current cultural trends in communication and graduate with a better understanding of how you can influence whatever field you choose.

As a Communication major, you have the option to join George Fox University's honors program. This great books program will allow you to engage in active discussions with your peers and provide you with a challenging academic journey that informs your mind and deepens your spiritual walk.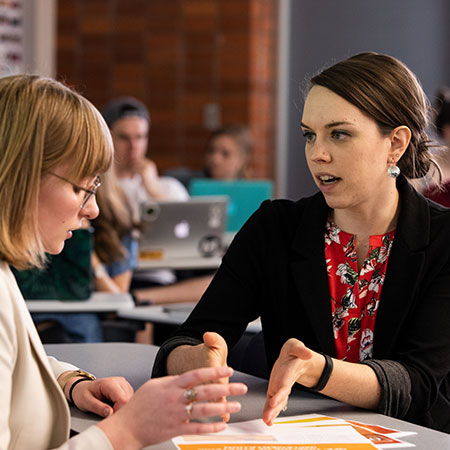 What

will I Study?
In our mass media and popular culture course, you'll analyze the roles of mass media in shaping and altering opinion and values in contemporary culture.
You will delve deep into the major sources of communication theory (e.g., meaning theory, humanistic psychology, symbolic interactionism, relational theory, information processing) and examine contemporary exemplifications of each approach.
You'll study methods of rhetorical criticism as applied to public communication of the past and present, including but not limited to, speeches, broadcasts, films, and campaigns.
Our small-group communication course examines and applies theories of small-group structures, climate, roles, leadership, motivation, and conflict management.