How important is communication? Well, if you consider it's at the heart of how we write, speak and relate to one another, it's arguably one of the most valuable skills you can learn if you desire to make an impact on the world.
Consider all the fields where communication is at the core of the work. Public relations. Brand management. Journalism. Law. Social media management. Event planning. The beauty is, as a communication major at George Fox, you will take courses that prepare you to be successful in any of these career paths – and countless others.
Because we take an interdisciplinary approach, you'll study communication in a series of integrated courses that cover a wide range of topics, and you will customize your degree in one of our three concentrations.
Our communication majors have landed positions in fields that include:
Digital marketing and analysis
Social media management
Public relations
Development and events coordination, and
Program management
And the diversity of their employers – Disney, Refugee Women's Alliance, WE Communications, Anthropologie, Intel, Oregon State University athletics, and Bob's Red Mill, to name a few – is a testament to the versatility of the degree.
Concentrations
Human Communication
In the human communication concentration, you will engage in course work that prepares you for leadership and management positions, and to work in nonprofit organizations, politics, human resources, various ministry and parachurch organizations, as well as other fields related to communication.
Public Relations
In the public relations concentration you will gain firsthand experience working for nonprofit and corporate clients, for whom you'll create public relations materials that cater to the needs of the organizations and their constituents.
Organizational Communication
The organizational communication concentration is ideal if you're interested in the fields of human resources, project management, event planning and coordination, consulting, promotions, fundraising, corporate training or customer service. You will take communication courses that make use of real-world case studies that are particularly useful in organizational settings. These are combined with marketing or management classes, giving you a balanced education in business and communication.
Why

Study Communication at George Fox?
The way we conduct ourselves and communicate directly reflects our faith, so we aspire to be a major that teaches students to reflect Christ, no matter where they end up professionally.

We connect you with the world of work. As a communication major, you'll be required to land an internship that links you with industry and professional opportunities.

Our department has built a large network of relationships with potential employers and industry sectors that offer promising employment opportunities.

You will be prepared to work in a wide range of fields and in diverse settings. Several of our graduates have worked internationally – in locales such as Great Britain, Romania, Indonesia and China – while others have completed master's degrees in communication fields.

Our department has an active chapter of Lamba Pi Eta, the official honor society of the National Communication Association, that holds fun and celebratory student events throughout the school year, and we also have an active debate team that competes in multiple regional tournaments annually.

As a Communication major, you have the option to join George Fox University's honors program. This great books program will allow you to engage in active discussions with your peers and provide you with a challenging academic journey that informs your mind and deepens your spiritual walk.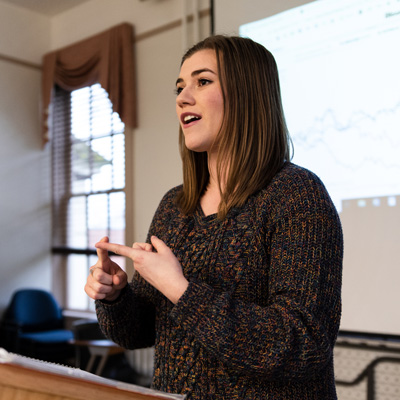 What

will I Study?
All communication majors take courses in interpersonal communication, persuasive communication, and intercultural communication.
You will prepare a senior design project in which you will articulate the ethical and spiritual dimensions of communication.
A required professional writing course explores trends in media convergence, focusing on the ways reporters, editors and designers create stories for the web.
As part of the human communication concentration, you will take a course in mass media and popular culture, in which you'll analyze the role(s) of mass media in shaping and altering opinion and values in contemporary culture.
If you're in the public relations concentration, you'll build a professional portfolio of public relations work, including campaigns and data visualization materials.
Our organizational communication concentration allows you to integrate several business courses into your curriculum, including classes on marketing, consumer behavior, and management.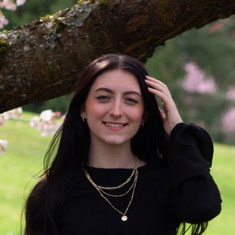 Haley Lindsay
Communication Major
The best thing about the communications program at George Fox is how much effort the professors put into not only the teaching, but the creation of community through their classes as well. The skills I gained from the communications program will follow me throughout my career, and the relationships I built with the communication students and professors will be forever held dear to my heart. It was truly an honor to be a communications student at George Fox!
What's

after George Fox

Careers in communication are expected to continue to grow at a steady rate over the next decade. The projected result is the creation of over 46,200 new jobs within the field between 2019 and 2029. Employers are looking for college graduates who are creative and familiar with the changing media landscape.

According to the Bureau of Labor Statistics, employment opportunities for public relations specialists will grow 7 percent between 2019 and 2029.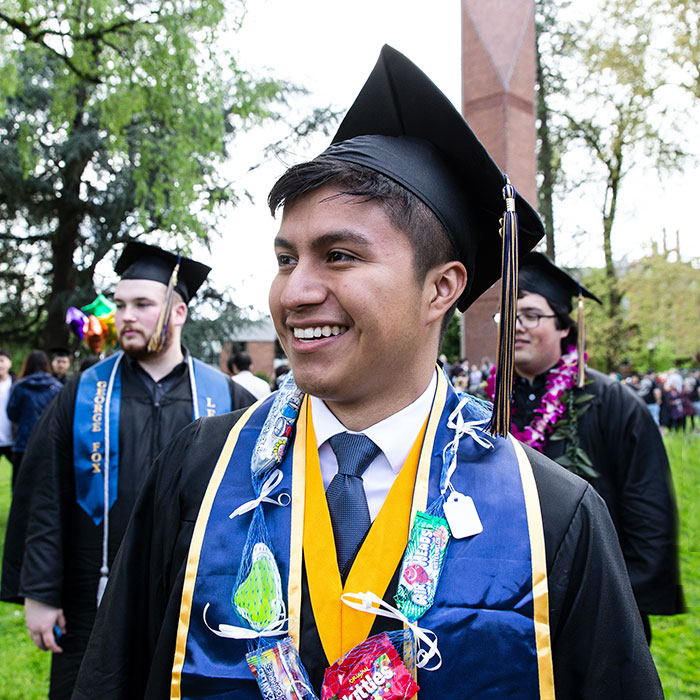 Jobs our graduates have held
Director of Human Resources, Bob's Red Mill
Vice President of Marketing, Oregon Mutual Insurance
Vice President of Creative Services, Graystone Media
News Content Manager, King 5 Media Group
Director of Public Relations, CLEARLINK
Communication Project Manager, Northshore Community Church
Director of Human Resources, The Allison Inn
Residence Life Director, Seattle Pacific University
Internships our graduates have held
Business and Copywriting Intern, Link2Lift
Marketing Events Intern, Viewpoint Construction
Public Relations Intern, WE Communications (public relations)
Event Planner, Newberg Christian Church
Student Communication Coaching, Newberg Public Schools
Multicultural Ministry Intern, Village Baptist Church
Writing Intern, Cambia Health Solutions
Legislative Research Assistant, Oregon State Legislature
Graduate schools our students have attended
Oxford University
Gonzaga University
Pepperdine University
Azusa Pacific University
Princeton Theological Seminary
Baylor University
University of Georgia
Arizona State University
Bleoaja Earns Full-Ride Scholarship to Oxford
When Cayla Bleoaja spent a semester studying abroad in Oxford during her junior year, she probably didn't expect to return so soon – let alone with a full-ride scholarship.
Bleoaja, an honors student at George Fox who double-majored in psychology and organizational communication before graduating in 2020, did just that, heading across the pond to England to pursue a master's degree in sociology.
The recipient of a highly competitive Barry Scholarship, designated for American students attending the storied institution, Bleoaja will call the university's Canterbury Institute home for the next two years.
"Fox gave me a space to wrestle with hard questions and to get to know myself in a more intimate and passionate way than ever before," says Bleoaja of her undergraduate experience. "I am leaving better equipped, challenged and deepened to keep pursuing the hard and holy things."