Marketing Concentration
Understanding people on a deeper level fascinates you. Telling a good story gets you excited. Curiosity makes you want to analyze the "why" and the "how." Competition gets your adrenaline running. Design makes your mind wander in the best way.
Marketing is one part strategy, one part creativity, and one part curiosity. If that's you, you've come to the right place.
In our marketing concentration, part of our business administration major, you will learn and discuss topics ranging from target market analysis and communication strategies to product pricing, consumer behavior and global marketing.
This concentration is easily paired with other disciplines to give you a fully rounded skill set after you graduate. You could pair marketing with psychology to gain insight into the way people think. You could major in graphic design and minor in marketing so that you learn how to combine your love of creativity with the language of business. You can minor in communication studies and take your understanding of strategic messaging to the next level.
That's the best thing about marketing: The options are endless, and you'll have time and opportunity to discover what you are really passionate about.
Why

Study Marketing at George Fox?
George Fox teaches students to market with ethics and integrity. As a marketing student, you'll be challenged to think about how marketing can be used for good rather than in dishonorable ways. Discussion topics include corporate social responsibility, consumerism, consumer social responsibility, and marketing accountability.

Classes are a learning-based environment. It's not a show-up-and-take-the-test education. Real-world and case-study projects are incorporated in every marketing class you take.

We are relevant. The field of marketing changes frequently, and you need the right tools when you graduate. Our digital marketing, social media classes – along with our commitment to a global business focus – strengthen your skills to enter the job market.

Professors are here to support you in your faith and to guide you into the ever-changing and growing world of marketing. You weren't meant to do this alone; your community will be with you.

As a Business Administration major, you have the option to join George Fox University's honors program. This great books program will allow you to engage in active discussions with your peers and provide you with a challenging academic journey that informs your mind and deepens your spiritual walk.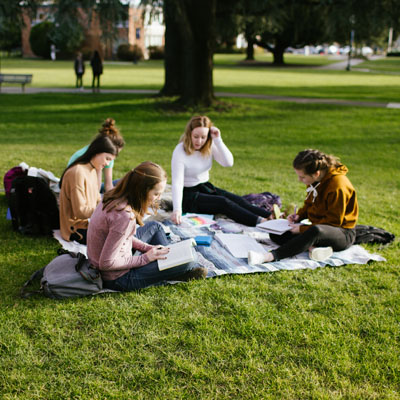 What

will I Study?

Now that you know the values behind the program, it's time to dive into what you will actually study.
Consumer behavior: You will study the role of perception, involvement, memory, motivation, personality, attitude, satisfaction and loyalty in consumer behavior and the three different consumer decision-making processes (generic, experiential, and behavioral). You'll also study its applications in a real market.
Digital marketing (social media, email campaigns, Google Ads, etc.): You will learn how to communicate with customers in this digitally advanced world by developing and designing digital marketing communication programs, then how to measure your digital marketing impact to ensure its effectiveness.
Marketing research: You'll conduct market research to learn how to identify and solve issues of marketing and its impact on consumers.
Strategy: You'll learn to strategically build and maintain the quality of entire marketing programs and campaigns.
Customer relations: You'll learn how to create and maintain a strong relationship with customers by developing and using appropriate marketing communication programs. These include advertising, traditional media, alternative media, promotions, PR and sponsorship, and CSR and marketing ethics.
Marketing v. sales: You may think marketing is about sales and all marketing actions can directly influence sales. The answer is "yes and no". You'll learn why as you dig into the 4 Ps, customer satisfaction, and competition in the marketplace.
My education at George Fox has included many great experiences, but two stand out most in my mind: the international education I received – learning about global markets from professors that have had experience in many different countries – along with the friendships I have been blessed to develop with professors. The ability to have genuine conversations with them has strengthened my education tremendously.
What's

after George Fox

Growth in the field of marketing is expected to be very high over the next 10 years, fueled primarily by an increased use of data and market research across a variety of industries. Job prospects for advertising, promotions and marketing managers are expected to grow 6 percent between 2019 and 2029, according to the Bureau of Labor Statistics. Businesses must understand the needs and wants of customers in order to experience continued growth. This requires a strong marketing presence in all levels of management and operations.
Jobs
Social Media Content Manager, Nike
Social Strategy Manager, OtterBox
Website Manager, WE Communications
Senior Executive Communications Manager, Microsoft
Director of Strategic Account Sales, KEEN
Creative Director, Convene
Marketing Coordinator, Lexar Homes
Marketing Consultant, Full Cycle Marketing & ROOTS Academy
Event Director, Nike West
Key Account Executive, CareerBuilder
Global Director of Marketing & E-Commerce, Aquaglide
Senior Account Executive, WideNet Consulting Group
Head of Production, Milkmoney
Footwear Product Lead, Nike
Internships
Intel Corporation
Nike
Microsoft
Oregon Golf Association
INNOVA NW
eROI
Horizon Airlines
Bob's Red Mill
George Fox University Marketing Communications Team
Sequent
Freebird Digital
Reser's Fine Food
Bank of America
Graduate Schools
George Fox MBA
Syracuse University
City University London
Azusa Pacific University
City University of London
University of Illinois
Oregon State University
Northern Illinois University
Paris School of Business
The Ohio State University
Colorado State University
Texas Tech University
San Diego State University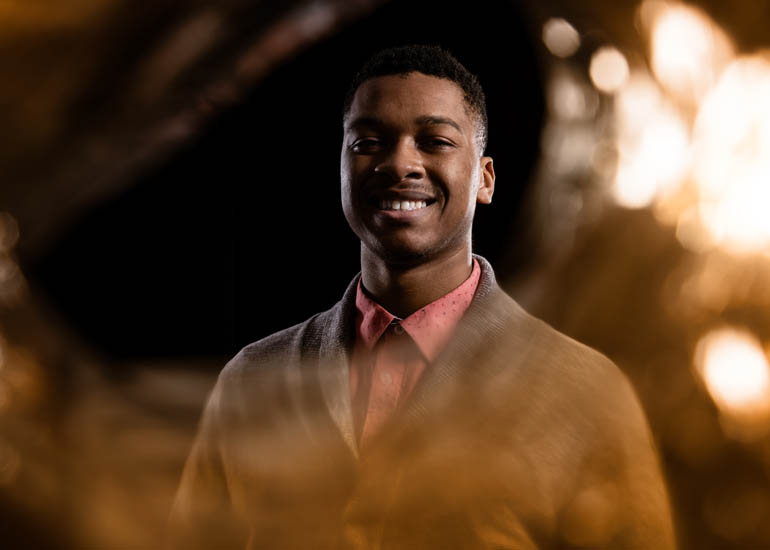 Grad finds true connections at Microsoft
Kevin Tshilombo excelled as a business student at George Fox, earning his diploma in 2020 with a double major in management and marketing. But that wasn't the only reason he was swooped up by Microsoft more than eight months prior to graduation.
Tshilombo, who at the time had just completed a summer internship at the software giant's Redmond, Washington, headquarters, thinks it was his ability to connect with a wide range of people that ultimately got him the job.