Mathematics Major (BS)
There is a whole world of problems waiting to be solved, and if that thought gives you as much energy and excitement as it does for us, join us as we attempt to find the answers in the mathematics major!
To join the mathematics community is to step into one of the world's oldest sciences. But mathematical skills hold as much weight today as in all of history. Just think: You could be laying the foundations for mathematicians to build on centuries from now.
Whether you want to go into business, become a math teacher, or pursue a career in the sciences, our core curriculum will challenge and prepare you to become an integrated and analytical thinker.
As a mathematics major, you will learn the mathematical theories, computational techniques, algorithms and computer technology needed to solve advanced engineering, economic, physics, scientific and business problems.
Dispelling Some 'Myths'
When it comes to math, perhaps you've heard these statements before:
All you can do with a math major is teach.
Math is an extremely challenging major.
Here are the facts: Teaching is just one small aspect of the discipline! Our graduates have landed jobs as data analysts, mathematicians and actuaries, many of whom work for large corporate and government agencies. And while the major is challenging, you will find support from faculty members who will take the time to know you and learn your strengths. You don't have to be a "brilliant thinker" to be a math major!
Why

Study Mathematics at George Fox?
You will join a small group of fellow math majors for four years of learning together. There is nothing more important than having a community around you to challenge and encourage you.

You will receive the highest level of attention and care from your professors. Not only are they active mathematicians in their fields with the skills to train you, but they also care about relating to you personally.

Spiritual formation and biblical integrations are part of our course objectives. We believe math and faith go hand-in-hand, and we are passionate about sharing that with our students. Not only this, but we strongly believe in the power of using mathematics to impact society for the better.

Our Math Lab is a free resource for students to get tutoring help, work on projects, or just enjoy hanging out with fellow math majors.

There are a variety of opportunities to conduct research under the guidance of a faculty member. Why wait to graduate before starting to look at real-world problems?

You have the option to participate in George Fox University's

honors program

. As a Mathematics major, you can expand your academics outside your department classes and engage in Socratic seminars focused on great books, community and discussion.
What

will I Study?

You might think a mathematics major is just more calculus, but there is so much more to it than that! Mathematics is a holistic approach to problem recognition and solving. You will study:
Logic
The beauty of order and connected thought
Reasoned argument and proof
Rigor
Abstract perspective
Mathematics theory and application
Marylesa (Wilde) Howard
Mathematician/Scientist, National Security Technologies LLC
I entered George Fox with the intent to study mathematics, but I came away with so much more than just an education, thanks to the faculty. My professors spent their time investing in me and, as a result, I learned how to be an attentive student, inquisitive researcher and effective communicator. I now have a career applying mathematics to real-world problems, and my success today started with my time studying at George Fox.
What's

after George Fox

The job outlook is excellent for mathematics graduates. Career opportunities in the actuarial sciences are projected to grow 18 percent from 2019 to 2029, according to the Bureau of Labor Statistics – much faster than the average for other occupations. Likewise, the demand for mathematicians and statisticians is projected to grow a whopping 33 percent in the same time period.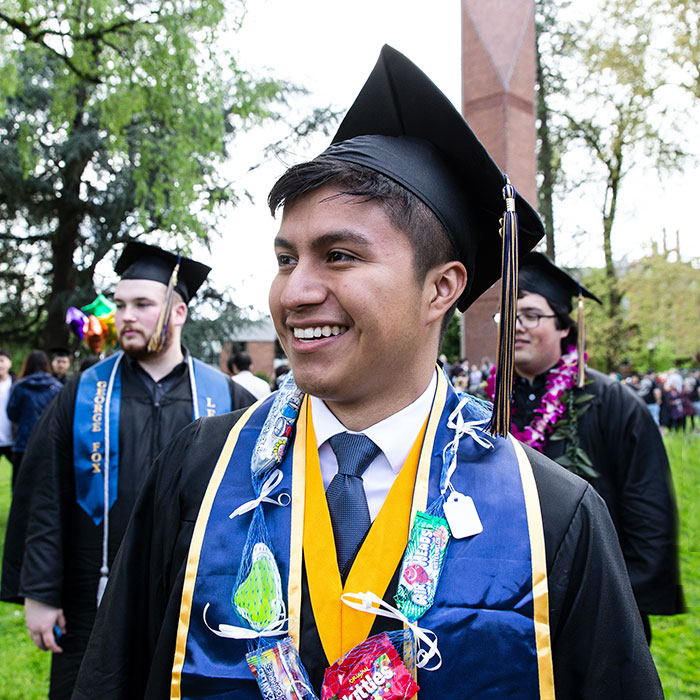 Jobs
Data Analyst, Chrome Data Solutions
Mathematician, NSA
Mathematician/Scientist, National Security Technologies LLC
CSR Billing & Licensing Specialist, HawkSoft
Actuary, Liberty Mutual Insurance
Statistical Consultant, Federal Government
Assistant Professor, Seattle Pacific University
Teacher, Grants Pass High School
Teacher, Woodburn High School
Product Strategy Analyst, Avalara
Visiting Professor, Willamette University
Graduate Schools
Texas Tech
University of Montana
Virginia Tech
University of Hawaii
North Carolina
Virginia Commonwealth
Oregon State University