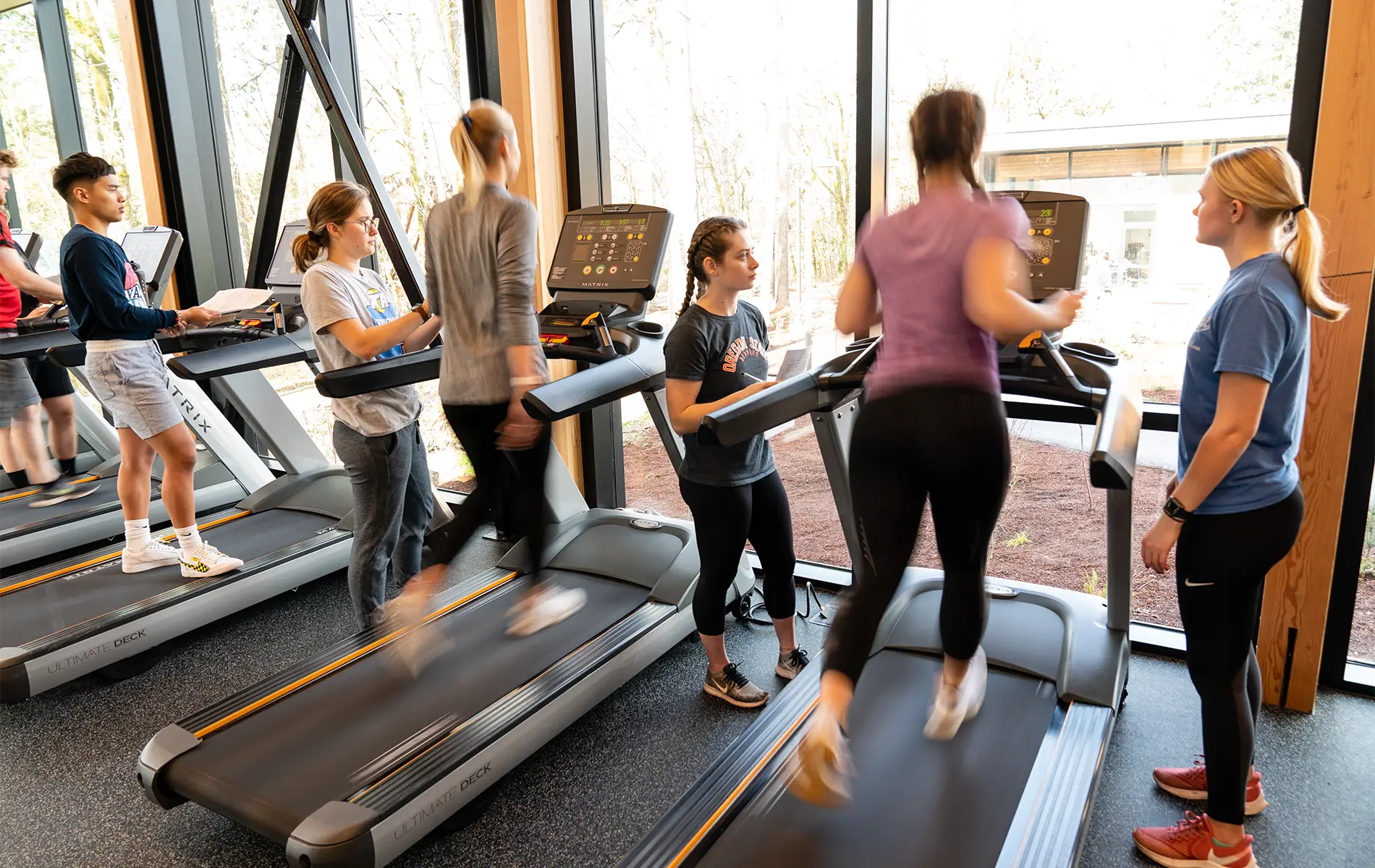 Pre-Physical Therapy Program
If you're looking for an undergraduate program that puts you on track for a career in physical therapy, George Fox offers an academically rigorous pathway that will prepare you for what's ahead.
Join a community where you will receive a hands-on education with opportunities for research and internships. This is a learning environment where faith will be integrated into your coursework as you discover the complexities of the human body and how each of us is uniquely and wonderfully made.
Equipped to Succeed
As a bonus, you'll benefit from the presence of our Doctor of Physical Therapy (DPT) program, one of only a handful of Christian physical therapy degree programs in the nation. This gives you access to a larger group of faculty members, more research resources, and a broader network to leverage.
Our Community
You'll benefit from our 16-to-1 student-to-faculty ratio, which ensures you'll receive the personalized attention you need to thrive. And with the career and academic coaching you will receive through our Career and Academic Planning Center, you have advocates who will help plot your course and find the physical therapy program that's right for you!
You'll also have the opportunity to connect with your peers by joining our athletic training or exercise science/kinesiology student-run clubs.
Our Faith
Beyond preparing you academically, our professors will take a vested interest in you as a person – willing to listen as you discuss your hopes and dreams for your career, as well as your growth both personally and spiritually. They also teach science from a Christ-centered perspective, recognizing God as Creator, so you won't be attending a school where science and Christianity are at odds.
Isabelle Cisernos
George Fox Class of 2018 & Doctorate of Physical Therapy (2021)
My undergrad experience at George Fox taught me how to be a hard-working and goal-oriented team player. These traits contributed to the curiosity and innovation needed for physical therapy school. Through undergrad and DPT alike, I have been molded into a successful clinician by the enthusiastic and caring communities around me.
What

Will I Study?

We offer all of the courses necessary to satisfy the required competencies of most physical therapy programs. Students who wish to pursue this career most commonly choose to major in kinesiology.

Make sure to consult with your academic advisor early to set up a plan for a strong program. Doctorate of physical therapy admission requirements will vary considerably between different schools, so research into the specific prerequisites at your programs of interest should be conducted as early as possible and in partnership with your academic advisor.

While kinesiology is the most direct path toward a career as a practitioner of physical therapy, our own

doctorate of physical therapy

program will consider students from any academic background as long as all

admission requirements

are met. Eager to stand out as an applicant? We recommend coursework in a

dvanced anatomy, neuroscience and advanced physiology.

In addition to meeting the academic entrance requirements into a doctorate of physical therapy program, most programs will ask for at least 100 hours of clinical experience, ideally in a physical therapy environment (either paid or unpaid).
Bachelors (BS) in Kinesiology Requirements
×
Concentrations (18-20 hours) - choose one
Complete the following:
An introduction to life science for those majoring in biology and bioscience-related fields. Topics include basic concepts in chemistry and biological molecules, an introduction to cellular structure, function and metabolism, genetics and theories of inheritance, and an introduction to prokaryotic cells and viruses. Three lectures and one two-hour laboratory per week. Additional course fee is required.
This course covers fundamental chemical principles, reactions, and mode theories. Special emphasis is given to the role of chemistry in everyday life. Three lectures and one laboratory period per week. Additional course fee is required. Prerequisite: Successful completion of MATH 190 Precalculus Mathematics (or equivalent).
Mechanics, thermodynamics, electricity and magnetism, wave motion and optics, and modern physics, using algebraic methods for analysis. Three lectures and one lab per week. Additional course fee is required. Prerequisite: MATH 190 Precalculus Mathematics.
Choose two of the following:
Complete the following:
Physical Activity and Health Promotion Elective (7 hours)