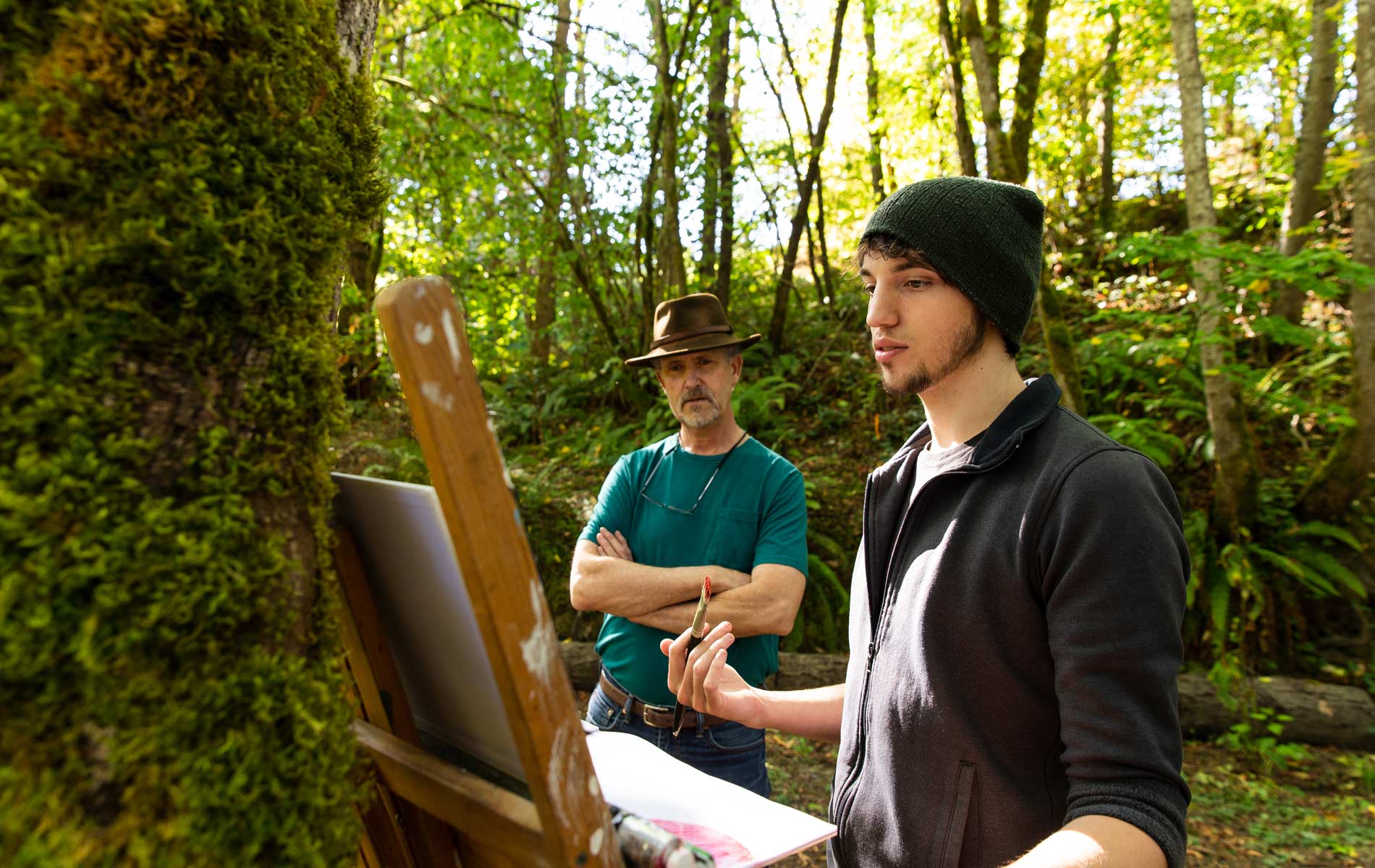 Art and Design Majors
Calling all those who can't stop drawing in class! If you're interested in the wonderfully diverse world of the arts – from painting to print design, ceramics to curation, interior design to drafting, graphic design to illustration, photography to printmaking – you'll find a home in George Fox's Department of Art and Design!
We offer majors in graphic design, illustration, interior design, and studio art. Regardless of which you choose, you'll receive personalized instruction in small classes, opportunities to showcase your work, and internships that will give you real-world experience and set you up for success in the art field of your choice.
And here's the best part: They do it all in a collaborative, supportive environment with professors who know them by name and are as committed to their spiritual development as their academic growth.
What inspired ideas will you bring to our community? We can't wait to see you shine at George Fox!
Professional Preparation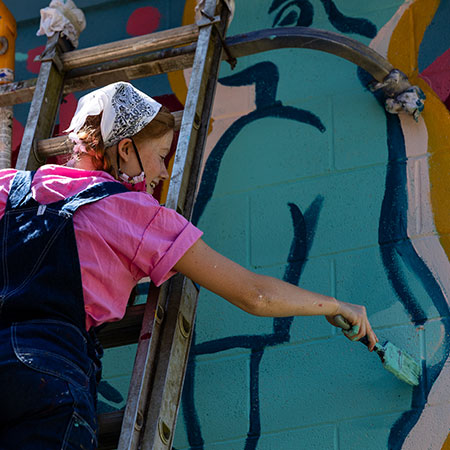 Are you ready to have fun? There is incredible joy in learning and creating together! At the same time, we take professional preparation seriously. You will get the training and mentorship you need to pursue a career and life of fulfillment through art, graduating well-versed in the creative process and design thinking that is highly sought by cultural institutions and businesses, both regionally and throughout the world.
Our students do it all – everything from crafting large-scale murals and developing freelance illustration portfolios to creating logos and visual branding materials for regional businesses. They create murals, sculptures and installations that inspire, craft meaningful spaces in homes, and beautify visual design with their illustrations.
With partnerships throughout the region and a weekly visiting artist series, you will have opportunities to meet practicing professionals, take on internships, and engage in client-driven work while still in college.
Four Majors to Choose From
With the digital age upon us, opportunities in the field of graphic design are endless. Learn about the branding process, create engaging motion graphics, master applications such as Adobe Illustrator, Photoshop and InDesign. This major will equip you with technical skills while also pushing you to be a creative, visually astute designer. You will graduate knowledgeable in market-influenced and research-driven design practices.
Does drawing spark joy? Are you happiest when you're at an easel or keyboard creating characters or landscapes? This major will hone your ability to paint, draw and craft digital images. You'll graduate ready to illustrate books, create surface designs for products, deliver imagery suitable for web or game development, produce character and concept art, and much more.
You find yourself addicted to watching This Old House or Fixer Upper. When you walk into a home, you notice the layout and overall feng shui of the place. If that's you, this major will prepare you to take your passion for living spaces to the next level. You'll graduate ready to embark on a career as an interior designer for residential and commercial buildings.
This major will prepare you for a wide range of career possibilities in the art industry. Combining elements of art and business, the focus is on honing your artistic eye and business acumen in preparation for leadership and management of arts-related organizations. You will facilitate community events, curate exhibitions, and get an inside look at what it takes to run an art-related venture.