Economics Concentration
On the surface, economics is the study of how individuals and societies strive to meet their material wants and needs. Go a little deeper, though, and you'll get to the heart of why the principles you learn in this discipline can make a tangible difference in people's lives.
The reason? This is a social science that is fundamentally concerned with improving human welfare. It draws upon philosophy, mathematics, history and other social sciences in order to address:
Individual and household choice making
The behavior of firms and industries
The allocative and regulatory roles of government
Many of humanity's most pressing challenges, from escaping poverty to environmental degradation
Now the question is, how will you use your skills in the area of economics, a concentration in our business administration major, to better society?
Preparation for a Career in a Variety of Sectors
After studying economics at George Fox, you will be equipped for a career in the business, government, nonprofit or education sectors. This concentration is ideal for those anticipating graduate study in law, business administration, public policy, public administration or economics.
Why

Study Economics at George Fox?
A Christian commitment to the good life and human flourishing serves as an intellectual foundation for the analysis of economic issues. Professors emphasize a broad range of ethical considerations – not just the bottom line.

Small classes allow you to develop meaningful relationships with your professors and fellow students.

A focus on experiential learning is paramount. Outside of the classroom, you will have the opportunity to conduct original research with professors, study abroad or get academic credit for an internship.

A dual quantitative and global business focus ensures a rigorous and yet well-rounded education while giving you a competitive edge in the job market when you graduate.

As an Economics major, you have the option to join George Fox University's honors program. This great books program will allow you to engage in active discussions with your peers and provide you with a challenging academic journey that informs your mind and deepens your spiritual walk.
What

will I Study?
You will be taught tools to perform rigorous data analysis.
You'll start with a foundation of the theory of economics, including micro and macroeconomics, before moving into more complex and application-based coursework.
Classes that demonstrate how economists can use their major to address real-world problems are offered, such as social inequality, urban and regional economics, and international economic development. This is a solve-the-problem-you-see-in-the-world kind of major.
You will have the opportunity to engage in a field experience, working for a business or organization, or to conduct your own research, overseen by a professor.
Luke Petach
Class of 2014, Economics Faculty Member, Belmont University
The economics courses at George Fox helped me develop both the analytic tools and the critical thinking ability necessary to succeed as an economist. This not only set me up to be a better economist than I otherwise might have been, but it helped me to be a better human being as well.
What's

after George Fox

The Bureau of Labor Statistics forecasts that the job market for economists is expected to grow 14 percent between 2019 and 2029. Because of the strong quantitative skills developed, economists find employment across a wide spectrum of fields, ranging from banking and finance to research and teaching.

Those with a master's degree or PhD will likely stand out from their competitors and should receive offers for the most desirable job opportunities.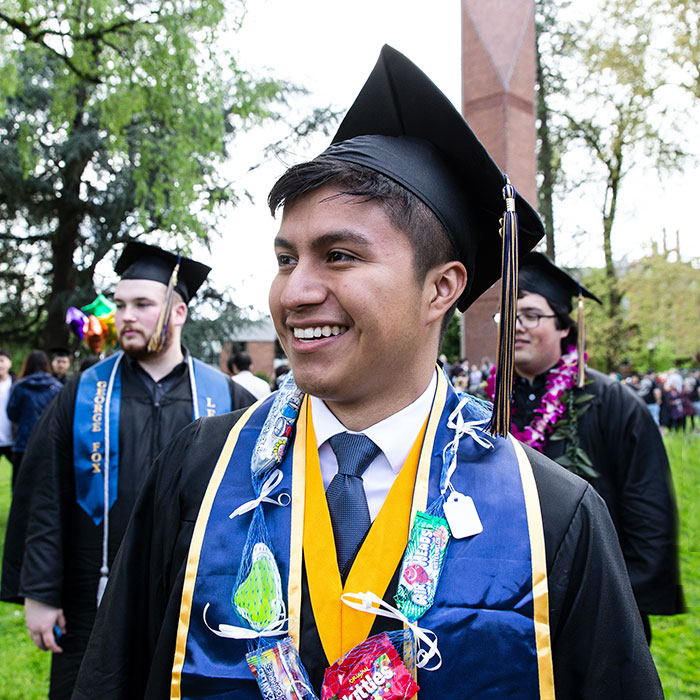 Jobs
Financial Analyst, Nike
Senior Business Finance Analyst, Intel
Senior Financial Analyst, Microsoft
VP, Credit Administration, Bank of the Cascades
Sales Executive, KPD Insurance
Financial Advisor, Ameriprise Financial Services
Program Operations Manager, AECOM (Libya)
Program Associate, United Nations Office on Drug and Crime
Financial Representative, Country Financial
Credit Manager of Strategic Client Group, Washington Mutual
Professor of Economics, Olivet Nazarene University
Federal Reserve Bank of San Francisco (Portland Branch)
Federal Reserve Bank (Washington, D.C.)
Economics High School Teacher
Account Manager, Pacific Capital Resource Group
Finance Faculty, Linfield College
Internships
Marcus & Millichap Real Estate Investment Services
Malaysian Government office
Department of Commerce (Washington D.C.)
United States International Trade Commission
Consulting for Victoria's Lavender on pricing policies
Economics instruction at Hillsboro High School
Study abroad at Oxford
Students can attend multiple speaking events featuring Nobel Prize winning economists
FINCA, Quito, Ecuador
Economic Impact Studies for Regional Partners
Graduate Schools
University of Illinois
Oregon State University
City, University of London
Colorado State University
London School of Economics
University of New Orleans
Cornell University
UCLA
Emory University