Management Concentration
Are you a born leader? Do you see yourself taking on the challenge of overseeing projects, managing personnel, and plotting the course of a business? We'd love to help you get there through our management course of study.
George Fox's management concentration within our business administration major incorporates classes designed to help you develop the management and leadership principles you will need to be an effective leader in any number of business enterprises. You will study strategic management, principles in managerial accounting, business law, principles of macroeconomics, and much more.
And, as is true with all our business programs, you will delve into the ethics behind good business practice, as we firmly believe that character development is critical to forming trustworthy leaders.
Upon graduating, you will be prepared for a professional career or for graduate training in business or other areas. Our graduates have gone on to earn their MBAs, start their own companies, and become successful executives in all sectors of business.
Why

Study Management at George Fox?
Our small, student-focused classes are taught by faculty who know you by name and will take an interest in your career ambitions. Beyond that, they will support you personally and get to know you as a person, not just as "another class member."

Beyond learning the principles of solid management practice, you will engage in rich discussions around ethics, integrity, and how faith can advise your career calling. Not exactly something you get at most state schools!

You won't just be learning from textbooks. Our hands-on curriculum allows you to put what you've learned in the classroom into practical application by collaborating with business partners on real-world projects.

The university's IDEA Center is available to help you find internship and job opportunities through our local and regional connections as well as through our alumni connections. You don't have to do the job search alone!

As a Business Administration major, you have the option to join George Fox University's honors program. This great books program will allow you to engage in active discussions with your peers and provide you with a challenging academic journey that informs your mind and deepens your spiritual walk.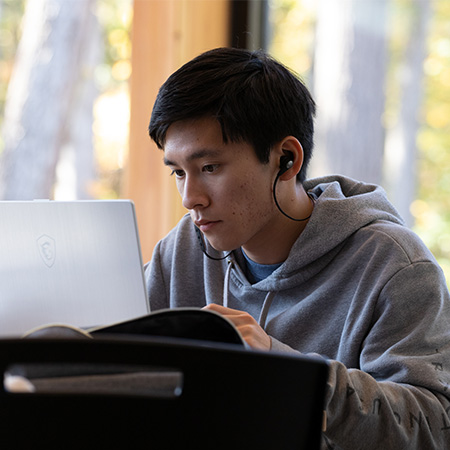 What

Will I Study?

Your course load will cover topics ranging from managerial accounting to global business. On a broader scale, classes will cover:
The role of management theories and behaviors in today's organizations
Effective oral and written communication
The principles of effective leadership
The skills required to be a team member who serves both locally and globally
Identifying ethical dilemmas and responsible courses of action