Spanish Minor
Learning Spanish is a solid investment in your future, whatever your career aspirations may be. In fact, a recent American Council on the Teaching of Foreign Languages study found that "85 percent of U.S. employers say they're reliant on Spanish, making it by far the most sought-after language."
Beyond learning the language and strengthening your resume, as a Spanish minor you can broaden your cultural horizons by studying abroad, immersing yourself in the culture of a Spanish-speaking country.
And as you prepare to join a globally connected workforce, your intercultural experience will stand out! Our students continue to tell us stories of how impactful these experiences are.
Want to go deeper, beyond the Spanish language? Check out our minor in Hispanic cultural studies, which delves into the history of Latin America and Latinx literature and cultures in the U.S. 
Why

Study Spanish at George Fox?
Spanish minors work toward earning a widely recognized credential identifying their level of Spanish proficiency (the Oregon Seal of Biliteracy or ACTFL Oral Proficiency Interview rating).

We also offer a certificate that will prepare you to teach English to speakers of other languages (TESOL) and a minor in Hispanic cultural studies (with a focus on the Latinx population of the U.S.). Many of our Spanish students choose to major in

elementary education

.

You will not only become proficient in the language, but grow to deeply understand Spanish-speaking cultures through studying the histories and literatures of Spanish-speaking nations.

At George Fox, we honor your previous Spanish and cultural learning experiences, and have generous credit-by-testing policies.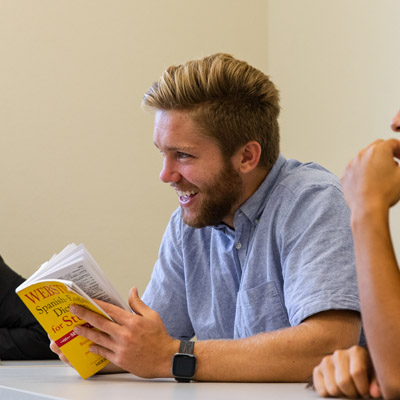 What

Will I Study?

As a Spanish minor, you will:
Develop speaking, reading, writing and listening skills in Spanish to the ACTFL Advanced Level (able to function in professional life, talk about past, present and future with some level of detail)
Develop professional skills and serve the Latinx and/or Spanish-speaking population through a field experience placement
Study representative works of literature from Spain and Latin America
Study the history of Latin America from early 1800s to present
Learn about the lives and cultures of the Spanish-speaking populations in the U.S. through required conversations with Latinx students and field experience placements
Note: You cannot start out as a first-year student in SPAN 101 and graduate with a Spanish minor in four years. Most first-year students place into SPAN 201 or 301 (through our placement test), not 101. If you haven't yet taken a Spanish class and hope to minor in Spanish at George Fox, be sure to register for a class or two before you graduate high school.
Our Spanish minor emphasizes:
The unique relationship between culture and language
The acquisition of analytical skills
Familiarity with historically important works of literature, and
A four-skill (reading, writing, listening and speaking) approach to language proficiency
Naomi (Zimmerman) Abdilla
My Spanish degree at Fox has been an integral part of my journey and the direction that God has taken me since graduation. Upon graduation I went to Spain as a missionary for a year. I am now an elementary teacher where I teach first grade in Spanish in Denver Public Schools.
What's

after George Fox

Knowledge of the Spanish language is a valuable asset in today's job market. It is the third-most-spoken language in the world, and the second-most-widely spoken language in the United States. As a result, the U.S. Department of Labor projects an increasing demand for bilingual workers. This should especially be the case in the fields of education, medicine, social services and interpretation/translation.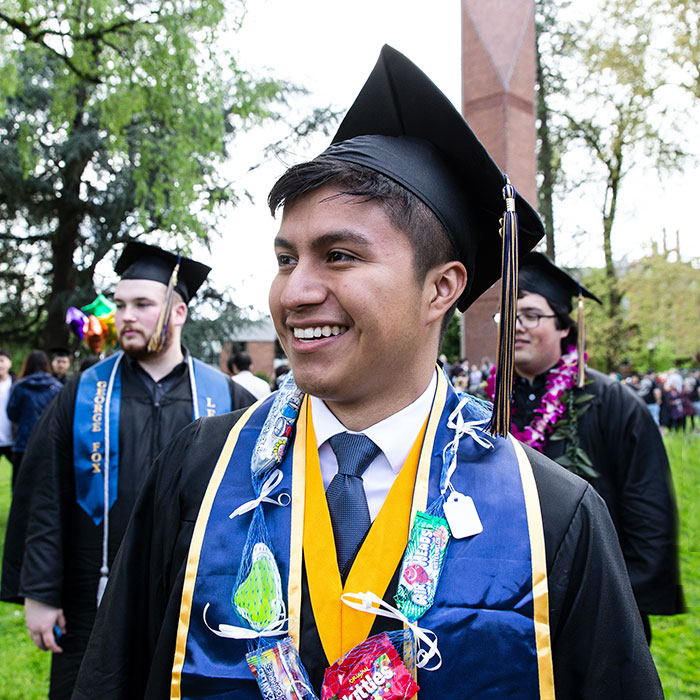 Jobs
Director, Salvation Army
Language Surveyor, Wycliffe
Interpreter/EMT, Central Washington Hospital
Professor/Language Instructor, various universities
Nurse, Newberg Providence Medical Center
Bilingual Teacher/Language Teacher, various high schools
Social Services Caseworker, City of Eugene (Ore.)
Interpreter, Salem Hospital
ESL Teacher, Honduras, South Korea, China
Geneticist, U.S. Geological Survey Columbia River Research Lab
Internships
Habitat for Humanity, Central America
Mayatan Bilingual School, Honduras
Agua Viva, Mexico
Catholic Work Shelters, various Oregon locations
Salud Medical Clinic, Woodburn, Ore.
Virginia García Medical Clinic, various Oregon locations
Love, Inc., various Oregon locations
Newberg (Ore.) School District
Americorp, various U.S. locations
Peace Corps, various international locations
Veritas University, San José, Costa Rica
Graduate Schools
University of Washington
University of Oregon
University of New Mexico
Biola University
UC Davis
Dallas Theological Seminary
Johns Hopkins University
Willamette University