What happens when your calling leads you on the path less traveled, to a destination you can only find through wayfinding and blazing your own trails? That's what it means to be a Bruin. We know that the best views come from the hardest climbs, and we're not afraid of the challenge.
That's why we're so excited for you to join us on the trails of Scholarship Summit, an interview experience that provides an opportunity to earn an additional $1,000 to $3,000* per year on top of your merit scholarship!
*$1,000 to $3,000 for Early Action applicants (apply by Nov. 1);
 $1,000 to $2,000 for Priority Decision applicants (apply by Feb. 1)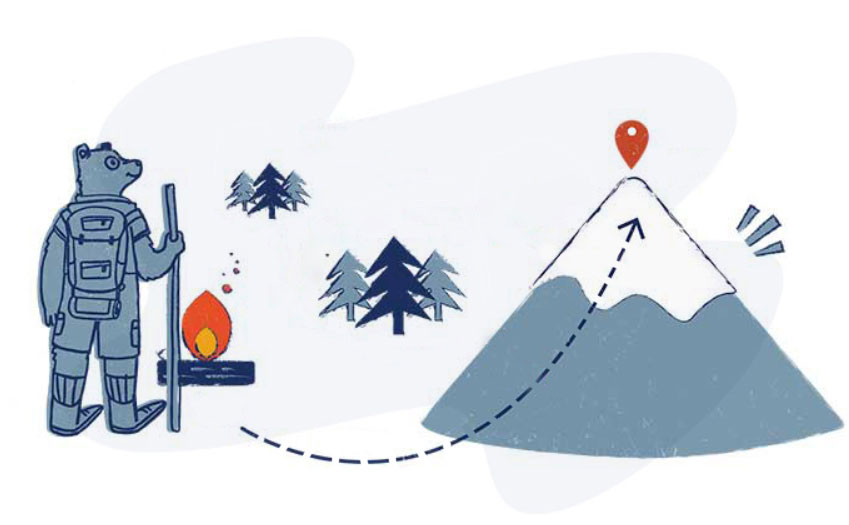 Interested?
Here's the map to your summit:
Apply to George Fox by Nov. 1 (Early Action) or Feb. 1 (Priority Decision)

Admitted students will be sent a link to register for a department interview taking place at Scholarship Summit

Attend Scholarship Summit and have a blast!
Scholarship Summit is only available to incoming fall 2023 first-year and transfer students.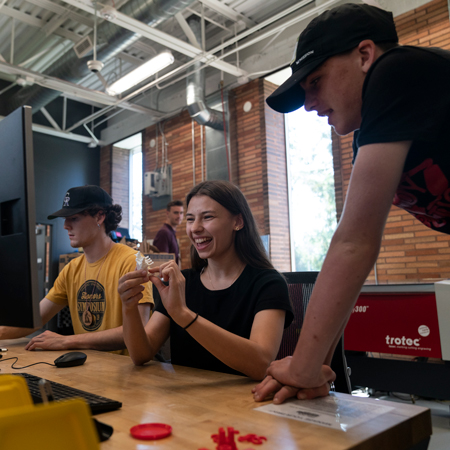 Department Interviews
Department interviews will take place in person on our beautiful Newberg campus or virtually, so you can pick the date, time and format that works best for you. During this time, you'll interview with a professor for potential scholarships, learn more about your major and department, and get to meet future classmates.
Not sure what you want to major in yet? That's normal! Just choose the major you're leaning most toward at this point, and if you win a scholarship from the summit, you'll keep your scholarship even if you change majors later on.
Sure, there's an interview, but don't be intimidated; our professors are amazing people who teach because they love engaging with students. This will be a lot of fun!
Early Action applicants:
Each academic department will offer interviews for Early Action applicants on campus (Jan. 27) and virtually (Jan. 30-Feb. 3). Scholarships will range from $1,000 to $3,000.
Priority Decision applicants:
Each academic department will offer interviews for Priority Decision applicants on campus (March 3) and virtually (March 6-10). Scholarships will range from $1,000 to $2,000.
Just by attending Scholarship Summit in person, students will automatically receive the George Fox Visit Experience Scholarship.
Registering for Scholarship Summit
Qualified students will be emailed a link to register. To take part in Scholarship Summit, students must be admitted to George Fox and complete the registration link.
In the meantime, you can explore our majors and minors and learn more about department interview requirements and what to expect.
2023 Department Interview Descriptions and Requirements
Below are the descriptions of what to expect for each department Scholarship Summit experience as well as details of any materials that need to be prepared or submitted prior to the summit.
Honors Program Fellowship Day
Honors
If you're interested in being in the George Fox University Honors Program, we invite you to participate in the Honors Fellowship Day on Dec. 2 for the opportunity to interview for acceptance into the program and a chance to win up to $5,000 in scholarships per year (you may also take part in Scholarship Summit and the Visitor Experience Scholarship for maximum scholarship potential*). To be considered, here's what you need to know:
Complete both your George Fox undergrad application and honors program supplemental application (including Academic Recommendation) by Nov. 8 for the opportunity to be invited to Fellowship Day, our premier honors scholarship event.
Honors program admissions decisions and scholarship awards will be determined after completing an applicant interview with one of our program faculty.
*Honors program students may win a maximum total award of $6,000 in addition to their merit scholarship. This includes Fellowship Day, the Visit Experience Scholarship, and Scholarship Summit awards from the university and is not guaranteed.
Artistic Achievement & Participation Awards
Music & Theatre
The George Fox University Artistic Achievement and Participation Awards are intended to recognize students who demonstrate outstanding talent and who intend to contribute to the George Fox University community through participation and involvement (but not necessarily as majors) in music or theatre. Awards vary between $1,000-$1,500 per year. To learn more about these opportunities, visit the additional scholarships page.
Note: Incoming students may not receive more than $5,000 in university-funded scholarships in addition to their academic merit scholarship, which includes scholarships awarded through Scholarship Summit.