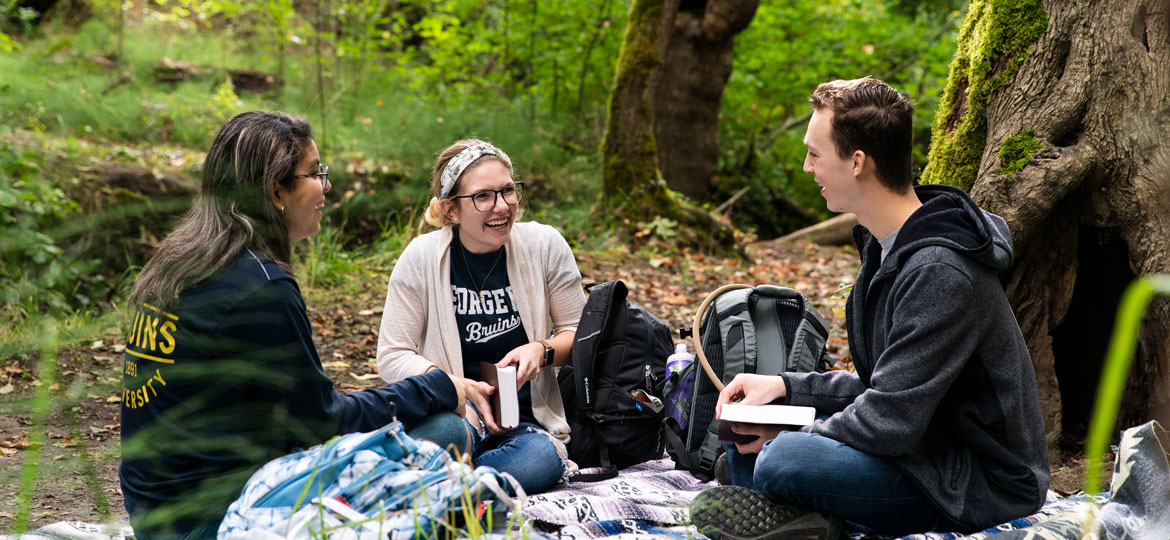 Grants & Scholarships
For Traditional Undergraduate Students
University Scholarships & Grants
George Fox Merit Scholarships
We want to award you for how awesome you are! Every student who is admitted to George Fox is awarded a merit scholarship. Our admissions office determines your award at the time you're admitted, but there's no minimum GPA required to receive one (you just have to be enrolled full time each semester to receive it), and they're renewable every year you're at George Fox! A win all around!
This grant is awarded to students who are enrolled full time (not eligible for those enrolled in George Fox Digital: First Year Online).
Scholarship Summit
Scholarship Summit is totally unique to George Fox and gives you the opportunity to earn up to an additional $3,000 on top of your merit scholarship, also renewable each year! We want every admitted student to be a part of this event. Visit our Scholarship Summit page to find out more about this incredible opportunity!
This grant is awarded to students who are enrolled full time (not eligible for those enrolled in George Fox Digital: First Year Online).
Oregon Community College Scholarship
Students transferring from an Oregon community college with a 3.0 cumulative transfer GPA will automatically receive an additional $5,000 per year.
This grant is awarded to students who are enrolled full time (not eligible for those enrolled in George Fox Digital: First Year Online). Students must be attending an Oregon Community College at the time of admission to George Fox to be eligible for this scholarship. 
George Fox Need Grant
This grant is awarded to students who:
Are enrolled full time (not eligible for those enrolled in George Fox Digital: First Year Online)
Demonstrate financial need after filing the FAFSA
Meet Satisfactory Academic Progress (SAP) standards
If eligible, you may receive a George Fox Need Grant in addition to federal and state grants.
Note: George Fox University reserves the right to reduce or eliminate university grant or scholarship funding at any time due to deadlines and award criteria.
George Fox Donor-Funded Scholarships
Traditional undergraduate students at George Fox University are encouraged to apply for our donor-funded scholarships. Through the MyGeorgeFox portal, students have access to complete just one application with the opportunity to be matched with over 200 of these scholarships!
Our donor-funded scholarships range from $500 to $15,000! Examples of criteria include but are not limited to: background, academic major, financial need, career goals, and grade level. All students looking for additional financial support for the 2022-2023 academic year are encouraged to complete the application.
Additional George Fox Scholarships
You are more than the sum of your academics, and we know that. That's why we have a variety of other scholarships that you can apply for that speak to your passions to influence others and our world.
Love music and theatre? Want to have a major impact on diversity work that will impact our world? Find out about some of the amazing scholarship opportunities we offer that allow you to dig into your passions and be the change you wish to see in the world.
Federal & State Grant Programs
Federal Pell Grant
This grant is funded by the federal government. Funds are awarded to high-financial-need students based on a student's EFC. Eligibility for the Pell Grant is set by the Department of Education.
Federal Supplemental Educational Opportunity Grant
This grant is a limited fund awarded to high-financial-need students who file the FAFSA. Eligibility standards are set by the Department of Education and awarded by the university.
More information on federal grants is available at studentaid.gov.
Oregon Opportunity Grant
This grant program is a limited fund through the State of Oregon (OSAC). The grant is awarded to:
High-need students as determined by the FAFSA or the ORSAA
Residents of the state of Oregon
Visit this Oregon student aid page to learn more. Note: OSAC will notify colleges of eligible students beginning in March
TEACH Grant (Teacher Education Assistance for College and Higher Education)
This grant program provides up to $4,000 per year to eligible students. To be eligible, students each year must:
Complete the Agreement to Serve
Complete TEACH entrance counseling
Be enrolled in an approved teaching-related degree

Master of Teaching
Elementary Education
Mathematics
Science
Other High Need Fields identified by federal, state or local government

Maintain a cumulative GPA of at least 3.25
The TEACH Grant does not have to be repaid unless the student fails to carry out service obligations:
Teach full time in a high-need field
Serve four years at an elementary school, secondary school, or educational service agency
Serve students from low-income families
Complete the four eligible years of service within eight years of graduation
Complete annual certification
If a student fails to complete the requirements, they must repay the TEACH Grant as a Direct Unsubsidized Loan with interest accrued from the date the grant was disbursed.
Get more information or apply for a TEACH Grant 
Finding
Outside

Scholarships

Did you know that there are tons of organizations out there that are waiting to award you money to pursue your calling and passions?

The opportunities to fund your education through outside scholarships are endless, but it can be a lot to sort though. That's why we have our Outside Scholarships Page to help you find the scholarships most students don't know about.

We believe you need to be a Bruin, and we'll do our part to help you get here.