MaryKate Morse

,

PhD

Professor of Leadership and Spiritual Formation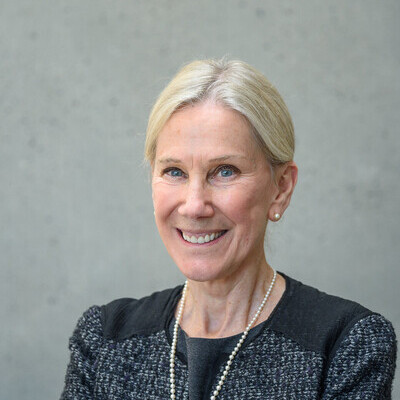 ---
MaryKate Morse (PhD, Gonzaga University) is a professor of leadership and spiritual formation in the Leadership and Spiritual Formation DMin track. In her role as lead mentor, she sets the overall ethos of the program and coaches other program instructors. Together, they design the course content for each semester, lead the four academic retreats, and facilitate the online learning experiences.
Dr. Morse began her ministry living in the Andes Mountains of Bolivia and Peru doing evangelism, theological education by extension, and social projects with the Aymará Indians. Upon her return, she studied at Western Evangelical Seminary, where she received a master's degree in biblical studies and then a master's degree in divinity.
The seminary hired her to teach biblical languages and commissioned her to research spiritual formation for seminary students. She was certified as a spiritual director, and was recorded as a pastor with the Evangelical Friends.
She then completed her doctorate at Gonzaga University in organizational leadership, where she studied the characteristics of renewal leadership as modeled by Jesus. She planted two churches: The first was a contemporary church model led by herself and two other pastors; the second was an emerging church model, where she led a diverse leadership team.
MaryKate has taught at the seminary for over 30 years in the fields of New Testament Greek, various spiritual formation courses, and leadership and organizational change courses. She also designed several of the seminary programs and served in various administrative positions at the university, including as the seminary's executive dean, associate dean, director of hybrid programs, and as university director of strategic planning.
In addition to teaching at the seminary, she is currently a mentor and trainer for Lausanne Young Leaders, is a part of the Mentoring Community Board, and serves as a trainer for Leighton Ford Ministries. She is a founding board member of Missio Alliance and a Leading Voice in the Writing Collective. Additionally, she is a spiritual director for national and international ministry leaders.
She has authored Lifelong Leadership: Woven Together through Mentoring Communities, Making Room for Leadership: Power, Space, and Influence and A Guidebook to Prayer, as well as various other chapters and writing projects.
Academic Background
PhD in Organizational Leadership, Gonzaga University; MDiv, Western Evangelical Seminary (Portland Seminary); MAT, Biblical Studies, Western Evangelical Seminary (Portland Seminary); BS in English, Longwood University
Expertise and Research Interests
Healthy resilient spiritual leadership, leadership development and formation, deep change/spiritual formation processes in individuals and in systems, power and influence, team and gender issues, spiritual direction and prayer
Research Bibliography
Published Books and Chapters
Lifelong Leadership: Woven Together through Mentoring Communities, NavPress, May 2020. 
"The Holy Spirit and Prayer: Love among Us, beside, Us, and in Us," article in Holy Spirit: An Unfinished Agenda" Singapore, Armour Publishing, November 2014.
"The Man Behind the Curtain: Who Is This Covenant Theologian?" Covenant-Making: The Fabric of Relationship, festschrift for Dr. Larry Shelton, eds. Charles L. Conniry and Laura K. Simmons, Eugene, OR: Pickwick Publications, June 2014.
Guidebook to Prayer: 24 Ways to Walk with God, InterVarsity Press, September 2013.
"The Horse and Rider: Leadership as Body and Environment," Gospel After Christendom: New Voices, New Cultures, New Expressions. Baker Books, September 2012.
"Leading from the Center: Body and Place," Called to Lead. Abilene University Press, August 2012
Making Room for Leadership: Power, Space, and Influence, InterVarsity Press, December 2008
"The Dry Well," Giving Ourselves to Prayer: An Acts 6:4 Primer for Ministry, March 2008
Scholarly Publications – Peer Reviewed
"Group Spiritual Direction and a 'Failure of Nerve,'" Evangelical Spiritual Direction Association ESDA Dialogue: Issue 37: Group Spiritual Direction, April, 2014.
"Noticing the Duck: The Art of Asking Spiritual Questions" Presence, 51-58, (September, 2009).
"Jesus' Use of Social Power in Honor-Shame Conflicts: A Model for Male-Female Interactions," Crucible, (October, 2008).
"Gender Wars: Biology Offers Insights to Biblical Problem" Priscilla Papers, Vol 20, No 1, Winter 2006
"Enhancing the Learning and Retention of New Testament Greek in Adult Students," Teaching Theology and Religion (January, 2004).
"Teaching Prayer in Seminary" paper submitted to Evangelical Theological Society, November 21, 2002, published on line at bible.org
The Relationship of Wisdom to Transformational Leadership: Illustrated by the Historical Jesus, Doctoral Dissertation at Gonzaga University, (February, 1996) .
"Henri J. M. Nouwen: A Pastoral Voice for the Re-formation of Theological Education," Faculty Dialogue, No. 23 (Winter 1995).
"Scripture Reflections: A Response to Goddess Worship," Quaker Religious Thought 25, No. 3 (March 1992).
"Quakers and the Grimké Sisters in 19th-Century America," Kardia: A Journal of Wesleyan Thought 4, No. 1 (Spring 1989).
"A Theology of Light from the Words of Jesus," Kardia: A Journal of Wesleyan Thought 2 (1986).
Professional Publications
"The Must-Know" Prayer for Women Leaders, http://devotionalsforwomeninleadership.blogspot.com/  April 2, 2014
"What Does the Trinity Have to Do with Prayer?" www.prayer.net, January 2014
"Prayer as Love Relationship with the Trinity" NWYM, July 2012
"I Am Stuck!" Fullfill , April 11, 2011
" How Women Plant Churches" January 19, 2011 Duke Divinity School
"Serve or Avoid?" December 2010/January 2011, Vol. 4, Issue 1, Connection
"Reflections on Quaker Leadership" May 2010, Vol. 3, Issue 4, Connection
" Is it Un-Christlike to Work a Room?" August 5, 2010 Duke Divinity School
"The Yeast Factor," Intervarsity Press Graduate Women, The Well, 10/08
"The Real Dividing Wall: Denominational Differences and Multi-culturalism," Off the Map Idealab (ezine), 08/30/05      
"This Little Light of Mine: Evangelism Contextualized," Off the Map Idealab (ezine), 05/15/05 
A Quaker at the War College," published in various venues Quaker Life (November 2004), Fox Journal (January, 2004), Northwest Christian News Northwest (March, 2005), and online at Barclay Café (September, 2004)
"My Turn: We Won't Let This War Pull Us Apart," Newsweek, (April 14, 2003)
"Todd's Story," USAA Magazine 26, No. 2 (April 1995). Reprinted in Under 25 (Spring 1997)
"The Fly or the Ointment?: Women in Leadership," Evangelical Friend 25, No. 2 (January/February 1991)
"Home and the Homeless," Friends' World News 2, No. 135 (1990)
"The Worship Experience: How Can We Make It Work?" Evangelical Friend 23, No. 5/6 (January/February 1990)
"Inclusive Language," Priscilla Papers NW (1990)  
Online Articles
http://www.missioalliance.org/ author/marykate-morse/      
Published Presentations
"Flourishing, not Fear: Why Aren't We Flourishing (Part I)", The Well, 04/09
"Flourishing, not Fear: The Gift of Power (Part II)", The Well, 05/09
"Flourishing, not Fear: The Gift of Love (Part III)", The Well, 06/09
"Flourishing, not Fear: The Gift of a Sound Mind (Part IV), The Well, 07/09
"Table-keeping with Christ" http://www.leightonfordministries.org/ posted 09/05/06
"Celebrating Jesus' Passion to Free Us: John 7 & 8" http://www.nwfriends.org/YM2006/ym06msgmonpm.html posted 08/01/06
"Christ at the Center: Formation and the Problem of Distraction" http://www.leightonfordministries.org/ posted 02/24/05