Academic Retreats
Doctor of Ministry in Leadership and Spiritual Formation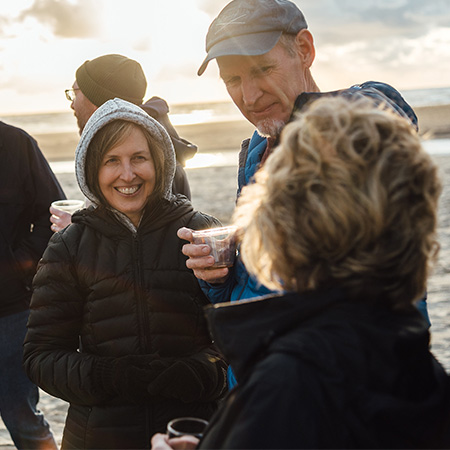 A key element of the Leadership and Spiritual Formation program is the development of relationships and formative experiences outside the classroom. This happens at face-to-face cohort Retreats that last between six and eight days.
Alongside Dr. MaryKate Morse, the mentor team designs the overall Retreat experience and schedule, integrating formative learning and connecting experiences that include prayer, solitude, rest, lectures, practicum experiences, spiritual direction, and meals together.
Locations
Each of the Retreats are hosted in Cannon Beach, Oregon at two primary locations:
Cannon Beach Christian Conference Center: Founded in 1945, the center is one of the premier Christian Retreat and conference centers on the West Coast.
The Waves Cannon Beach: The cohort also meets regularly in a house located on the oceanfront and in the center of downtown Cannon Beach. The home provides a cozy, informal and hospitable space for some sessions and meals.
Lodging and Meal Details
Most meals are provided for students while at Cannon Beach with incidentals excepted. Lodging is provided for students at Ecola Creek Lodge, which is part of the main conference center. Students, however, are responsible for all air travel and local transport (car rental, carpool, bus, etc.) for each of the Retreats.
Guest Policy
Please note that the Leadership and Spiritual Formation Retreats are not designed to accommodate guests. They are intended to create and to support a formational learning community. Students should plan to be fully present to one another and for the learning experiences the entire time of the Retreat.
Activities
Activities include extensive walking, utilizing stairs, sitting, note taking, listening and viewing field presentations, navigating unfamiliar crowded spaces, eating local foods, etc.