Advances
Doctor of Leadership in Global Perspectives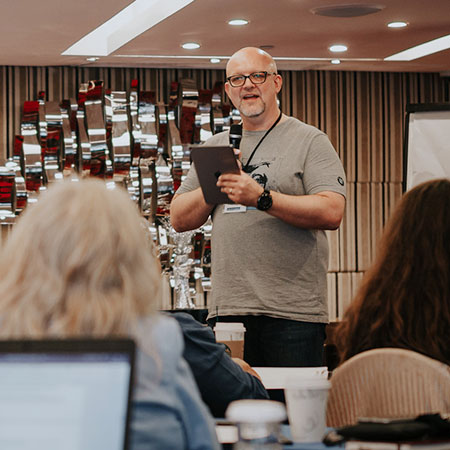 Bringing your Doctor of Leadership experience to life
The Doctor of Leadership in Global Perspectives face-to-face intensives ("Advances") are central to your learning experience in the program. The gatherings will push the boundaries of your thinking and network you with global leaders. The goal of each international Advance is to enable you to better lead in your own contexts.
You will engage in a combination of academic seminars, field trips and personal mentoring experiences in international settings. For the first two Advances, project faculty provide guidance on the next milestone in the Project Portfolio research sequence.
You will participate in three Advances during the fall semester each year:
Orientation Advance (Year 1)
Second Advance (Year 2)
Final Advance (Year 3)
Locations
Portland Seminary will host Advances in three locations:
What to Expect
All active cohorts participate in each Advance.
Project faculty participate in some Advances.
Advances occur in late September/early October
Advances last seven to nine days and run roughly from midweek to midweek.
Food and lodging are provided. Wireless internet connectivity is available when possible.
You are responsible for all air travel and local transport (taxi, public transport, etc.), visas and vaccinations.
Activities include extensive walking, utilizing stairs, sitting, note taking, listening and viewing field presentations, navigating unfamiliar crowded spaces, eating local foods, experiencing wide temperature fluctuations, etc.
| | | |
| --- | --- | --- |
|   | Doctor of Leadership Advance at Portland Seminary | Traditional Intensives at Other Schools |
| Fees include | Field trip expenses, lodging, and most on-site food | Some meals |
| Location | Washington, D.C., Cape Town, London (tentative) | On campus |
| Lodging | Clean, safe accommodations provided | Students must identify, book and pay for local lodging in unfamiliar locations |
| Food | Most meals provided | Students pay for all food expenses |
| Participants | Lead mentor, project faculty, students and local special guests | Instructor and students |
| Learning context(s) | Immersive field trips, project faculty coaching, guest presentations and shared meals | In-class lecture |
| Instructional input(s) | Lead mentor, project faculty, peers, and local church, nonprofit and business leaders | Course instructor and peers |
Though we make every effort to accommodate student needs, please be aware that in international settings we cannot ensure meaningful access for qualified students with physical, dietary, psychological, attentional or learning-based disabilities in compliance with the Americans with Disabilities Act (ADA) of 1990 and Section 504 of the Rehabilitation Act of 1973.