Note: The MSW program is projected to transition to an advanced generalist curriculum model for fall 2022. The specializations below will continue to be offered until that time. However, both areas of practice will continue to be addressed in an advanced generalist approach to masters-level social work education.
Specializations
The George Fox MSW program has two advanced practice specializations:
Direct Practice Specialization
Advanced direct practice consists of expanded skills in:
Critical thinking and assessment of complex problems
The flexibility to negotiate and intervene with use of best practices
Mastery of practice theories
Empirically supported methods specific to intervention with individuals, families and groups
This specialization focuses on micro-level interventions and is the most commonly chosen specialization in the MSW program. It is well-suited for those who desire to work with individual clients in practice settings that promote self-sufficiency, resource acquisition and clinical intervention.
Community Practice Specialization
Advanced community practice consists of enhanced skills in critical thinking and identification of problems, issues and needs in the larger community. It provides students with an overview of theory and models of community intervention essential for social work practice with neighborhoods, organizations and communities.
This specialization is well-suited for those interested in community organizing, program development, policy practice and advocacy.
In General
These concentrations focus on important and needed areas of practice while also providing graduates with a great deal of flexibility in their future career paths.
Consistent with the university and program mission, infused into both concentrations will be themes related to:
The ethical integration of personal beliefs and competent professional practice
Working effectively with diverse spiritual and religious beliefs, practices and organizations
Meeting human needs and seeking social justice locally, nationally and globally
Questions?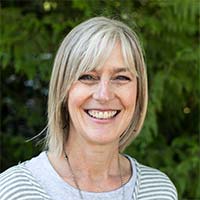 Associate Director of Graduate and Adult Degree Admissions
Admissions Counselor, Master of Social Work