At A Glance
Format
Hybrid online (online with two in-person sessions in Newberg, Oregon each year)
Program Length
4 years (3 years course work + 1 year dissertation work)
Cost per Semester Credit Hour
$980*
Tuition Cost for Entire Program
$54,880*
Accreditation
ACBSP (Accreditation Council for Business Schools & Programs)
* All stated financial information is subject to change. Financial aid available.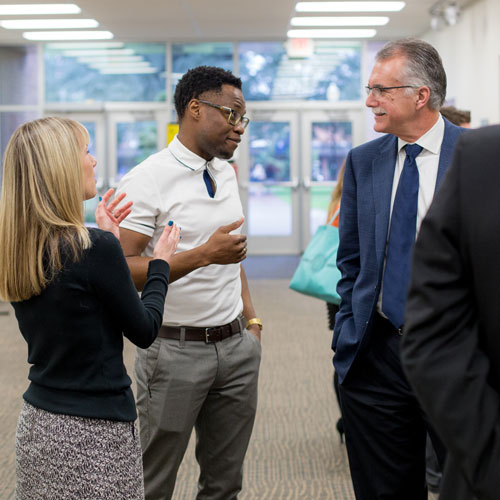 Are you prepared to
take the next step
in your business education -
a move to put you in position for new and greater opportunities in the workforce?
If so, George Fox's doctor of business administration program is an ideal fit. Whether you hope to become a professor, or you want to level-up your skills and knowledge of the business world, this hybrid-online DBA can help you get there. Here's what differentiates us:
Our unique focus on the integration of faith and ethics into teaching and practice
Our Be Known promise means you know your professors and can interact with them live and virtually throughout the program and after you finish.
A cohort model that maximizes powerful peer-to-peer learning
How do you want to transform your business practice? We'd love to partner with you to help you answer that question. We offer a rigorous educational journey that will hone your decision-making, analytical and critical-thinking skills while also preparing you to write and publish your own work.
What's the difference between a

DBA

and a PhD?
It's a great question to ask. PhD programs are designed for those who are truly interested in pursuing research and continued academic rigor. PhD programs will prepare you to create new theories or challenge the ones that exist as you contribute to the academic discipline.
DBA programs are where academic rigor meets practical application. While a DBA will certainly prepare you for academic professions, it's also broad enough to prepare practitioners to scale to the highest forms of industry leadership, strategic planning, consulting, and executive work.
Who It's For
George Fox's DBA program is designed for:
Business leaders who want to transition to become professors or consultants
Business leaders seeking enrichment, knowledge and expanding the bounds of their leadership and looking for new leadership opportunities
College/university faculty members and staff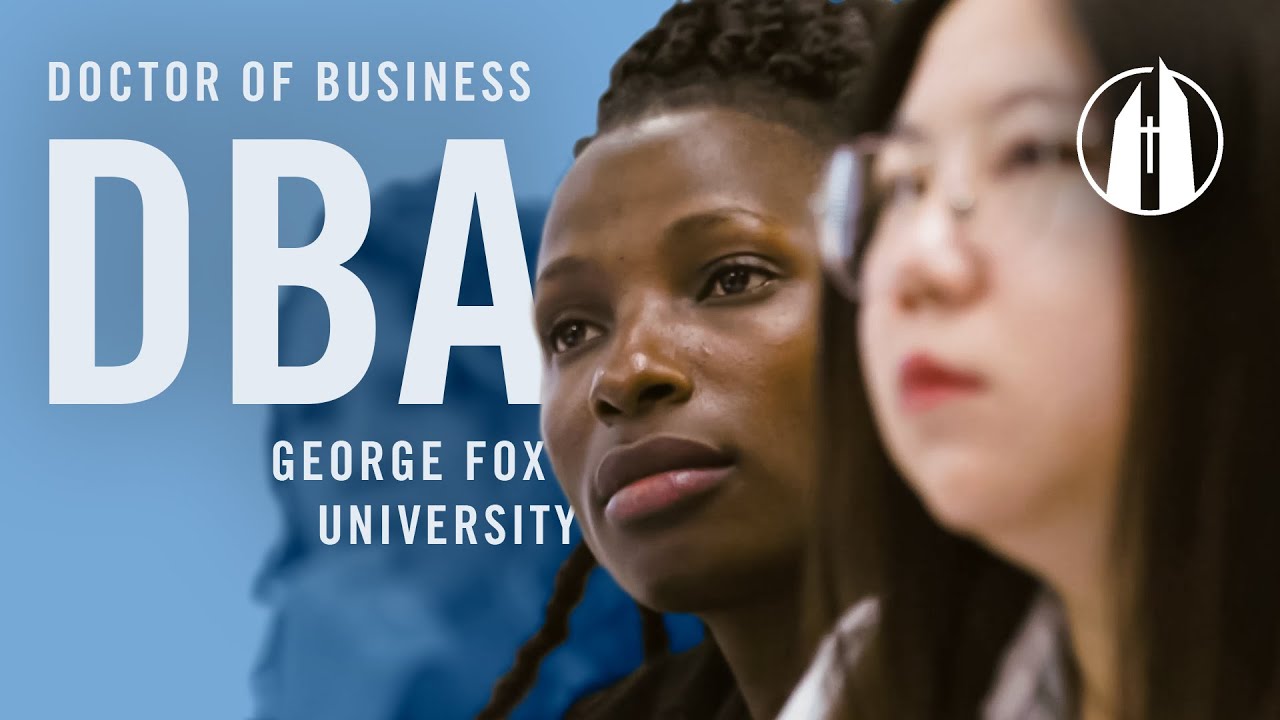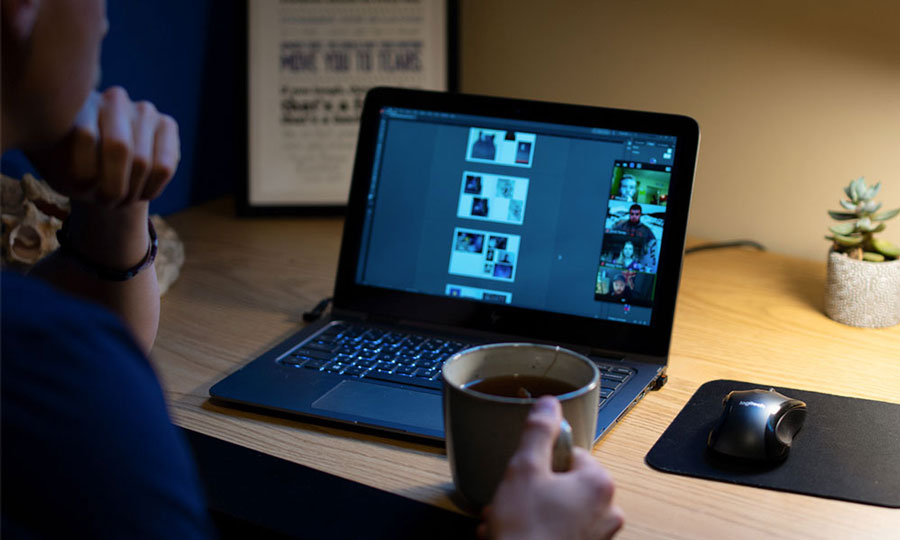 Convenient Format
Our hybrid-online format affords you an attainable way to complete the 56-credit-hour program. You will complete the majority of your course work entirely online and attend an on-campus residency twice each year in Newberg, Oregon, to meet in person with your cohort and professors. This format means you'll get to continue full-time employment while pursuing your doctorate part time.
Supportive Community
Like any graduate program, the George Fox DBA is challenging and rigorous. What is unique is the exceptional, supportive relationships that develop between cohort members, staff and faculty. It's that collaboration that makes our program unique. Our professors advise, coach and lead by example, and you'll graduate with a vision for how you'll lead your industry into the future.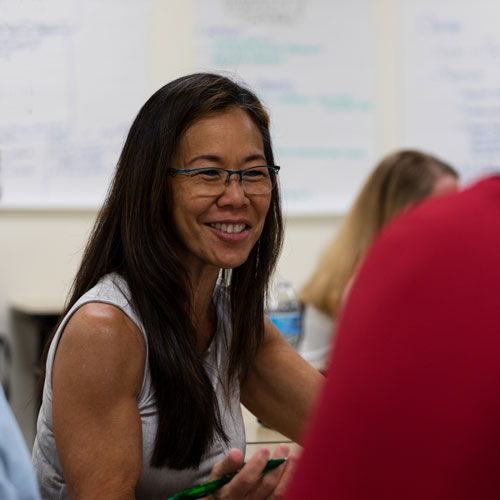 As a student in the program, you will choose a concentration in management or business analytics for in-depth study.
Our two concentrations provide specialized study that goes beyond the doctoral general business core.
The management concentration offers courses in strategic management, organization theory and behavior, and human resources development.
The business analytics concentration offers courses that allow you to explore analytics as it relates to people, marketing and integration in various industries.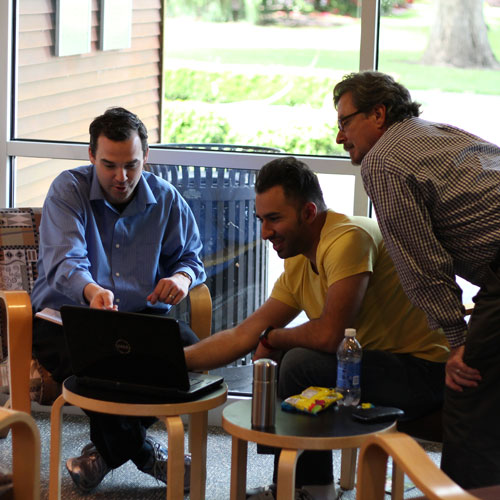 Job Prospectus & Student Outcomes
The U.S. Bureau of Labor Statistics predicts the demand for postsecondary teachers will grow by 11 percent between 2018 and 2028.
Alumni of our DBA program are currently employed in more than 15 states. They are working in a variety of roles, including:
Higher Education: Associate professor, assistant professor, academic program director, business college dean, vice president of enrollment and marketing
Corporate Leadership: Chief operating officer, vice president of international sales, vice president of finance, area manager, executive vice president, chief technology officer
Consulting: Business consultant, independent consultant, corporate trainer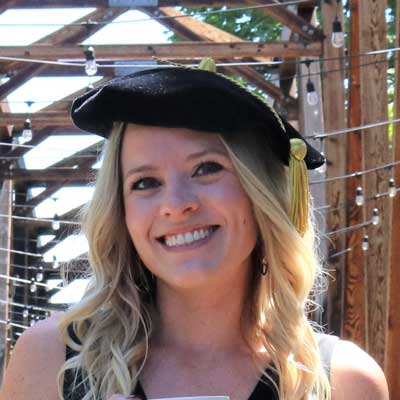 Sarah Cooley
vice president of marketing, E-commerce and corporate responsibility, Orchard & Vineyard Supply, McMinnville, Oregon
I would absolutely recommend the DBA program to others. Once I reviewed the curriculum and started looking into what it offered, I knew it was meant to be. It is a lot of work and a lot of time, but it adds so much value, growth and learning from both a personal and professional view. It really changes your mindset. If I could, I would go back and do it all over again!
Questions?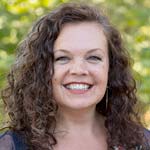 Admissions Counselor, DBA Program