Academic Planning & Resources
Table of Contents
Academic Planning
Your 4:3 Plan:
A Personalized Academic Roadmap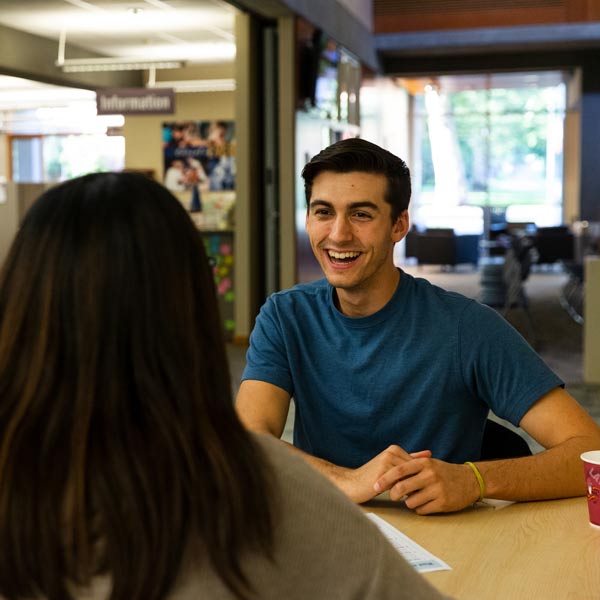 What exactly is a 4:3 Plan, you ask? It's a personalized academic roadmap that integrates academic and career planning to help guide your journey here at George Fox.
This living document helps you make the most of your four years and three summers at the university, with the end goal of equipping you with the knowledge, skills and experience necessary to succeed beyond graduation.
This tool integrates your academic, co-curricular, and professional experiences in an effort to ensure that you are not only on track to graduate in a timely manner, but also an excellent candidate for whatever career path you choose.
Contact your Career and Academic Planning (CAP) coach to schedule a time to review your plan.
Academic Advisors
One way we live into the Be Known promise is through intentional academic support. Academic advising is a collaborative effort between students, faculty and staff.
Faculty Advisor
All students at the university are assigned a faculty advisor who will assist with course selection, vocational council and direction, and mentoring. They are assigned based on your program of study and interests.
Career & Academic Planning (CAP) Coach
Career & Academic Planning (CAP) coaches are a centralized team of professional advisors trained to guide you toward your career and academic goals. They are here to help you with academic planning, major selection, career exploration and more.
Academic Resources
We are here to help you determine which classes are best for you and how you register for them. Following are some helpful links to help you plot your course schedule.
Placement Exams
Some courses may require placement exams prior to enrollment.
Need assistance in figuring out your academic plan?
Use these video resources to help you find your academic requirements report and how to use it. Your academic requirements report displays a degree audit, which lists all of the academic requirements for your degree plan.
Course Plans
Our four-year course plans provide you with a tool to help you meet all your degree requirements. They are a guide that provides your department's recommended timeline for your coursework.
You can get a better sense of your course plan by selecting your catalog year to view your plan.
Select your correct catalog year and major below to view your plan.
Micro-Internships
When you are launching your career, micro-internships provide a tremendous opportunity. Not only can you explore different career paths and work on interesting assignments, you can also demonstrate your abilities to potential employers while building your professional portfolio and network. Beyond that, your academic experience will improve as you apply what is taught in the classroom to the real world (and vice versa). 
Micro-internships are short-term, professional assignments that are similar to those given to new hires or interns. These projects enable you to demonstrate skills, explore career paths, and build your networks as you seek the right full-time role. Unlike traditional internships, micro-internships can take place year-round, typically range from five to 40 hours of work, and are due between one week and one month after kickoff.
We partner with Parker-Dewey and Forage to provide micro-internship opportunities.
Preparing for Graduate School
If you plan to pursue an advanced degree, we are here to help you with steps in the process – from exploring options, to connecting you to resources, to advising you on your application materials.
Your faculty advisor is always a good person to have an initial discussion with about your graduate school plans, no matter what the discipline. The faculty in your department are the most likely to know which programs are a good fit for your interests.
If you wish to discuss your options with us, your career coach is available for advising appointments. You can schedule one by contacting us at careers@georgefox.edu.