The Benefits of Living On Campus
Why do we require most students to live on campus? What is the value-added purpose of expecting a traditional undergraduate to live on a college campus? And why does George Fox have a two-year residency requirement that requires most students to live on campus?
These are legitimate questions, and we're here to answer them.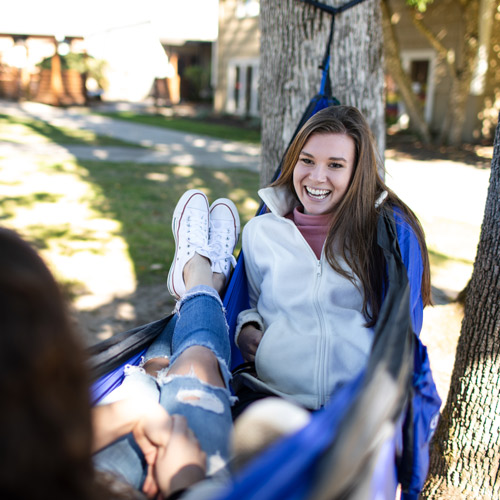 Promoting Student Success
Residence Life and many others on our campus strongly believe (and research supports) that there are significant benefits for students who live on campus. These benefits easily link to the educational mission of George Fox and our desire to promote student success.
George Fox's core values are founded on its affirmation that the university provides a Christ-centered place to live, work and receive a strong education. We believe that the entire George Fox experience is integral for assisting students in their educational and maturation process. Living within campus housing is a key component to the institution's philosophy of educating students.
Here are some of the benefits for those living on campus:
Relational

Research indicates that students who live on campus have significantly more social interaction with peers. These connections are important because many students will leave a university if they feel disconnected and marginalized from their community. Relationships also provide a place where students can "unpackage" their academic experiences with others.

Mentors

There is significantly more social interaction that an on-campus student has with faculty and administrators. These connections permit a student to become more engaged in their area of study, which leads to deepening their interest and focus on their discipline.

Satisfaction

On-campus residents are more likely to be involved in co-curricular activities and use campus facilities. Use of facilities and participation in co-curricular events rounds out and augments what is learned in the classroom. This further reinforces their satisfaction with their university experience.

Graduation

Interestingly, students who live in campus housing consistently persist in their studies and graduate at significantly higher rates than students who have not had this on-campus experience.

Sense of Self

Students living in residence halls show a higher level of self-esteem over time. Autonomy and self-directedness also appear to be higher than those who commute from their parents' home.

Values

Those who live on campus express significantly greater increases in aesthetic, cultural and intellectual values.

School Pride

A deeper sense of school pride is present that then contributes to a student's sense of belonging and ownership for their own educational experience.

Convenience

There are the benefits of general convenience issues such as meal preparation, maintenance of buildings, access to study groups, etc.

Cost

There are certain circumstances where living off campus seems to be a better financial option. At times this is the case; however, when one adds the cost of internet, laundry and utilities to the overall cost, that margin is diminished or eliminated. Further, the challenge of renting with other roommates becomes interesting when dynamics of sharing in the payment of bills become an issue.

Safety

While Newberg has a diligent and thorough police department and other reliable emergency services, living on campus adds to a student's actual and perceived safety and security. Having professional staff that are always training and watching for the safety of students cannot be replicated by the city. Security, plant services and residence life personnel are trained in medical response, as well as being observant in identifying concerns that arise in terms of safety.

Support

At smaller schools like George Fox, in moments where a student has a mental and/or physical crisis or even academic concerns, the possibilities for assistance, advocacy and intervention are much higher for those living on campus.

Spiritual Growth

In many ways, the most important aspect of the George Fox experience has to do with our ethos and mission. Students who live on campus have much better access to opportunities for prayer, studies, accountability, late-night conversations, and formal and informal opportunities to grow spiritually.