Course Work
Doctor of Leadership in Global Perspectives
Portland Seminary's Doctor of Leadership in Global Perspectives degree is an ideal for those in religious leadership or other kinds of service in a variety of settings. As a professional doctorate, the degree is distinctive from other leadership doctorates in that its primary focus is on the practice of leadership from a Christ-centered, globally-minded, and theologically-informed perspective.
The degree is divided into two parallel course sequences:
Project Portfolio research sequence (DLGP750/795, 751,850/895, 851, 950, and 951)

Lead-mentor "taught" courses (DLGP 707, 717, 807, and 817)
Project Portfolio Research Sequence
In the Project Portfolio research sequence, you take six courses designed to give you greater flexibility to engage in research and writing on a ministry Need, Problem, or Opportunity (NPO) of interest to you.
As part of the process, you are assigned to a small peer group under the supervision of a project faculty member who guides your research through a series of key milestones to generate the final portfolio.
The research course sequence is divided into three stages: Discover, Design and Deliver, with milestone assignments to mark the completion of each stage.
Year 1 - Discover

: You first explore a Need, Problem, or Opportunity (NPO) from your ministry context, then draw on discoveries from grassroots "stakeholder" insights in their context as well as expert analysis through immersion in relevant academic and theological literature.

Year 2 - Design

: You engage "stakeholders" from their context to brainstorm solutions. Out of this process, you then identify and test a project prototype to develop in the third year.

Year 3 - Deliver

: You refine the prototype with potential users, evaluate your findings, and create a launch plan to develop your project

after

graduation. An examination committee evaluates the project and launch plan for final approval.
All of the key milestone documents are compiled in a final portfolio for the library archival and digital publication.
Courses Taught by the Lead Mentor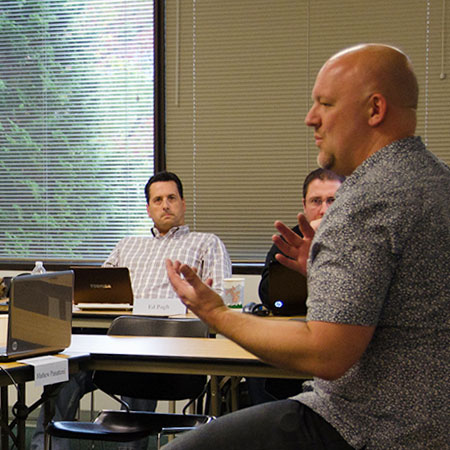 Dr. Jason Swan Clark serves as the Lead Mentor for the Doctor of Leadership in Global Perspectives. Dr. Clark's courses consist of directed readings and cohort-level interaction online. You'll explore how to lead in your own context from a wide variety of perspectives and disciplines. These courses generally include the following elements:
Reading:

You are provided a reading list and schedule of books, articles, and websites for students to discuss.

Online discussion:

You'll discuss the assigned course materials each week on the public,

dminlgp

blog platform.

Zoom chat:

You'll meet once a week for a live video conference Monday mornings, Pacific Time. Dr. Clark facilitates the discussion.
Advances: You'll join Dr. Clark annually for an intensive in international locations.
Curriculum Sequence
Year 1
Fall Semester (4 hrs)
| Course | Credit Hours |
| --- | --- |
| DLGP 795 Identifying the Need/Problem/Opportunity | 4 |
Spring Semester (4 hrs)
| Course | Credit Hours |
| --- | --- |
| DLGP 751 Exploring Current Literature Surrounding the Need/Problem/Opportunity | 4 |
Year 2
Fall Semester (7 hrs)
| Course | Credit Hours |
| --- | --- |
| DLGP 895 Discovering Stakeholder Perspectives for Addressing the NPO | 3 |
| DLGP 707 Critical Thinking and Research Methods | 4 |
Spring Semester (7 hrs)
| Course | Credit Hours |
| --- | --- |
| DLGP 851 Experimenting with Prototypes | 3 |
| DLGP 717 Global Contexts and Leadership | 4 |
Year 3
Fall Semester (8 hrs)
| Course | Credit Hours |
| --- | --- |
| DMIN 950 Designing the Project | 4 |
| DMIN 807 Global Leadership Habits, Practices and Dynamics | 4 |
Spring Semester (8 hrs)
| Course | Credit Hours |
| --- | --- |
| DMIN 951 Assessment of the Project | 4 |
| DMIN 817 Contextualizing Global Leadership Challenges for Local Contexts | 4 |