Student Employees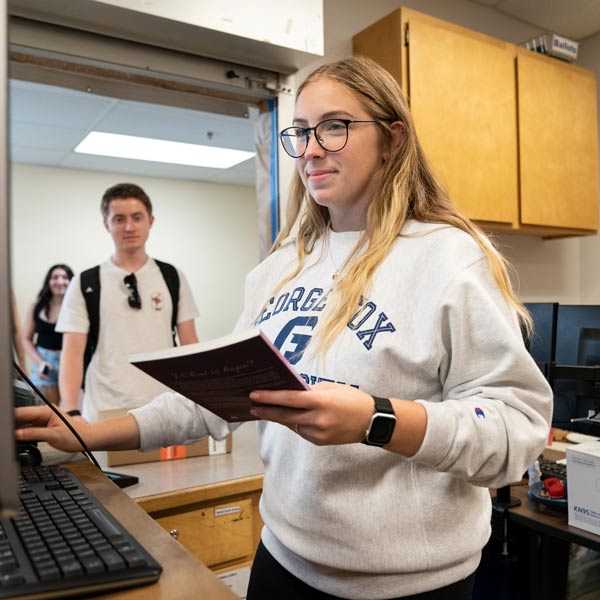 If you're looking for an opportunity to improve your skills, develop a strong work ethic, earn some extra income, contribute to the university, and meet some amazing people, a work-study job is exactly what you've been looking for!
As a student employee, you'll receive mentorship and enhance your skillset as you prepare to join the working world. Whether serving as a graphic designer in our marketing communications office, as an archivist in our library, or as an intern in one of our academic departments, you'll get experience and training to enhance your college experience!
Table of Contents
Student Employment: Orientation Process & Policy
Apply

Apply for open positions on Handshake 
Filter by "On-Campus Employment" under "Job Type"
Upload your resume and George Fox application (linked in the job posting) 
You should be contacted about each job you apply for with an update about where you stand in the hiring process. Important: When you apply for a job on Handshake, you will need to include one of the following along with your resume:

Accept

Once you have interviewed and been offered the job, you need to bring in New Hire Paperwork (this only applies to those who have never worked on campus at George Fox before).

Your paperwork will need to be fully completed in our office on or before your first day of work. Don't forget to bring your verification documents (originals only).
If you can't complete your paperwork by your first day of work, you will not be allowed to work until it can be resolved.

Sign your offer letter in Timekeeping

Get Started

Once you have signed your offer letter and completed your documents, you can start working! 
You need to clock in and out at the time of each shift. Do not wait to clock your hours at a later date.

Get Paid

You will be paid on the 15th of each month for the previous month's work. 
You will receive a paper check, sent to your active campus box (if you have one), or the given address in MyGeorgeFox.
If you would like to sign up for direct deposit, you can do that at any time in our office. You will need to fill out a Student Direct Deposit Form as well as bring in a voided check or direct deposit form from your bank. 
When you turn in your new-hire paperwork, the Office of People & Culture will go over how to use Timekeeping, your breaks, and more. Your supervisor is responsible for providing you job-specific training.
Visit the Hiring & Supervising Student Employees page to learn more about the hiring process.
Important Documents
In order to properly complete your new-hire paperwork, you will need to have physical, original documents with you, which might require some planning to obtain. See the list below to learn what is considered an acceptable document. 
Payment Information
Paychecks are issued on the 15th of the month for the period beginning on the first day and ending on the last day of the previous month. If the fifthteenth falls on a Saturday or Sunday, payday will be on the Friday before.
For an up-to-date schedule of payroll processing each year, refer to the Student Employee Handbook. 
Paychecks will be sent to your active campus box or selected address from MyGeorgeFox. 
If you would like to set up direct deposit you will need to complete a Direct Deposit Form as well as bring in either a voided check or direct deposit form from your bank (we cannot take handwritten banking information).
The online link is exclusively for tuition. It will not work for your paychecks.
If you plan to have a portion of your paycheck go directly toward your tuition, and a portion go directly to you, we recommend setting up direct deposit with us. If you were to receive a refund it makes it very easy for you. Contact the Office of Student Accounts for more information on tuition payment.
W-2s & Pay Statements
To view your pay statements:
Log in to my.georgefox.edu with your credentials 
Select "Self Service" on the left side of the screen
Click "Payroll and Compensation"
Click "View Paycheck" 
You will be able to see checks whether you receive paper checks or payment via direct deposit. 
To view your W-2 you will follow the same instructions listed above. Within "Payroll and Compensation," select "W-2/W-2c Forms."
Contact Us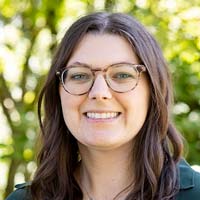 Student Employment Specialist